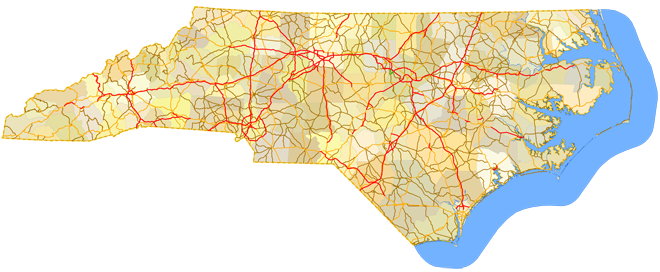 Sitemap to all pages covering the state of North Carolina. Photo contributions by Alex Nitzman, Andy Field, Brent Ivy, Brent White, Carter Buchanan, Jamie Dzencelowcz and Justin Cozart.
Highway Guides
Some of the background information and mileage statistics referenced throughout the North Carolina highway guides were derived from NCRoads.com Annex: More Highways of North Carolina. Mapmikey's web site breaks down each route across the Tar Heel State with well researched history, map scans and alignment changes.
State Population
10,383,620
Metropolitan Populations
Charlotte, Concord, Gastonia
2,569,213
Greensboro, High Point
767,711
Durham, Chapel Hill
575,412
Asheville
459,585
Fayetteville
387,094
Hickory, Lenoir, Morganton
368,416
Top County Populations
Mecklenburg
1,093,901
Wake
1,092,305
Guilford
533,670
Forsyth
379,099
Cumberland
332,330
Durham
316,739
Buncombe
259,103
Gaston
222,846
New Hanover
232,274
Top City Populations
Charlotte
872,498
Raleigh
469,298
Greensboro
294,722
Durham
274,291
Winston-Salem
246,328
Fayetteville
209,468
Cary
168,160
Wilmington
122,607
High Point
112,316
Source: U.S. Census Data – 2018 Population Estimates
About North Carolina
Capital: Raleigh
Nickname: Tarheel State
Total Interstate Mileage: 1,328.11
Highest Point: Mt. Mitchell 6,684 feet
Major League Sports Franchises
Charlotte Hornets (NBA)
Carolina Panthers (NFL)
Carolina Hurricanes (NHL)
Charlotte Hornets (NBA) Moved to New Orleans 2002; Charlotte Bobcats renamed the Hornets in 2014
Page updated September 23, 2019.