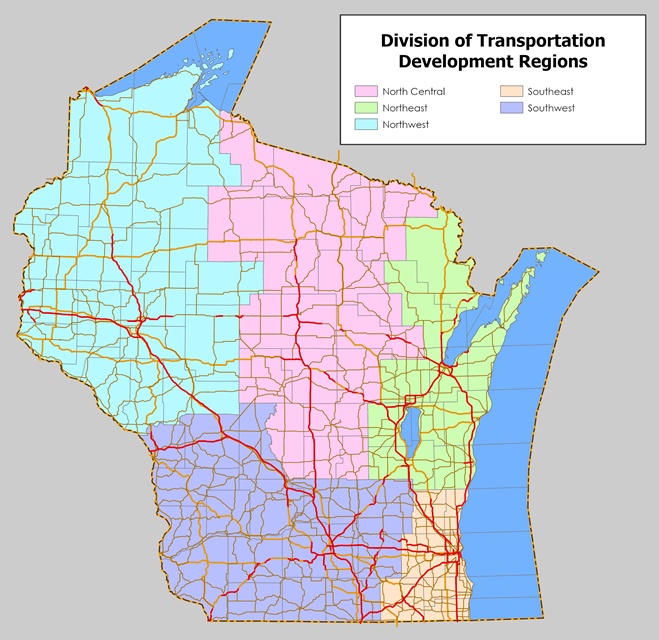 Sitemap to all pages covering the state of Wisconsin. Photographic contributions by Peter Johnson, Alex Nitzman, Andy Field, Brent Ivy and Justin Cozart.
About the Wisconsin Trunk Highway System
Wisconsin was the first place in the world to number its highways. The numbered system was enacted in 1917 to replace the unofficial auto trails that were cluttered and confusing for motorists. The numbered system made it easier for motorists to travel, and was soon adopted by the rest of the nation and the world.
Wisconsin also has a unique lettered county road system. Started in the 1920s, counties laid out a lettering system for their maintained roads. Eventually adopted by the state, the letter designations can be 1,2, or 3 characters long. Lettered routes can be used multiple times throughout the state.
County trunk highways can be lettered just to give a road a designation, or they can can have meaning. For example, County HS in Brown County was named because it passes through Howard and Suamico.
During the late 1980s, Wisconsin adopted a 2020 Highway Plan. This laid the groundwork for Wisconsin's present transportation system with a goal of improving routes within the plan by 2020. Consisting of a 1550 mile system of freeways and expressways, the plan outlined linking major population and economic centers. A 2100 mile subsystem of high quality two lane and four lane roadways that connect key communities throughout the state compliment the backbone system. The final backbone route upgraded within the plan was U.S. 41 between Oconto and Marinette in 2009.
The Connections 2030 plan is a revised version of the original 2020 plan. It was enacted in 2009 to provide updates and revisions based upon Wisconsin's Transportation needs.
State Population
5,893,718
Metropolitan Populations
Milwaukee-Waukesha
1,574,731
Madison
680,796
Green Bay
328,268
Duluth, MN-WI
291,638
Appleton
243,147
Racine
197,727
Top County Populations
Milwaukee
939,489
Dane
561,504
Waukesha
406,978
Brown
268,740
Racine
197,727
Outagamie
190,705
Winnebago
171,730
Kenosha
169,151
Rock
163,687
Top City Populations
Milwaukee
589,067
Madison
263,094
Green Bay
103,836
Kenosha
99,570
Racine
76,237
Appleton
74,058
Waukesha
72,376
Eau Claire
69,087
Oshkosh
66,495
Janesville
64,664
West Allis
59,748
La Crosse
51,163
Sources: 2020 U.S. Census Data (metro populations and counties), 2020 U.S. Census Estimate (cities)
About Wisconsin
Capital: Madison
Nickname: Badger State
Area: 65,503 square miles (land area covers 54,314 sq. mi.) – 23rd largest
Statehood: May 29, 1848
Total interstate mileage: 741.80
Highest point: Timms Hill, 1,951 feet (595 meters) above sea level, located in Hill, Price County
Scenic areas: Apostle Islands National Lakeshore, Ice Age National Scenic Trail, North Country National Scenic Trail, Saint Croix National Scenic River
Geography and climate: Various glaciations over time was the primary cause of the rolling topography that makes up Wisconsin today. The northern part of the state sees higher elevations (varying from 1,000 feet to 1,900 feet). The majority of streams and rivers in Wisconsin originate in these higher elevations. A good portion of Wisconsin typically has warm summers and more often freezing winters. The northern reaches of the state often remain within freezing temperatures for the majority of the year, with perhaps only a month or two without any freezes. The southern half reaches a more temperate climate with an average of 180 days of non-freezing conditions. Lake effect snowfall accumulation can peak around 100 inches in areas such as Ironwood along the Wisconsin/Michigan border
Usual claim to fame: Lambeau Field is often referred to as "The Frozen Tundra", originating from a 1967 NFL Championship game between the Green Bay Packers and the Dallas Cowboys.
Other interesting tidbits: Old Milwaukee, Old Milwaukee Light and Pabst Blue Ribbon beer were all established in Milwaukee in the 1800s; famous actor and narrator, Orson Welles, hailed from Kenosha while famed architect Frank Lloyd Wright was born in Richland Center (Richland County); Wisconsin is also home to over 20,000 miles of snowmobile trails and to the largest cross-country ski race held in the United States.
Major League Sports Franchises
Green Bay Packers (NFL)
Milwaukee Brewers (MLB)
Milwaukee Bucks (NBA)
Updated December 31, 2021.