---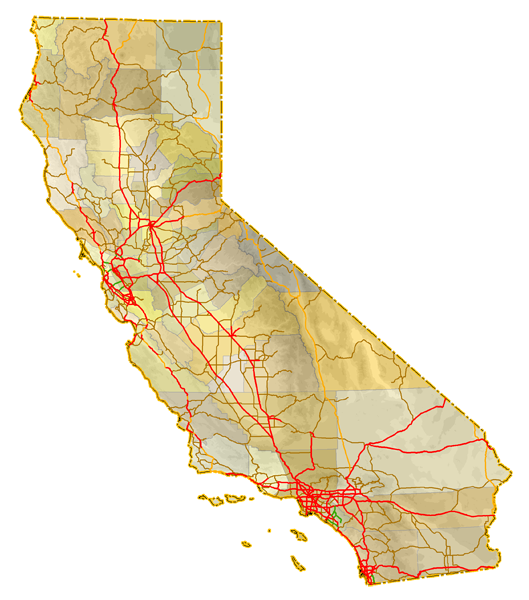 AARoads Presents California Roads and Highways
Welcome to California, the Golden State. This page features roads and highways throughout the state of California, including Inter state routes, U.S. highways, state routes, county routes, business routes, and local streets and highways.
This page is sorted by route number and designation (see our list of routes below). In addition to following modern highways (typically in a south to north or west to east direction), pages here also cover historic routes, such as old U.S. highways that were largely decommissioned in 1964. Highways on this site are typically referred to as "Interstate xx, U.S. xx, or California xx".
Photography contributed by Alex Nitzman, Andy Field, Brent Ivy, Jake Bear, Jeff Royston, Kevin Trinkle and many others. In addition, we extend our thanks to a variety of people who have contributed to this site or have joined us on our trips to tour the Golden State: Leland Bailey, Michael Ballard, Trevor Carrier, Russ Connelly, Casey Cooper, Justin Cozart, Daniel Faigin, Mark Furqueron, Martin Grahl, Steve Hanudel, Dominic Ielati, Cameron Kaiser, C.J. Moon, Scott Parker, Joe Rouse, Pete Sison, Jeff Waller, Joel Windmiller, Mark Yoshinaka, and many others for participating in taking trips with us and submitting photos from the state of California. A list of resources used to create this site are listed at the bottom of this page.
City / Area Guides
Interstate Guides
Business Loops
U.S. Highways
State Routes
California 2 - Santa Monica Boulevard, Glendale Freeway, Angeles Crest Highway
California 11 - Otay Mesa II Port of Entry
California 13 - Warren Freeway, Ashby Avenue
California 19 - Lakewood Boulevard, Rosemead Boulevard
California 22 - Garden Grove Freeway
California 24 - Rumford Freeway, Caldecott Tunnel
California 27 - Topanga Canyon Road
California 28 - North Lake Boulevard
California 35 - Skyline Drive
California 47 - Vincent Thomas Bridge, Terminal Island Freeway, Alameda Street
California 49 - Gold Country Highway
California 51 - Capital City Freeway (Business Loop I-80, eastern leg)
California 54 - South Bay Freeway
California 55 - Costa Mesa Freeway
California 56 - Ted Williams Freeway
California 57 - Orange Freeway
California 60 - Pomona Freeway and Moreno Valley Freeway
California 61 - Alameda Street
California 68 - Monterey-Salinas Highway
California 71 - Chino Hills Freeway
California 72 - Whittier Boulevard
California 73 - San Joaquin Hills Corridor
California 82 - El Camino Real
California 83 - Euclid Avenue
California 85 - Stevens Creek Freeway
California 87 - Guadalupe Parkway
California 90 - Marina Freeway, Yorba Linda (Richard M. Nixon) Freeway
Proposed California 93 - Richmond Parkway
California 103 - Terminal Island Freeway
California 107 and Los Angeles County N-7 - Hawthorne Boulevard
California 110 - Pasadena Freeway (Arroyo Seco Parkway)
California 123 - San Pablo Avenue (Old U.S. 40)
California 130 - Mount Hamilton Road
California 131 - Tiburon Boulevard
California 133 - Laguna Freeway
California 134 - Ventura Freeway
California 142 - Chino Hills Parkway and Carbon Canyon Road
California 146 - Access Roads to Pinnacles National Monument
California 151 - Shasta Dam Boulevard
California 153 - Shortest Signed State Route in California
California 158 - June Lake Loop
California 163 - Cabrillo Freeway
California 164 - Rosemead Boulevard
California 167 - Pole Line Road
California 170 - Hollywood Freeway
California 175 - Hopland Grade Road and Cobb Mountain Road
California 177 - Desert Center-Rice Road
California 185 - International Boulevard, 14th Street, Mission Boulevard
California 186 - Andrade Road
California 187 - Venice Boulevard
California 188 - Tecate Road
California 189 - Lakes Edge Road
California 197 - North Bank Road
California 202 - Tehachapi Spur
California 203 - Main Street - Mammoth Lakes
California 204 - California 99 Business - Union Avenue
California 210 - Foothill Freeway
California 211 - Fernbridge Drive
California 213 - Western Avenue
California 217 - Ward Memorial Boulevard
California 218 - Canyon Del Rey Road
California 219 - Kiernan Avenue
California 220 - Grand Island Road and Ferry
California 221 - Soscol Avenue
California 222 - Talmage Road
California 223 - Bear Mountain Road
California 230 - western approach to unconstructed Southern Crossing
California 232 - Vineyard Avenue
California 233 - Robertson Boulevard
California 236 - Big Basin Redwoods State Park Loop
California 237 - South Bay Freeway
California 238 - Mission Boulevard and Foothill Boulevard
California 239 - Byron Highway
California 241 - Foothill Transportation Corridor and Eastern Transportation Corridor
California 243 - Palms to Pines National Scenic Byway
California 244 - connector from Business Loop I-80 to Auburn Boulevard (Old U.S. 40)
California 251 - Sir Francis Drake Boulevard
California 253 - Ukiah-Boonville Road
California 254 - Avenue of the Giants
California 255 - Samoa Boulevard
California 259 - connector from I-215 north to California 210 east
California 260 - eastern approach to unconstructed Southern Crossing (including Webster and Posey Tubes under Inner Harbor between Oakland and Alameda)
California 261 - Eastern Transportation Corridor Connector to Jamboree Road
California 262 - Mission Boulevard
California 265 - Business Loop I-5 in Weed
California 269 - Lassen Avenue
California 270 - Bodie Road
California 273 - Former U.S. 99/Business Loop I-5 in Redding
California 275 - Tower Bridge Gateway and Capitol Mall
California 281 - Soda Bay Road
California 282 - Third and Fourth Streets (one-way couplet)
California 283 - Eel River Bridge
California 330 - City Creek Road
California 371 - Cahuilla Road
California 905 - Otay Mesa Freeway
Former California 31 - now Interstate 15 from Corona to Devore
Former California 42 - Manchester Avenue, Firestone Boulevard
Former California 141 - Curtola Parkway, Mare Island Way, and Wilson Avenue from I-80/780 to California 37
Former California 194 - former designation for I-15E
Former California 209 - Rosecrans Street, Ca-on Avenue, Catalina Boulevard
Former California 231 - former designation for California 133 and California 241
Former California 252 - El Toyon (Southcrest) Freeway
Former California 274 - Balboa Avenue
County Roads
A uniform numbering system has been adopted to uniquely identify county roads across the state. Within this system, each route designation has a lettered prefix. Lettered routes count upward from the A series in far Northern California to the S series in San Diego County and across the Imperial Valley.
Other Roads
Population Statistics
State Population
33,871,648 - 2000
37,253,956 - 2010
Top County Populations - 2000
Los Angeles
9,519,338
Orange
2,846,289
San Diego
2,813,833
San Bernardino
1,709,434
Santa Clara
1,682,585
Riverside
1,545,387
Alameda
1,443,741
Sacramento
1,223,499
Contra Costa
948,816
Fresno
799,407
San Francisco
776,733
Ventura
753,197
Top City Populations - 2000
Los Angeles
3,694,820
San Diego
1,223,400
San Jose
894,943
San Francisco
776,733
Long Beach
461,522
Fresno
427,652
Sacramento
407,018
Oakland
399,484
Santa Ana
337,977
Anaheim
328,014
Riverside
255,166
Bakersfield
247,057
Stockton
243,771
Fremont
203,413
Glendale
194,973
Source: 2000 and 2010 U.S. Census Data
Other Statistics
Capital: Sacramento
Nickname: Golden State
If it were its own country, California would rank sixth among the world' richest nations based on the value of goods and services the state produces (as of 2000).
California decommissioned (eliminated) most of its U.S. routes starting in 1964: U.S. 40, U.S. 60, U.S. 66, U.S. 70, U.S. 80, U.S. 91, U.S. 99, U.S. 299, U.S. 399, and U.S. 466. Most of the decommissioned routes were no longer signed by no later than 1972. Other routes that were truncated or reduced in length include U.S. 6, U.S. 50, U.S. 101, and U.S. 395. Only U.S. 95, U.S. 97, and U.S. 199 were left alone after the actions of 1964.
California 49, the Gold Chain (Mother Lode) Highway, is so numbered because gold was discovered in the Sierra Nevada Mountain foothills in 1848, with a plethora of treasure seekers traversing the foothills in the Gold Rush of 1849.
Area: 163,695.57 square miles or 411,049 square kilometers, 3rd largest
Statehood: 31st state; admitted September 9, 1850
Total Interstate Mileage: 2,457.34 miles
Highest Point: Mount Whitney (west of Lone Pine partially in Sequoia National Park and Inyo National Forest in the Sierra Nevada) is 14,494 feet. This is the highest point in the 48 contiguous states.
Lowest Point: Badwater Basin in Death Valley National Park sits at an elevation of -282 feet below sea level. This is the lowest point in the 48 contiguous states.
The Sierra Nevada and Cascade Range follow the spine of California south to north, while the Coast Range separates the Pacific Ocean from the Central Valley.
The San Gabriel Mountains north of the Los Angeles Basin run east-west, unlike the north-south alignment of the state' other mountain chains: Sierra Nevada, Coast Range, and Cascades.
The Central Valley (formed by the Sacramento and San Joaquin Rivers) is the chief agricultural area of the state, followed by the irrigated Imperial Valley in the southern desert.
Sources
We use quite a few resources to construct this page, and we try to keep it up to date (but that is not always the case!). We use mainly official sites, but many of the AARoads contributors also have sites of their own that have proven helpful in providing reference material for this site. To complete the AARoads California Roads and Highways pages, we have utilized a variety of resources including:
U.S. Census for population figures (mostly from the 2000 and 2010 data collection), geographical size, and demographic information
League of California Cities - for incorporation dates of California cities
Benchmark California Atlas - to confirm elevations and identify nearby geographical information near highways
Rand McNally Atlas and Thomas Guides - to confirm exit numbers, exit configurations, and identify street names within urban areas
Automobile Association of America - for still more map research, especially current and vintage maps issued by the Automobile Club of Southern California (ACSC) and California State Automobile Association (CSAA)
California Department of Transportation (Caltrans) Bridge Logs - these booklets help us to determine dates of highway construction and dates of highway realignment
California Historic U.S. Highways - the web site compiled by Casey Cooper has a great deal of information about the old U.S. highways of California and offers scans of old pictures from vintage California Highways and Public Works (CHPW) magazines
Southern California Regional Rocks and Roads - administered by Michael Ballard, this site has a great deal of historic highway information including pictures focusing primarily on old alignments in Southern California
California Highways - this very detailed page administered by Daniel Faigin offers the latest information on state highway legislative routings and details the historical changes made to the routes through the years (including old map scans and links to construction projects)
Floodgap Roadgap - this site, run by Cameron Kaiser, has very detailed information about several highways that run through the Golden State, especially U.S. 395 and U.S. 6 (I doubt anyone has put together as comprehensive a page on U.S. 395 as Cameron has done)
Official state, county, city, regional planning agency, and chamber of commerce webpages help us to obtain unique facts about each region, county, city, or area.
Wikipedia - if we cannot find specific information anywhere else, the on-line encyclopedia may have additional information
Other resources include personal observations from hundreds of trips around the Golden State and newspaper articles that are individually cited mostly for ongoing construction projects and completion dates
We try to cite any other sources used on individual pages where we can. If you should find any errors on the page (and we know they are out there), please do not hesitate to contact us.
---
Page Updated August 24, 2017.