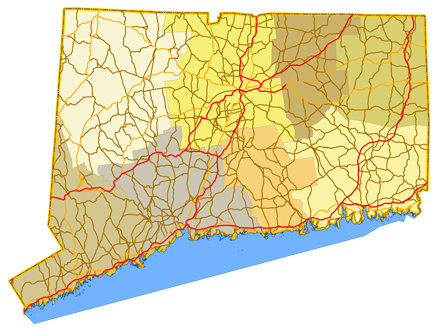 Sitemap to all pages covering the state of Connecticut. Contributions and photography for the Connecticut guides from Alex Nitzman, Andy Field, Carter Buchanan, John Boren and Justin Cozart.
Highway Guides
U.S. Highways
About the Connecticut Route System
Connecticut state routes are numbered between 2 and 999. Routes numbered above 399 are unsigned and meant for internal Connecticut Department of Transportation (ConnDOT) inventory purposes. Route duplication with Interstate and U.S. Highways is disallowed. A detailed route log for Connecticut state routes is available at Connecticut Roads on Kurumi.com.
State Population
3,605,944
Metropolitan Populations
Hartford-East Hartford-
Middletown
1,213,531
Bridgeport-Stamford-
Norwalk
957,419
New Haven-Milford
864,835
Top County Populations
Fairfield
957,419
Hartford
899,498
New Haven
864,835
New London
268,555
Litchfield
185,186
Middlesex
164,245
Top City Populations
Bridgeport
143,525
Stamford
131,397
New Haven
130,801
Hartford
121,535
Waterbury
106,826
Norwalk
88,655
Danbury
84,317
New Britain
72,198
Bristol
59,734
Sources: 2020 U.S. Census Data (metro populations and counties), 2020 U.S. Census Estimate (cities)
About Connecticut
Capital: Hartford
Nickname: Constitution State
Area: Ranked 48th in the U.S., 5,543 sq mi or 14,357 sq km
Statehood: January 9, 1788 – 5th state
Total Interstate Mileage: 346.17 miles
Highest Point: south slope of Mount Frissell on the Massachusetts state line – 2,379 feet (725 meters) above sea level
Lowest point: Long Island Sound at sea level
Number of Counties: 8
Major League Sports Franchises:
Hartford Whalers

(NHL) (Moved to Raleigh, North Carolina and became the Carolina Hurricanes in April of 1997)
Updated December 31, 2021.