Interstate 495 acts as a bypass route for Interstate 95 and for points to and from Interstate 90 in eastern Massachusetts. Until 1975,1 I-495 encompassed just the freeway from I-95 near Foxboro to I-95 near the New Hampshire state line. The eventual extension lengthened the route southeast along Massachusetts 25 to meet the eastern end of I-195 at Wareham. Massachusetts 25 remains as the freeway designation from there southeast to U.S. 6 at Buzzards Bay, with U.S. 6 continuing the freeway east to Cape Cod.
Interstate 495 Massachusetts Guides
The first portion of I-495 to open was the section of Route 25 freeway between Exits 1 (I-195) and 7 (Route 24 freeway). The 19 mile stretch opened in stages between 1959 and 1967. Work on Interstate 495 from Exit 7 (Route 24) to Exit 13 (Interstate 95) at Foxboro was the last to be completed. The 14 mile segment opened in 1982.1
The original extent of Interstate 495 ran north from Foxboro, with the 18 mile portion between Exit 23 (MA 9) and Exit 29 (MA 2 freeway) opened in 1964 and the 26 miles between Exit 13 (I-95) and Exit 23 (MA 9) finished in 1969. The earliest completed segment was the 2.5 mile stretch between Exits 29 and 31 (MA 119). It was completed in 1961.1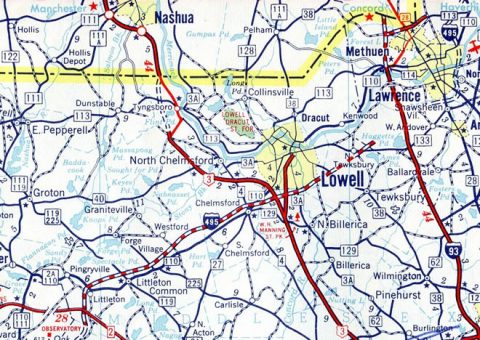 I-495 was under construction from Route 2 (Exit 29) to Route 133 (Exit 39) at Andover in 1961. The section east to the Lowell Connector (Exits 36A/B/C) opened in 1962 with the remainder to Exit 42 (Route 114) completed in 1963.1
Construction on 15 miles of Interstate 495 east from North Andover (Exit 42) to Merrimac (Exit 53) was completed in 1964. Further lengthening of I-495 east from Exit 53 to Interstate 95 was finished in 1967.1
Connect with:
Interstate 90 - Massachusetts Turnpike
Interstate 95
Interstate 195
Lowell Connector - Former Business Spur I-495
Page Updated 09-19-2016.