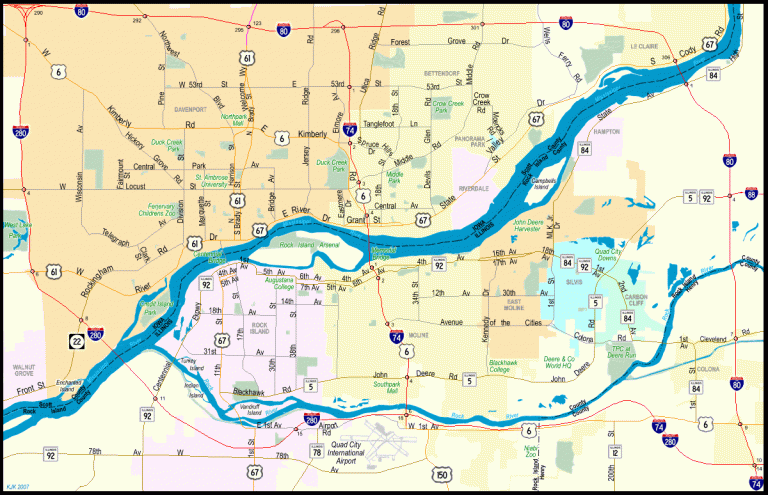 Now just a 15-mile route within the Quad Cities, Illinois Route 5 originally ran over the entire length of the East West Tollway between East Moline and Chicago. When Interstate 88 was designated in 1987, the state route was truncated to the portion leading west from Interstate 80. AASHTO approved the I-88 designation subjected to FHWA concurrence on May 25, 1987.
IL 5 follows John Deere Expressway south and west around the city of Moline. Prior to completion of the expressway west from 16th Street, IL 5 followed 16th Street north to 36th Avenue west to 46th Avenue and Black hawk Road. The state route later shifted onto the new four-lane roadway southward to a T-intersection with 46th Avenue / Black hawk Road and 52nd Avenue.
Illinois Route 5 Guides
Construction of the Rock Island-Milan Beltway included building of a parclo interchange with 46th Avenue west and 52nd Avenue east at IL 5. The interchange and the adjacent West Rock River bridge for the beltway opened to traffic on June 18, 2007.
Known also simply as the Milan Beltway, the controlled access route looping south from IL 5 to IL 92 includes a second interchange with Airport Road. Work on the 1,682 foot span over the Rock River, officially the Veterans Memorial Bridge at Carr's Crossing, kicked off in March 2004 at a cost of $19.4-million. The parclo interchange with Airport Road followed in October 2004 at $19.4-million and construction at the interchange with IL 5 commenced in May 2005 at a cost of 14.3-million.1 Total cost for the bridge, its approaches and exit ramps was $73-million.2
Sources:
"Bridge Construction Schedule, Costs." The Quad-City Times, November 15, 2006.
"West Rock River Bridge inaugurated Span is opened to traffic as hundreds of guests watch." The Quad-City Times, June 19, 2007.
Connect with:
Interstate 74
Interstate 80
Interstate 88
U.S. 67
Rock Island - Milan Parkway
Page Updated 05-15-2018.