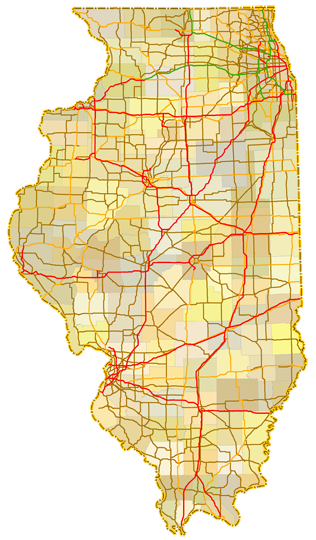 Sitemap to all pages covering the state of Illinois. Contributions and photography for the Illinois guides from Alex Nitzman, Andy Field, Brent Ivy, Justin Cozart, Kelly Nitzman, Peter Johnson and Thomas Decker.
Highway Guides
State Population
12,901,563
Metropolitan Populations
Chicago-Naperville-Joliet
7,990,248
Lake County-Kenosha County, IL-WI
876,918
Rockford
354,394
Peoria
372,487
Champaign-Urbana
224,191
Springfield
207,389
Bloomington-Normal
165,298
Decatur
108,328
Top County Populations
Cook
5,285,107
DuPage
929,192
Lake
710,241
Will
673,586
Kane
501,021
McHenry
315,943
Winnebago
298,759
Madison
267,347
Top City Populations
Chicago
2,853,114
Aurora
171,782
Rockford
157,272
Joliet
146,125
Naperville
143,117
Springfield
117,352
Peoria
114,114
Elgin
106,330
Waukegan
91,138
Cicero
80,976
Sources:
Annual Estimates of the Population of Metropolitan and Micropolitan Statistical Areas: April 1, 2000 to July 1, 2008;
Annual Estimates of the Population for Counties of Illinois: April 1, 2000 to July 1, 2007;
Annual Estimates of the Resident Population for Incorporated Places Over 100,000, Ranked by July 1, 2008 Population: April 1, 2000 to July 1, 2008;
Annual Estimates of the Population for Incorporated Places in Illinois, Listed Alphabetically: April 1, 2000 to July 1, 2007
About Illinois
Capital: Springfield
Nickname: Prairie State
State Flower: Purple Violet
State Bird: Cardinal
State Tree: White Oak
Total Interstate Mileage: 2,203.42
Land Area: 57,918 square miles
Highest Point: Charles Mound 1,235 feet
Lowest Point: Mississippi River in Alexander County 279 feet
Number of Counties: 102
Statehood: 21st state; admitted December 3, 1818
Major League Sports Franchises
Chicago Bears (NFL)
Chicago Blackhawks (NHL)
Chicago Bulls (NBA)
Chicago Cubs (MLB)
Chicago Fire (MLS)
Chicago White Sox (MLB)
Chicago Cardinals, relocated in 1959 to St. Louis and eventually Phoenix.
Chicago Zephyrs, relocated in 1963 to Baltimore and renamed the Bullets, later moving again to Washington and eventually changing names to the Wizards.
Tri-Cities Blackhawks, relocated to Milwaukee in 1951, later becoming the Atlanta Hawks in 1968.
Major Motorsport Speedways
Updated July 16, 2021.