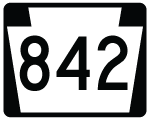 Traveling 15.1 miles, Pennsylvania 842 lies wholly within Chester County between Pennsylvania 841 in West Marlborough Township and U.S. 322 Business (High Street) in downtown West Chester. The state route utilizes a one-way street couplet of Miner Street (west) and Market Street (east) in West Chester before exiting the county seat for a parallel run to the East Branch Brandywine Creek to Wawaset. West from Wawaset, the route takes on a more rural feel to Unionville, where PA 842 briefly joins PA 82. Beyond the 0.3-mile overlap at Unionville, Pennsylvania 842 ventures west to Upload and Clonmell before ending at PA 841 and Hood Road.
Upon entering West Chester at Everhart Park, Pennsylvania 842 (Miner Street) splits into a one-way street couplet. Eastbound traffic turns north on Brandywine Street to Market Street while Miner Street shifts to westbound only.
Pictured here is the turn from Brandwyine Street north to Market Street east. Photo taken 08/15/04.
| | |
| --- | --- |
| | Like Pennsylvania 842, U.S. 322 Business also partitions into a one-way street couplet in West Chester. Pennsylvania 842 (Market Street) east ties into U.S. 322 Business (New Street) east for its terminus. An end shield assembly resides at the Market Street intersection with Potter Alley. Photo taken 08/15/04. |
| | |
| --- | --- |
| | U.S. 322 Business eastbound travels New Street south from Hannum Avenue at Gay Street (PA 3 west) to intersect Market Street and PA 842. At Market Street, the business route turns eastward for a three-block drive through downtown West Chester to High Street. U.S. 322 Business westbound follows High Street north to Chestnut Street, and Chestnut Street west to Hannum Avenue. Photo taken 08/15/04. |
| | |
| --- | --- |
| | One block south of the U.S. 322 Business one-way couplet merge at Market Street on High Street is the westbound beginning of Pennsylvania 842 at Miner Street. Turn west onto Miner Street and the first reassurance shield of the state route is posted. Photo taken 08/15/04. |



Photo Credits:

08/15/04 by AARoads

Connect with:
Route 841

Page Updated 05-16-2013.