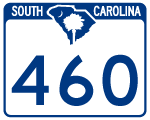 South Carolina Highway 460 constitutes a 12.47 mile long suburban loop encircling Fort Mill in northern York County. The route along Fort Mill Parkway around the south side of Fort Mill between U.S. 21 Business (Spratt Street) and .C. 160 (Tom Hall Street) is unmarked. S.C. 460 follows Springfield Parkway north from S.C. 160 to the Springfield Golf Club development and the Carolina Orchards development at U.S. 21 Business (Old Nation Road).
S.C. 460 (Springfield Parkway) combines with U.S. 21 Business for 0.61 miles between separate branches of Old Nation Road north of Fort Mill. S.C. 460 proceeds west from the overlap to U.S. 21 Business by the Springfield Town Center retail complex and onto Gold Hill Road ahead of the diverging diamond interchange (Exit 88) with Interstate 77. Gold Hill Road leads S.C. 460 west 2.39 miles between a number of subdivisions to S.C. 160 by Stockbridge Commons shopping center near the city of Tega Cay.
Construction reconfiguring the exchange joining I-77 and S.C. 460 from a diamond interchange into a DDI was funded as part of the Pennies for Progress program. A sales tax increase approved by York County voters by referendum in 2011, the DDI was included in the fourth round of funded projects in 2017. The new traffic pattern was introduced on September 13, 2021. Work completing the interchange extended to the end of the year.1
The Pennies for Progess program also funded construction for a new intersection joining Fort Mill Parkway and U.S. 21 Business (Spratt Street) in south Fort Mill. The realignment shifts Fort Mill Parkway near the Fort Mill wastewater treatment plant and a new housing development, making the parkway the through movement. Work commenced in Summer 2021 and runs through Fall 2022.1
Fort Mill Parkway opened from S.C. 160 at Springfield Parkway south and west to U.S. 21 Business (Spratt Street) following a ribbon cutting ceremony held on June 30, 2016. Funded by the Pennies for Progress program in 2003 with an estimated cost of $7.6 million,2 the first phase of the southern bypass, 2.2 miles from Spratt Street to Holbrook Road, opened to traffic on July 30, 2014.3 The final cost to build it was around $27 million. The second phase, with an estimated cost of $7.6 million in 2003 and actual cost near $21 million, extended the parkway from Holbrook Road north to S.C. 160. Formerly referred to as the Fort Mill Southern Bypass, the arterial roadway was formally named Fort Mill Parkway in 2014.2
The northern Fort Mill bypass, 4.2 miles of S.C. 460 along Springfield Parkway, was funded by the Pennies for Progress program in 1997. The section from S.C. 160 north to Deerfield Road cost $14.6 million to build, which was over twice the estimated cost in 1997.2 The two lane bypass opened to traffic by the beginning of August 2007, with final paving work continuing into the Fall of 2007. A formal ribbon cutting event for Springfield Parkway took place on October 18, 2007.4
Sources:
"Fort Mill interstate exit at Gold Hill Road, I-77 to open." Herald, The (Rock Hill, SC), August 23, 2021.
"Roads - After 13 years, Fort Mill bypass opens to traffic - Fort Mill Parkway extends to S.C. 160, where it meets Springfield Parkway - Town officials celebrate full bypass opening Thursday." Herald, The (Rock Hill, SC), July 3, 2016.
"1st section of Fort Mill Parkway opens - The road is 2.2 miles long and is expected to see 20,000 cars a day." Fort Mill Times (SC), August 6, 2014.
"Blue-ribbon day for Fort Mill bypass." Fort Mill Times (SC), October 19, 2007.
Photo Credits:
11/20/21, 11/21/21 by AARoads
Connect with:
Interstate 77
U.S. 21
U.S. 21 Business - Fort Mill
Highway 160
Page Updated 11-24-2021.