Tennessee State Route 36 runs 21.15 miles north from Johnson City to the Virginia state line alongside U.S. 23 in Kingsport. SR 36 parallels Interstate 26 to the east along the pre-freeway alignment of U.S. 23 through the communities of Oak Grove, Spurgeon and Colonial Heights. SR 36 provides one of two state routes into Downtown Kingsport, following Center Street west to SR 355, and Lynn Garden Drive north to U.S. 11W (W Stone Drive).

South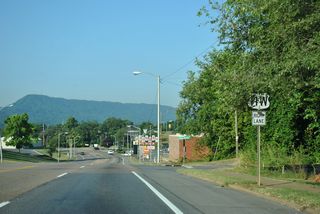 Holston River Mountain rises to the south in this scene preceding the folded diamond interchange joining SR 36 with U.S. 11W.
06/25/12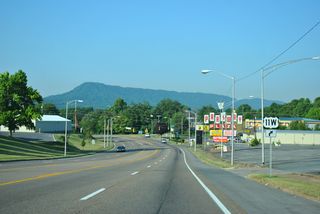 A vintage sign for the abandoned Parkway Plaza was formerly posted along SR 36 (Lynn Garden Drive) north of U.S. 11W.
06/25/12
Photo Credits:
06/25/12 by AARoads
Connect with:
U.S. 11

Page Updated 08-20-2020.