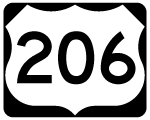 U.S. 206 travels 129.77 miles within New Jersey, from Hammonton north to the Milford-Montague Toll Bridge across the Delaware River into Dingman township, Pennsylvania. Starting at the intersection of U.S. 30 and New Jersey 206, ventures northeast through Wharton State Forest and into Shamong township. turning more northward, the US highway continues to Southampton township, Mansfield township and Bordentown. A brief overlap coincides with U.S. 130 ahead of Hamilton township and the trek through Trenton.
Once in Trenton, U.S. 206 partitions with northbound following Broad Avenue and Brunswick Avenue and southbound taking Martin Luther King, Jr. Boulevard and Lafayette Street. Lawrence Avenue Road combines the two components as U.S. 206 winds northeast to Lawrenceville. Beyond the Trenton belt line, U.S. 206 gains more importance as a through route linking Trenton with North Jersey. The corridor is mostly two-laned and congested, handling the traffic needs meant for the unconstructed Somerset Freeway of Interstate 95.
Once into Hillsborough township, U.S. 206 sees a partially completed bypass to the east. The controlled-access route currently runs north from Hillsborough Road to CR 514 (Amwell Road). It will tie into an arterial stretch of U.S. 206 leading north to Somerville and Somerville Circle with U.S. 202 at Raritan. U.S. 202 and 206 combine through Bridgewater township, paralleling Interstate 287 north to Bedminister township outside Far Hills.
U.S. 202 turns more easterly, remaining with the I-287 corridor as U.S. 206 branches northwest to Peapack-Gladstone, Chester and Netcong. A short overlap takes the US highway on I-80 between Exits 27 and 25 between Netcong and Stanhope. The remainder of the route traverses the North Jersey mountains through Andover, Newton, Branchville, Sandyston township and Montague township. A 0.46-mile stretch concludes U.S. 206 at U.S. 6 in Pike County, Pennsylvania.
U.S. 206 New Jersey Highway Guides
| | |
| --- | --- |
| | New Jersey 54 north at U.S. 30 (White Horse Pike) and U.S. 206 (Trenton Road) in Hammonton. The intersection here represents both the north end of NJ 54 and southern terminus of U.S. 206. Photo taken 02/25/00. |
| | |
| --- | --- |
| | Old York Road, a frontage road to the NJ Turnpike, originally connected U.S. 206 with Rising Sun Road west to Interstate 295. This left turn to Old York Road was eliminated when a new multi-lane connector was constructed further north. Photo taken 03/23/04. |
A green on white entrance sign directs motorists from U.S. 206 into the trumpet interchange for Exit 7 of the NJ Turnpike. Construction associated with the 2009-14 widening of the Turnpike nearby reconfigured Exit 7 into a wider interchange.
Interstate 95 follows the Turnpike northward from Exit 6 (Pennsylvania Turnpike Extension) to Ridgefield. Photo taken 03/23/04.
Traffic from U.S. 206 separates into ramps for the NJ Turnpike south and north. Similar to conventions used on the Pennsylvania Turnpike, no shields or trailblazers are posted for the toll highway. Instead guide signs simply accentuate the cardinal directions and two control points.
Exit 6 (Pennsylvania Turnpike Extension) is next in line for the Turnpike southbound. I-95 north reaches the Bordentown interchange with Exit 7A (Interstate 195) in six miles. Photo taken 03/23/04.
| | |
| --- | --- |
| | The interchange between U.S. 202 & 206 with Interstate 287 near Pluckemin originally included a loop ramp from the US route pair directly onto the freeway. The on-ramp was removed to eliminate a weaving traffic pattern with the northbound off-ramp. Instead motorists now must take Schley Mountain Road north to its on-ramp at CR 652. Photo taken 10/01/05. |
| | |
| --- | --- |
| | A jughandle connects U.S. 202 & 206 north with River Road west in Bedminster Township. The turn also doubles as part of the movement from I-287 south to U.S. 202 & 206 south to Pluckemin. Photo taken 10/01/05. |
Photo Credits:
02/25/00 by AARoads.
03/23/04 by AARoads.
10/01/05 by Justin Cozart.
Connect with:
Interstate 95
Interstate 195
Interstate 287
Interstate 295
U.S. 1
U.S. 130
Route 38
Page Updated 05-09-2014.