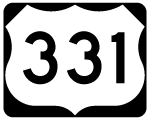 U.S. 331 enters Florida from Florala, Alabama. Traveling wholly within Walton County, U.S. 331 measures 49.36 miles in length, including a 1.88-mile overlap with U.S. 90 in Defuniak Springs. Heading south from the state line, U.S. 331 navigates along a rural course through Paxton, near Lakewood and Walnut Hill, the highest point in Florida. Entering the city of Defuniak Springs, U.S. 331 passes between Holly and Juniper Lakes to connect with U.S. 90 at DeFuniak Springs Airport. The two run east to DeFuniak Springs City Hall, where U.S. 331 resumes a southward heading along a four-lane arterial to Interstate 10.
South I-10 in DeFuniak Springs, the ensuing 12.080 mile stretch of U.S. 331 to the city of Freeport and SR 20 was four-laned (FDOT Project Number 220663-7), with all lanes opened to traffic by June 6, 2018.1 The expansion improves hurricane evacuation and enhances the corridor for further economic development.
Through Freeport, U.S. 331 was realigned to bypass the city to the east along a new terrain route in 2007-08. The shift eliminated a one-mile dog leg east along side SR 20 (Main Street) from the business district. The old route was initially posted as U.S. 331 Business and subsequently renumbered as Walton County Road 883.
Continuing south from SR 20, U.S. 331 heads five miles to the Clyde B. Wells Bridge spanning Choctawhatchee Bay and 9.7 miles to its south end at U.S. 98. A $118.5 million project underway from December 2013 to June 2017 expanded this section to four lanes. Included in the work was the addition of a new 12,000-foot long bridge adjacent to the original Clyde B. Wells Bridge for northbound traffic. A 400-foot long fishing pier was also built along with boat ramps at a new public park.2
Sources:
All four lanes of U.S. 331 between State Road 20 and I-10 are open to traffic. Drivers may still experience intermittent lane closures in the coming weeks as crews complete incidental work items. DRIVE SAFE. [Facebook update]. Retrieved from https://www.facebook.com/UsHighway331/photos/a.413923681993994/1647991988587151/?type=3.
"U.S. 331 bridge now complete." Northwest Florida Daily News (Fort Walton Beach), June 9, 2017.
Connect with:
Interstate 10
U.S. 98
State Road 20
Page Updated 10-09-2018.