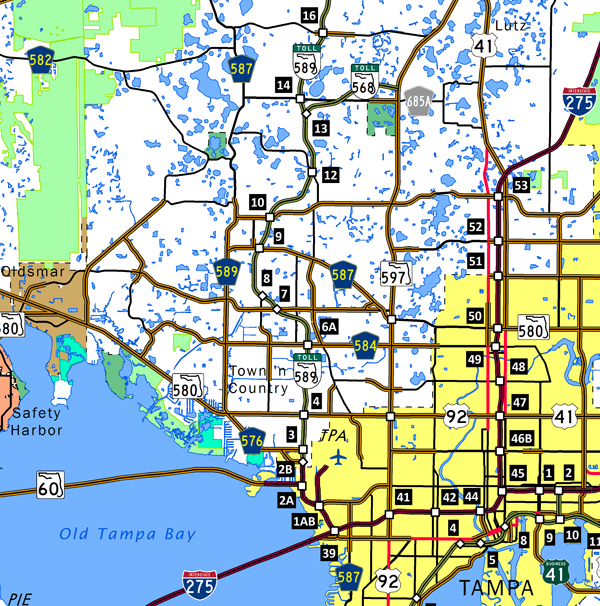 State Road 589 follows the Veterans Expressway north from SR 60 (Memorial Highway) and Tampa International Airport (TPA) through Hillsborough County to Lutz. The Suncoast Parkway extends SR 589 north from the Veterans Expressway spur (SR 568) to Dale Mabry Highway (SR 597), through Pasco and Hernando Counties to SR 44 (Gulf to Lake Highway) east of Crystal River. Operated by Florida's Turnpike Enterprise, both the Veterans Expressway and Suncoast Parkways use all electronic toll (AET) collection.
Expanded to six general purpose lanes with two Express Toll lanes, the 17 mile long Veterans Expressway generally serves commuter traffic between Tampa, Westchase, Carrollwood, Northdale and Lutz. It seamlessly transitions to the Suncoast Parkway south of Van Dyke Road (CR 685A), which continues SR 589 north to Land O' Lakes and Odessa. Beyond SR 52 in Pasco County, commuter traffic tapers off, with the Parkway north to Spring Hill and Brooksville more lightly traveled. The Suncoast Parkway connects with U.S. 98 northwest of Brooksville, then continues into Citrus County ahead of Sugarmill Woods. Passing east of Homosassa Springs, the toll road ties into SR 44 west of Inverness.
Florida State Road 589 Guides
Years in planning, the Veterans Parkway was the result of a long proposed freeway corridor northwest of Tampa. Following community outreach and design changes, the alignment for the limited access road was decided in January 1987. Other alignments considered for the expressway included utilizing Dale Mabry Highway, which would have been prohibitively expensive. Constructed between August 1992 and September 1994, the toll road runs from north from SR 60 (Memorial Highway) to SR 597 (Dale Mabry Highway) in Lutz.
The Suncoast Parkway extends State Road 589 northward through Pasco County to Brooksville and U.S. 98 near the Citrus County line. Work commenced on a two phase $507 million project in Summer 1998. The first phase was finished in February 2001 between the Veterans Expressway and SR 50 between Weeki Wachee and Brooksville. Completion followed in August 2001 to U.S. 98.1
Tolls charged on the Veterans Expressway and Suncoast Parkway increased by 25% on June 24, 2012 alongside hikes on other Florida's Turnpike Enterprise roadways. The toll addition funded improvements including additional lanes in congested areas, conversion of outdated toll plazas to all electronic toll collection and system wide interchange improvements.3
Cash toll collection ended on the Veterans Expressway in mid-2014. The Suncoast Parkway was converted to all electronic toll collection on February 1, 2020.9
A $380 million project finished in Spring 2018 upgraded an 11 mile section of the Veterans Expressway. Work rebuilt the entire toll road, with widening of the expressway from four to eight lanes between SR 60 (Memorial Highway) and CR 587 (Gunn Highway), and provisions to expand the road north from Gunn Highway to Van Dyke Road (CR 685A) to eight lanes.6 The lane additions include a Thru Lane, with limited ingress and egress points, along each direction of SR 589. The Thru Lanes were previously Express Lanes with expected higher toll rates vary depending upon traffic flow on the general travel lanes. No additional charges are levied for using the Thru Lanes.
Additionally, the two main line toll plazas were removed and replaced with AET gantries. The wye interchange with Anderson Road was also reconfigured to eliminate left exit ramps. Overall 38 bridges were reconstructed and three new bridges added.6 Partitioned into 11 separate projects, the three phase improvement project was as follows:4

Phase I - SR 60 to Gunn Highway (Exit 9) Completion in 2015 and 2016
Phase II - Gunn Highway (Exit 9) to Sugarwood Toll Plaza Funding in Fiscal Year 2014
Phase III - Sugarwood Toll Plaza to Van Dyke Road (Exit 14) Funding in Fiscal Year 2015
The Veterans Expressway Thru Lanes run northbound from SR 580 (Hillsborough Avenue) to SR 568 (Dale Mabry Highway connector) and southbound from SR 568 to Memorial Highway (CR 576). An ingress and egress point is located between Wilsky Boulevard (Exit 8) and Gunn Highway (Exit 9). The first phase of the Thru Lanes opened to traffic on December 9, 2017 between Hillsborough Avenue and Gunn Highway. The second phase, extending north three miles to SR 568, opened in Spring 2018.
Suncoast Parkway 2
Previously thought to start in Spring 2016 and finish in 2019,2 construction to lengthen the Suncoast Parkway north from U.S. 98 to State Road 44 east of Crystal River got underway on February 12, 2018. The $134.6 million project added 13 miles of the planned 27 mile Suncoast 2 extension. As part of the parkway expansion, full interchanges were constructed at U.S. 98 and Cardinal Street with a half diamond interchange built at State Road 44. The multi use Suncoast Trail was also extended, with completion expected in April 2022.10 Work was schedule through March 3, 2022.5 Suncoast Parkway opened north to SR 44 following a ribbon cutting held near the exchange with SR 44 on February 28, 2022.10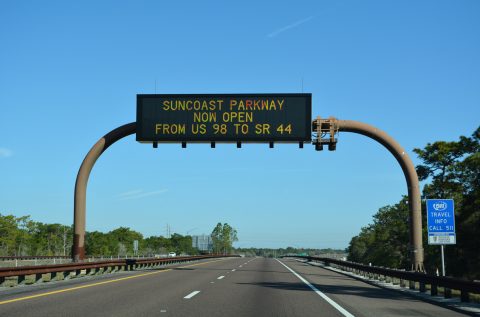 The second phase of the Suncoast 2 extension, from SR 44 three miles to County Road 486 moved forward with $86.6 million in funding for FDOT District 7's five year plan in December 2018. The bulk of right of way needed for the roadway is already reserved based upon late 1990s plans for extending the parkway to U.S. 19/98 north of Crystal River. The five year plan outlined $3 million in 2020 for planning, engineering and additional right of way acquisition, plus potential design to continue the roadway north to U.S. 19/98. Allocation of $18.2 million in 2022 covers added right of way and utility relocation costs, and $65 million in 2024 funds construction.8 A boost in funding accelerates construction, which is slated to begin in early 2023.10
Suncoast Parkway 2, Phase 3 further lengthens SR 589 north by another ten miles from CR 486 to U.S. 19. Interchanges will be built at CR 486, CR 495 and U.S. 19, along with two all electronic tolling (AET) locations. Phase 3A, from CR 486 to CR 495 is under design while Phase 3B, from CR 495 to U.S. 19 is not yet funded for construction.
| | |
| --- | --- |
| | scenes |
| | |
| --- | --- |
| | The entrance ramp from Eisenhower Boulevard north onto the Veterans Expressway. The irregular SR 589 trailblazer here was replaced by 2011. 03/25/07 |
Sources:
Florida's Turnpike - System Description, accessed March 6, 2014.
Suncoast Parkway 2, accessed November 17, 2015.
"Florida tolls to rise June 24." Tampa Bay Times, June 16, 2012.
Florida's Turnpike - Current Construction Projects, accessed February 6, 2014.
"Parkway work starts Feb. 12." Citrus County Chronicle (Crystal River, FL), January 15, 2018.
Veterans Expressway Widening And Conversion To All-electronic Tolling (Mileposts 3-14). http://www.floridasturnpike.com/ construction.html Construction - Florida's Turnpike web site. access February 17, 2018.
"Express lanes set to open on Veterans. They're free -- for now." Tampa Bay Times (FL), December 8, 2017.
"State plans $86.6 million parkway extension to CR 486." Citrus County Chronicle (Crystal River, FL), December 11, 2018.
"Cash toll booths close Friday on the Suncoast Parkway." Tampa Bay Times (FL), January 29, 2020.
"Suncoast Parkway opens to fanfare." Citrus County Chronicle (Crystal River, FL), February 28, 2022.


Photo Credits:

03/25/07 by AARoads

Connect with:
U.S. 98
State Road 44
State Road 50
State Road 52
State Road 54
State Road 60
State Road 580
State Road 568 - Veterans Expressway
Pasco County Road 524 - Ridge Road
Hernando County Road 574 - Spring Hill Drive
County Road 576 - Memorial Highway
Hernando County Road 578 - County Line Road
County Road 582
County Road 584 - Waters Avenue
County Road 587 - Gunn Highway
Hillsborough County Road 685A - Van Dyke Road

Page Updated 03-03-2022.