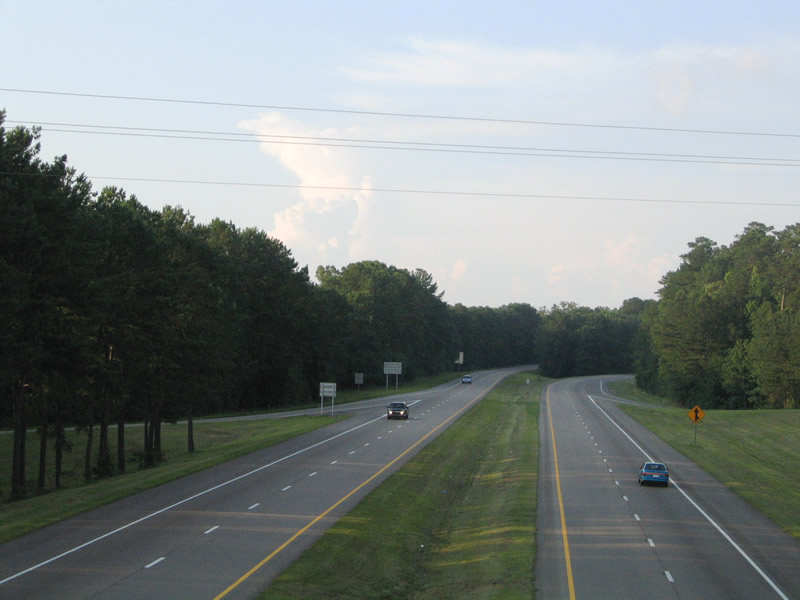 Traveling 172 miles through southeastern Mississippi, Interstate 59 joins the Greater New Orleans area with Hattiesburg, Laurel and Meridian. Combining with Interstate 20, I-59 exits the state northeast to Tuscaloosa and Birmingham, Alabama.
I-59 replaced U.S. 11 as the main route north from Picayune to Poplarville, Hattiesburg, Ellisville, Laurel and Meridian. The freeway is mostly rural, with urban sections in west Hattiesburg, through Laurel and along side I-20 and U.S. 11/80 in Meridian. U.S. 98 overlaps with Interstate 59 as part of its bypass of Hattiesburg between Columbia and Lucedale.
Interstate 59 Mississippi Guides
I-59 S-Curve Reconstruction Project - Laurel
Interstate 59 through Laurel was under construction in 1955 as a bypass route for U.S. 11. The I-59 designation was applied in 1956, and the freeway opened to traffic in 1961. This stretch included the infamous "Laurel Curve," where I-59, U.S. 84 and MS 15 navigated through a series of substandard S-curves. This stretch of road was the site of numerous fatalities and speed limits posted at just 40 miles per hour.1
An Environmental Impact Statement was conducted for the redesign of the Laurel Curve from 1986 to 1988. Improving the geometry of the freeway and reconfiguring the Beacon Street exit into a parclo interchange, the I-59 S-Curve Reconstruction Project started on June 27, 2006. Improvements in the multi phase project including realigning Jefferson Street, straightening out a 3,700 foot long section of I-59 between 16th and 4th Avenues, correcting slopes between the roadways and widening travel lanes and shoulders.1
The Mississippi Department of Transportation (MDOT) held a ceremony marking completion of the removal of the S-curve on September 10, 2009.2 The MDOT project also received the 2010 America's Transportation Award from the American Association of State and Highway Officials. The final phase of the project, rebuilding two miles of I-59 north from 4th Avenue to Chantilly Street, commenced in December 2010. Finishing $6 million under budget, the $26 million overall project wrapped up in July 2011.1
A $24 million project underway in April 2019 upgrades the diamond interchange joining Interstate 59 with Evelyn Gandy Parkway (Mississippi 42) into a parclo with a much larger foot print and new service roads. Located north of Hattiesburg at Exit 69, federal and state funds paid for the two year road work.3
Sources:
"Getting it straight: Last touches on Mississippi project put 'S-Curve' in rearview mirror." Mississippi Business Journal (Jackson, MS), May 8, 2011.
"I-59 work continues - Should be complete by July." Laurel Leader-Call (MS), December 11, 2010.
"MDOT to begin interchange construction on I-59, MS-42." WDAM (Moselle, MS), March 13, 2019.
Connect with:
Interstate 20
U.S. 84
U.S. 98
Highway 26
Highway 42
Page Updated 03-28-2019.