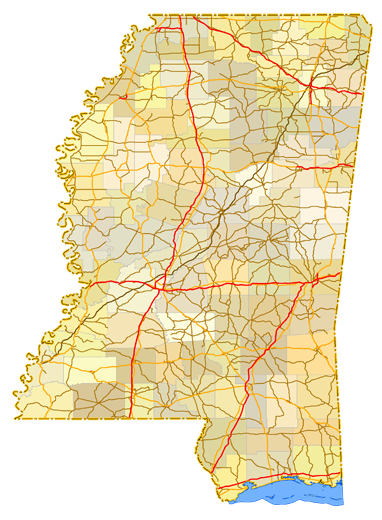 Sitemap to all pages covering the state of Mississippi. Contributions and photography for the Mississippi guides from Alex Nitzman, Andy Field, Brent Ivy, Carter Buchanan, Justin Cozart and Trevor B.
Highway Guides
About the Mississippi State Highway System
One and two digit state routes are primary and orientated with the lowest odd numbered route running north-south from west to the east and the even numbered routes assigned to east-west highways and counting upwards from north to south. There are some exceptions.
Mississippi also utilizes a route clustering system for the numbering of three-digit routes. These range from the 300 series at the northern end of the state to the 600 series within the Gulf Coast counties. 100 series numbers are reserved for former alignments of U.S. Highways and act as business loops or alternate alignments to the parent US Route. Mississippi Highway 245 is an exception to this rule as it represents an old alignment of U.S. 45 Alternate.
Unsigned highways are legislative in nature and range in the 700s, 800s and 900s, with a clustering system from north to south similar to the 300-600 series. Signs for these routes appear occasionally throughout the state.
State Population
2,967,297
Metropolitan Populations
Jackson
539,057
Gulfport-Biloxi
248,820
Pascagoula
162,246
Hattiesburg
142,842
—
—
—
—
Top County Populations
Hinds
245,285
Harrison
187,105
DeSoto
161,252
Rankin
141,617
Jackson
139,668
Madison
95,203
Top Incorporated Area Populations
Jackson
173,514
Gulfport
67,793
Southaven
48,982
Hattiesburg
45,989
Biloxi
44,054
Meridian
41,148
Tupelo
34,546
Greenville
34,400
Olive Branch
33,484
Source: U.S. Census Bureau, 2010 Census Redistricting Data Summary File.
Table of United States Metropolitan Statistical Areas
About Mississippi
Capital: Jackson
Nickname: Magnolia State
State Flower: Magnolia
State Bird: Mockingbird
State Tree: Magnolia
Land Area: 46,923.27 square miles, 32nd largest
Total Interstate Mileage: 831.47 miles
Highest Point: Woodall Mountain 806 feet
Lowest Point: Sea Level
Number of Counties: 82
Statehood: 20th state; admitted December 10, 1817
Major League Sports Franchises
None
Updated November 18, 2019.