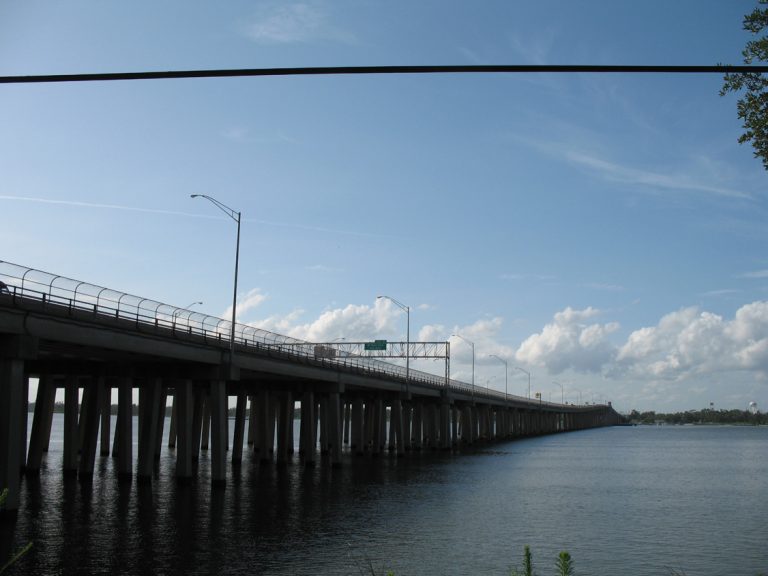 Interstate 110 spurs south from I-10 to the Biloxi business district and U.S. 90 (Beach Boulevard) at the west end of the casino strip and east of Keesler A.F.B. The northern extent of the freeway was built around the same time as Interstate 10 and an expressway connector leading north to MS 67. The spur was designated as part of the Interstate Highway system in 1971.1
Interstate 110 Mississippi Guides
2009 completion of the MS 67 expressway leading northwest from D'Iberville to U.S. 49 at Saucier coincided with the realignment of both MS 67, from Cedar Lake and Woolmarket, and the southern extent of MS 15. MS 15 was also dropped from its shared alignment with I-110 south to Biloxi.
Further changes took place just north of Interstate 110 along the Biloxi - D'Iberville Scenic Expressway. The first project replaced the congested intersection with Sangani Boulevard east and Promenade Parkway west at the Promenade big box retail center with a folded diamond interchange. The grade separation was constructed over an 18 month period for $7.3 million. It opened in July of 2013.2
As work was completed at Sangani Boulevard, constructed ramped up at the adjacent exchange between Interstates 10 and 110. Opened on January 21, 2015,3 a collector distributor roadway was added to I-10 east for a new half DDI with Galleria Parkway, ramps with I-110 and a new connection from Lamey Bridge Road. The exit from I-10 east to I-110 south was also realigned to improve the geometry.
Further south, a new five-lane overpass was built for Big Ridge Road to accommodate the wider footprint of I-110. This work coincided with the addition of a half diamond interchange (Exit 4A) there and renaming of Big Ridge Road to Popps Ferry Road. The $11.4 million project concluded at a ribbon cutting ceremony held on September 3, 2015.3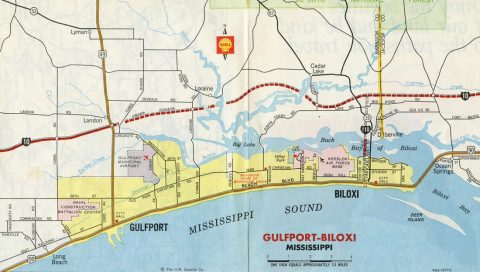 The remainder of I-110 south to Beach Boulevard was constructed on a viaduct by 1988. The urban section passes over both Keegan Bayou and a series of four cross streets with southbound only off-ramps. The elevated roadway concludes at an inverted trumpet interchange, with the south side ramps for U.S. 90 arcing over waters of Mississippi Sound.
The contract for construction of the Back Bay of Biloxi bridge was awarded on July 25, 1972.1 Completed in Fall 1974, the draw bridge replaced the adjacent D'Iberville Bridge (MS 15) as the main route between Biloxi and the Harrison County mainland. The freeway ended then at Bay View Drive, with MS 15 following I-110 northward and rejoining Caillavet Street south to U.S. 90.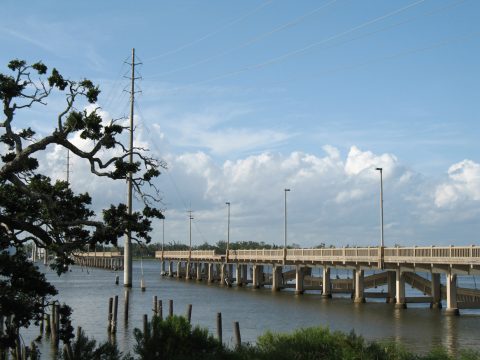 The adjacent D'Iberville Bridge (old Mississippi Highway 15) east of the Back Bay of Biloxi Bridge for I-110 was heavily damaged by storm surge from Hurricane Katrina. The converted fishing piers were demolished in 2008. Photo taken 07/17/07.
Interstate 110 weathered Hurricane Katrina rather well with only sign and guard rail damage. The route was closed for a short duration until crews could clean up debris from the southern end and restore U.S. 90 (Beach Boulevard) as a passable roadway.
| | |
| --- | --- |
| | scenes |
2 photos

2 photos

Replaced by 2003, the last original I-110 trailblazer directed traffic from Central Avenue (old MS 15) south to Rodriguez Street west. This intersection is drastically different today, with expansion of Central Avenue to a three lane boulevard. 09/16/00, 06/23/01
| | |
| --- | --- |
| | Rodriguez Street stems west from Gorenflo Road to intersect Central Avenue ahead of the diamond interchange with Interstate 110. 05/09/15 |
| | |
| --- | --- |
| | Prior to 2015, Rodriguez Street was the main access point between D'Iberville and Interstate 110. 05/09/15 |
| | |
| --- | --- |
| | Former sign assembly posted at the Rodriguez Street northbound on-ramp to I-110 with MS 15. 11/06/99 |
| | |
| --- | --- |
| | Rodriguez Street connects I-110 with Central Avenue (old MS 15) to the east and Auto Mall Parkway to the west. 05/09/15 |
| | |
| --- | --- |
| | The I-110 southbound entrance ramp from Rodriguez Street ascends onto the Back Bay of Biloxi Bridge. 05/09/15 |
Sources:
"4-lane bids slated." The Delta Democrat-Times (Greenville, MS), July 7, 1972.
"D'Iberville still adjusting to Sangani flyover a year later." WLOX (Biloxi, MS), September 17, 2014.
"New I-10 exit ramp opening near I-110." WLOX (Biloxi, MS), January 21, 2015.
"Drivers Alert: New interchange opens on I-110." WLOX (Biloxi, MS), September 3, 2015.
Photo Credits:
11/06/99, 09/16/00, 06/23/01, 05/09/15 by AARoads
Connect with:
Interstate 10
U.S. 90

Page Updated 03-30-2017.