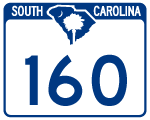 Forming a multi state route with NC 160, S.C. 160 forms an 11.03 mile long arc southeast from Charlotte, North Carolina to Indian Land in northern Lancaster County. S.C. 160 comprises a suburban arterial south into York County ahead of the city of Tega Cay. The commercialized route leads 3.85 miles southeast to meet Interstate 77 at Exit 85, where it enters the city of Fort Mill.
South of U.S. 21, S.C. 160 lines White Street to the Fort Mill business district. U.S. 21 Business accompanies the route for 0.39 miles to Main Street. Main Street takes S.C. 160 east to Tom Hall Street en route to the Lancaster County line across Sugar Creek. S.C. 160 continues along Fort Mill Highway by a mix of residential subdivisions, warehouse and distribution centers, and retail 2.72 miles to U.S. 521 (Charlotte Highway) across from Opportunity Drive.
With construction commencing in 2023, the diamond interchange joining S.C. 160 with I-77 will be rebuilt into a directional interchange at an estimated cost of $73 million. The design was one of three alternatives presented at a public meeting held on January 30, 2020, the others included a DDI and a SPUI. Following 462 formal public comments, the preferred option was the directional interchange design.1 Right of way acquisition for the road work commenced in September 2021. Associated construction expands S.C. 160 to six lanes from Pleasant Road (Road 22) south 1.13 miles to U.S. 21.2
Sources:
"The top traffic fix in the Rock Hill and Fort Mill metros just got more expensive." Herald, The: Web Edition Articles (Rock Hill, SC), June 1, 2020.
"A Fort Mill I-77 interchange is set to open soon, plus more York County road updates." Herald, The: Web Edition Articles (Rock Hill, SC), August 19, 2021.
Photo Credits:
09/16/21, 11/20/21, 11/21/21 by AARoads
Connect with:
Interstate 77
U.S. 21
U.S. 21 Business - Fort Mill
Route 160
Highway 460
Page Updated 11-24-2021.