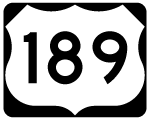 U.S. 189 begins at a trumpet interchange with Interstate 15 in south Provo. The route follows University Avenue due north through the city center en route to Brigham Young University. Continuing as a five-lane arterial, U.S. 189 parallels the Provo River north to Olmstead and the climb across the Wasatch Range. Turning more easterly through Provo Canyon, U.S. 189 transitions into a four-lane divided highway to Deer Creek Dam. The drive includes a short tunnel by Mount Timpanogos ahead of Utah 92 and Wildwood.
Winding around the eastern periphery of Deer Creek Reservoir, U.S. 189 narrows to two lanes to Utah 113 and Charleston. There the US route emerges at Heber Valley, a flat agricultural area spreading northeast to Heber City. U.S. 189 bee lines northeast as a five-lane arterial to end at U.S. 40 and milepost 28.890.
An implied overlap takes U.S. 189 north along side U.S. 40 from Heber City to Silver Creek Junction. The concurrency is solely acknowledged as U.S. 40 both in signing and in highway reference files. The shared alignment ends with U.S. 40, 46.835 miles north of I-15 in south Provo. The unmarked route of U.S. 189 follows Interstate 80 east to the Wyoming state line for a total accumulated mileage of 96.639 in Utah.
U.S. 189 was previously relocated from an L-shaped alignment east from U.S. 40 at Hailstone to Francis and north to Oakley and Interstate 80 at Wanship per Legislature Commission Action on November 3, 1989. This route was historically U.S. 189 Alternate per Utah Official Highway Maps.
The new alignment took U.S. 189 east along Utah 248 from the Park City Interchange with U.S. 40 to Kamas and Utah 32 (the new route number for former U.S. 189 south to Francis). This changed again by Commission Action on October 5, 1990, which shifted U.S. 189 onto the remainder of U.S. 40 north to Interstate 80, and on I-80 east to Wanship and the older overlap east into Wyoming. AASHTO approved of the relocation on December 7, 1990. The original intersection where U.S. 40 and 189 split at Hailstone is now at the bottom of Jordanelle Reservoir. The US highways were relocated to the west onto a freeway bypassing the new lake in 1990.
Connect with:
Interstate 15
Interstate 80
U.S. 40
Page Updated 06-29-2016.