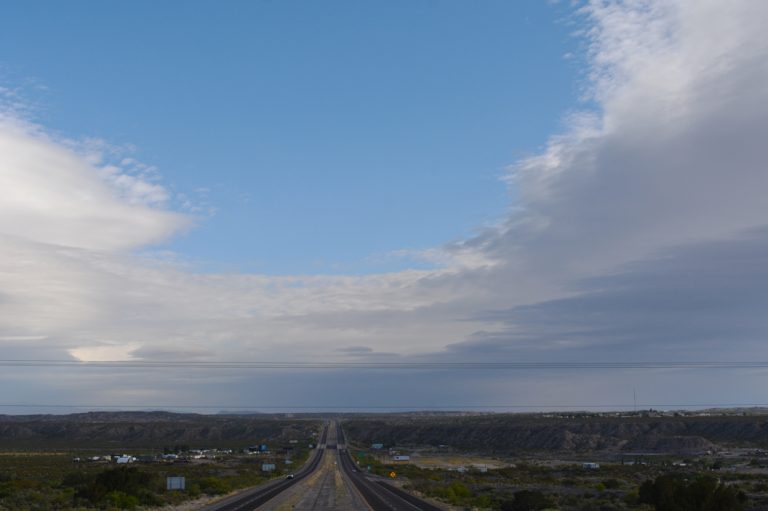 Originating in Las Cruces and the Mesilla Valley, Interstate 25 branches northward from I-10. The bulk of the freeway parallels the Rio Grande River, displacing old U.S. 85 northward to Albuquerque. The 462.12 mile route within New Mexico includes a long stretch where the freeway travels southward as it circumvents the Sangre De Cristo and Santa Fe Mountains between the capital city and Las Vegas. The freeway exits the state at Raton Pass, north from Raton through Railroad Canyon toward Trinidad, Colorado. Interstate 25 replaced U.S. 85 from Las Cruces northward to Denver. U.S. 85 is not officially acknowledged within New Mexico, but remains posted both south in El Paso, Texas and north in parts of Colorado.
Interstate 25 New Mexico Highway Guides
Passing through Rincon Valley, I-25 travels by Hatch as it circumvents the Caballo Mountains. Shifting west of the Rio Grande, Interstate 25 runs along side Caballo Reservoir to the city of Truth or Consequences. The Rio Grande feeds Elephant Butte Reservoir to the east while I-25 advances north across Monticello Canyon along plateaus rising to the west. Long straight aways extend I-25 northward into Socorro County and over Nogal Canyon. The west end of U.S. 380 follows at San Antonio and Exit 139.
Entering the city of Socorro, Business Loop I-25 separates along old U.S. 85. U.S. 60 converges with the freeway from Magdalena and overlaps with I-25 north 25 miles to Exit 175. Staying within the Rio Grande valley, Interstate 25 continues north to Belen and Los Lunas. The Bernalillo County line and Albuquerque metropolitan area lie a short distance beyond Los Lunas.
Heading north through Albuquerque, I-25 initially turns east across the Rio Grande at South Valley along the Pan American Freeway. The highway continues to Albuquerque International Sunport (ABQ) and between Downtown and the University of New Mexico campus to the Big I interchange with Interstate 40. North from the systems exchange with I-40, the freeway runs through a retail and industrial corridor to Sandia Pueblo.
Making a gradual northeasterly turn, Interstate 25 approaches the city of Santa Fe. NM 599 (Veterans Memorial Highway) forms an expressway belt route around the capital city from Exit 276 north to U.S. 84/285. I-25 stays to the south, curving away from the city through a valley along the Cerros Negros mountains.
The ensuing stretch of Interstate 25 arcs south with U.S. 285 to Exit 290 and back northeast around the Sangre De Cristo Mountains with U.S. 84 to Glorieta Pass. I-25 and U.S. 84 loop southward again between Glorieta Mesa and the Santa Fe Mountains to San Jose and north to their separation Romeroville and at Exit 339. I-25 crosses The Crestone through Puerto del Sur while U.S. 84 ventures southeast to Apache Springs and I-40 west of Santa Rosa.
The remainder of Interstate 25 in New Mexico travels north-south. The freeway progresses through Las Vegas, where a business loop departs along old U.S. 25, and to the east of the Turkey Mountains to the village of Wagon Mound. Heading north into Springer, another business loop separates from I-25, connecting Interstate 25 with the west end of U.S. 56 and 412. U.S. 64 east follows and overlaps with I-25 north into Raton. U.S. 64 departs there for Capulin along side U.S. 87, while U.S. 87 north accompanies the freeway into Colorado.
2 photos

2 photos

A parclo interchange joins University Drive east with Interstate 25 at Exit 1 in Las Cruces. Photos taken 01/14/06.
3 photos

3 photos

3 photos

University Avenue extends west from Dripping Springs Road from Tortugas Mountain to meet Interstate 25 ahead of New Mexico State University. Photos taken 01/14/06.
| | |
| --- | --- |
| | University Avenue spans Interstate 25 west from Memorial Medical Center and NMSU Golf Course to NMSU Pan American Center and Aggie Memorial Stadium. Photo taken 01/14/06. |
2 photos

2 photos

Interstate 25 southbound merges with I-10 east three miles south of University Avenue en route to El Paso, Texas. Photos taken 01/14/06.
| | |
| --- | --- |
| | NM 320 confirming marker posted west of the exchange with Interstate 25 at Exit 9 in Doña Ana. Photo taken 04/25/17. |
| | |
| --- | --- |
| | County Road 7 shield posted south of NM 320 (Thorpe Road) and Interstate 25 in Doña Ana. CR 7 follows El Camino Real (FL 5610) south 4.85 miles to U.S. 70 in Las Cruces. Photo taken 04/25/17. |
2 photos

2 photos

NM 320 (Thorpe Road) enters a diamond interchange with Interstate 25 east of CR 7 (El Camino Real) at unincorporated Doña Ana. Photos taken 04/25/17.
| | |
| --- | --- |
| | Avenida Cesar Chavez east at the northbound entrance ramp for Interstate 25 at Exit 223 in Albuquerque. Beyond the ridge ahead is the University of New Mexico sports complex and Isotopes Park. Photo taken 06/29/08. |
| | |
| --- | --- |
| | Oak Street north carries drivers from the I-25 northbound off-ramp at Exit 224A to Historic U.S. 66 (Central Avenue) in Downtown Albuquerque. Photo taken 06/29/08. |
2 photos

2 photos

Traveling along side I-25, Oak Street approaches the post-1937 alignment of U.S. 66 along Central Avenue in Albuquerque. Central Avenue connects the freeway with Downtown and the University of New Mexico (UNM) campus. Photos taken 06/29/08.
| | |
| --- | --- |
| | Named Pan American Freeway, a frontage road system accompanies I-25 through Albuquerque. Pictured here is the southbound approach to Candelaria Road and Menaul Boulevard. The succeeding entrance ramp lies south of the "Big I" interchange with Interstate 40. Photo taken 04/27/17. |
Photo Credits:
01/14/06, 06/29/08, 04/25/17, 04/27/17 by AARoads
Connect with:
Interstate 10
Interstate 40
Historic U.S. 66
U.S. 70
Page Updated 04-09-2019.