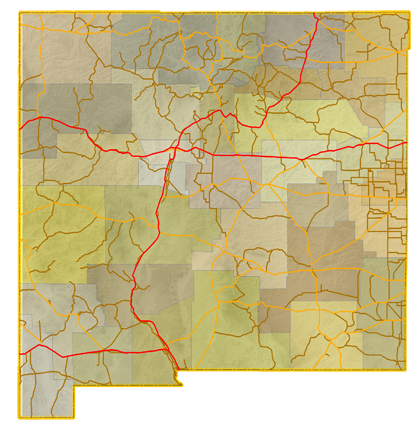 Sitemap to all highway guides covering roads across New Mexico. Photography contributions by Alex Nitzman, Andy Field, Brent Ivy and Kevin Trinkle. Many thanks to Kevin Trinkle and Phillip Dennis for accompanying us on these roadtrips through the Land of Enchantment.
Highway Guides
State Population
2,095,428
Top County Populations
Bernalillo
678,701
Doña Ana
217,522
Santa Fe
150,056
Sandoval
145,179
San Juan
125,043
Valencia
76,456
Top City Populations
Albuquerque
560,218
Las Cruces
102,926
Rio Rancho
98,023
Santa Fe
84,612
Roswell
47,635
Farmington
44,788
Source: U.S. Census Population estimates, July 1, 2018, (V2018)
About New Mexico
Capital: Santa Fe
Nickname: Land of Enchantment
Area: 121,593 square miles or 314,925 square kilometers, 5th largest
Statehood: 47th state; admitted January 6, 1912
Total Interstate Mileage: 999.90
Highest Point: Wheeler Peak 13,161 Feet above Sea Level
Page updated June 27, 2019.