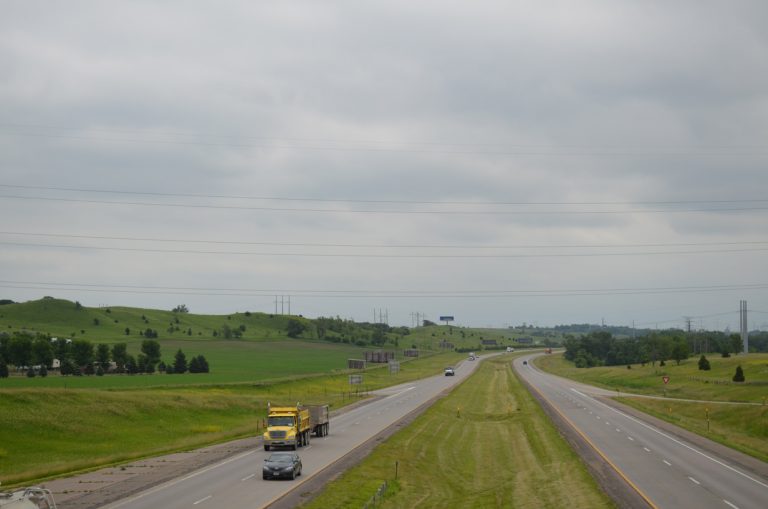 Interstate 90 is the longest Interstate highway in South Dakota, with 412.857 miles through the state. The freeway parallels U.S. 14 from the Wyoming State Line east to Wall via Rapid City; it replaced U.S. 16 from Rapid City east to the Minnesota State Line. Beginning in Seattle, Washington, at the intersection with Washington 519 just west of Interstate 5 in Seattle, Washington, Interstate 90 crosses the country along the northern tier. After passing through Chicago, Interstate 90 follows a series of toll roads and turnpikes east to Logan International Airport in Boston, Massachusetts. For more detail on nationwide Interstate 90, go to the Interstate 90 Guide.
Interstate 90 South Dakota Guides
Within South Dakota, Interstate 90 was completed in 1976.1


Planned since the late 1990s, a $25.9 million project both realigned a troublesome S-curve along Interstate 90 and removed a substandard interchange with South Dakota 79 at Black Hawk. Construction straightened out the freeway mainline and added a new diamond interchange (Exit 52) with Peaceful Pines Road. This replaced the former ramps (Exit 51) with SD 79 and Foothills Road, one half mile to the north. Work also realigned Foothills Road to the east. Work ran from March 2008 to February 3, 2009.3,4
Interstate 90 Business Routes
There are 14 business loops and spurs from Interstate 90 in South Dakota:
Spearfish
Wall
Kadoka
Belvidere (spur)
Murdo
Vivian
Presho
Oacoma/Chamberlain
White Lake (spur/unsigned)
Plankinton
Mitchell
Only two of the I-90 Business routes listed are officially designated by the state of South Dakota. Those include the Interstate 90 Business Loops at Mitchell and Chamberlain. All other routes are either city-maintained (Rapid City, Sioux Falls, Spearfish, Wall) or are state maintained but designated as another state trunk highway. Information on state highways turned over to cities can be found at the South Dakota Codified Law site.5
---
| | |
| --- | --- |
| | This view of Interstate 90 is afforded on the transition ramp from northbound Interstate 190 in Rapid City during the late afternoon. Photo taken 09/03/04. |
| | |
| --- | --- |
| | Marion Road south at the folded diamond interchange (Exit 395) with Interstate 90 to the northwest of Sioux Falls. Photo taken 06/17/15. |
| | |
| --- | --- |
| | Annexations of Sioux Falls expanded the city limits northwest to include new development by the southwest quadrant of I-29 and I-90. Ramps between the freeway and Marion Road opened to traffic on November 20, 2010.2 Photo taken 06/17/15. |
| | |
| --- | --- |
| | Timberline Avenue north at Interstate 90 west (Exit 402). Photo taken 06/17/15. |
Sources:
"Interstate Anniversary - To Be Marked In June." Aberdeen American News (SD), May 14, 2006.
"I-90 & Marion Road Interchange Opening." South Dakota DOT, press release. November 19, 2010.
"Exit 52 reconstruction to begin in March." South Dakota DOT, press release. February 15, 2008.
"Exit 52 at Black Hawk to open." South Dakota DOT, press release. January 30, 2009.
Schwartze, Brad: email: "Some Notes on South Dakota Roads That You've Visited Last Year," July 11, 2008.


Photo Credits:

09/03/04, 06/17/15 by AARoads

Connect with:
Interstate 29
Interstate 190
Interstate 229

Page Updated 07-19-2016.