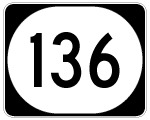 Iowa 136 constitutes a 97.6-mile long highway in an L-shaped route south from U.S. 52 at Luxemburg to Wyoming and east from there to Oxford Junction and Clinton. Highway 64 forms a multi-state route with Illinois 136 across the Mark Morris Memorial Bridge over the Mississppi River.
Iowa 136 Guides
Mark Morris Memorial Bridge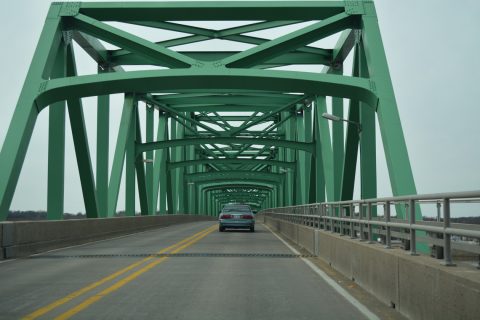 Opened in January 1975, the Mark Morris Memorial Bridge at Clinton replaced the Lyons-Fulton Bridge. The three-span, cantilever through truss bridge honors Mark Benton Morris (1893-1972), a civil engineer and 42-year employee of the Iowa State Highway Commission. As a member of the City of Clinton Bridge Commission from 1945 to 1972, he was a proponent for construction of a new bridge to replace the old Lyons-Fulton Bridge.1
The Lyons-Fulton Bridge was the original alignment of U.S. 30 (Lincoln Highway). Also named the Wagon Bridge and Lincoln Highway Bridge, the four-span truss bridge linked what was the town of Lyons, Iowa with the city of Fulton, Illinois. Constructed in 1891 with a wooden deck, the bridge was rehabilitated in 1933, with a metal deck installed. The City of Clinton Bridge Commission formed in 1945 to secure funding for construction of modern bridges for the area community. Commission efforts resulted in the Gateway Bridge, which opened on June 30, 1956 as the new alignment for U.S. 30. Plans for the second bridge, linking 19th Avenue in Clinton with 14th Avenue in Fulton, a half mile south of the predecessor span, followed with a series of studies filed from 1954 to 1959.1
Financing issues delayed construction on the eventual Mark Morris Memorial Bridge, with the substructure completed in 1971, but the remainder incomplete. The Iowa State Highway Commission took ownership of the span and completed work on the superstructure.1

Sources:
Historic Auto Trails - Mark Morris Memorial Bridge. Iowa Department of Transportation (IOWADOT).
Connect with:
U.S. 20
U.S. 61
U.S. 67
U.S. 151
Highway 64
Page Updated 12-20-2019.