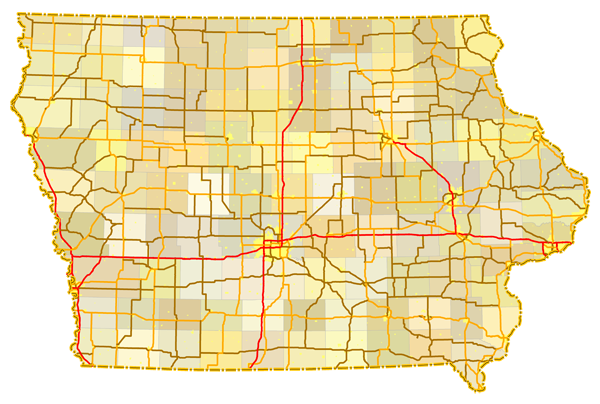 Sitemap to all pages covering the state of Iowa. Photography contributions by Alex Nitzman, Andy Field, Bill Gatchel, Brent Ivy and Scott Onson.
Highway Guides
City / Area Guides
State Highways
Many of the mileage statistics for highways cited throughout the AARoads' Iowa guides were obtained from the extensively researched Iowa Highways Page by Jason Hancock. Additionally Jeff Morrison's Iowa Highway Ends further covers each highway in the Hawkeye State with photos covering every end or entrance point from adjoining states.
State Population
3,190,369
Metropolitan Populations
Des Moines-West Des Moines
709,466
Quad Cities
384,324
Cedar Rapids
276,520
Iowa City
175,419
Sioux City
149,940
Ames
125,252
Top County Populations
Polk
492,401
Linn
230,299
Scott
174,669
Johnson
152,854
Black Hawk
131,144
Woodbury
105,941
Dallas
99,678
Dubuque
99,266
Top City Populations
Des Moines
212,312
Cedar Rapids
134,027
Davenport
101,799
Sioux City
82,759
Iowa City
76,608
Ankeny
70,068
West Des Moines
69,057
Waterloo
67,292
Ames
67,033
Council Bluffs
62,216
Sources: 2020 U.S. Census Data (metro populations and counties), 2020 U.S. Census Estimate (cities)
About Iowa
Capital: Des Moines
Nickname: Hawkeye State
State Flower: Wild Rose
State Bird: Eastern Goldfinch
State Tree: Oak
Total Interstate Mileage: 781.24
Land Area: 55,869.3 square miles
Acres in Farmland (2006): 31,500,000
Highest Point: Hawkeye Point 1,670 feet
Lowest Point: Mississippi River in Lee County 480 feet
Number of Counties: 99
Number of Incorporated Places: 948
Statehood: 29th state; admitted December 28, 1846
Quaker Oats, in Cedar Rapids, is the largest cereal company in the world.
Dubuque is home to the only county courthouse with a gold dome.
Herbert Hoover, a West Branch native, was the 31st president of the United States and the first one born west of the Mississippi.
Iowa is ranked first in Pork, Corn and Egg production in the U.S.
Major League Sports Franchises
None
Updated December 27, 2021.