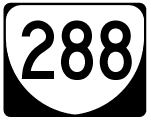 Virginia Route 288 connects I-95 and I-64 in the vicinity of Richmond, connecting Chesterfield, Powhatan, and Goochland Counties to the south and east of Richmond. Completed in stages between 1988 and 2004, A commuter freeway, SR 288 acts as a western bypass of the metropolitan area, while Interstate 295 serves the eastern bypass of Petersburg-Richmond. For more information, visit Scott Kozel's Virginia 288 - Southern and Western Sections.
Virginia Route 288 Guides
Connect with:
Interstate 64
Interstate 95
U.S. 1
U.S. 60
U.S. 301
U.S. 360
State Route 6
State Route 76 - Powhite Parkway
Page Updated 06-11-2005.