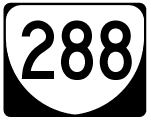 Virginia 288 connects Interstate 95 and Interstate 64 in the vicinity of Richmond, connecting Chesterfield, Powhatan, and Goochland Counties to the south and east of Richmond. Completed in stages between 1988 and 2004, Virginia 288 acts as a major freeway connector between two Interstate highways. Virginia 288 acts as a western bypass of the metropolitan area, while Interstate 295 serves the eastern bypass of Petersburg-Richmond. For more information, visit Scott Kozel's Virginia 288 - Southern and Western Sections.
Virginia 288 Highway Guides
Connect with:
Interstate 64
Interstate 95
U.S. 1
U.S. 60
U.S. 301
U.S. 360
State Route 6
State Route 76 - Powhite Parkway
Page Updated 06-11-2005.