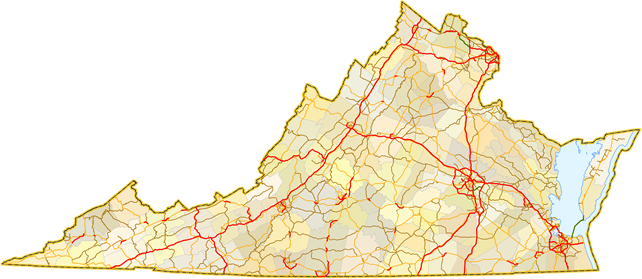 Sitemap to all pages covering the state of Virginia. Contributions and photography for the Virginia guides from Alex Nitzman, Andy Field, Brent Ivy, Carter Buchanan, Connor Lauzon, Justin Cozart, Mark Moore, Will Weaver and others.
State Population
8,001,024
Metropolitan Populations
Baltimore-Washington
7,608,070
Hampton Roads
1,569,541
Richmond-Petersburg
996,512
Roanoke
235,932
Lynchburg
214,911
Charlottesville
159,576
Top County Populations
Fairfax
1,081,726
Virginia Beach city
437,994
Prince William
402,002
Chesterfield
316,236
Loudon
312,311
Henrico
306,935
Norfolk city
242,803
Chesapeake city
222,209
Arlington
207,627
Top City Populations
Virginia Beach
437,995
Norfolk
242,803
Chesapeake
222,209
Richmond
204,214
Newport News
180,719
Alexandria
139,966
Hampton
137,436
Roanoke
97,032
Portsmouth
95,535
Source: 2000 U.S. Census Data (Metro Pops.), 2010 U.S. Census Data
About Virginia
Capital: Richmond
Nickname: Old Dominion State
Total Interstate Mileage: 1,156.43
Highest Point: Mt. Rogers 5,729 feet
Major League Sports Franchises
None
Major Motorsport Speedways
Sources
State routes mileages and other Virginia road statistics and history obtained from the Virginia Highways Project (Adam Froehlig, Mike Roberson). Additional road related history on the Virginia highway guides referenced from Scott Kozel's Roads to the Future web site.
Page Updated February 12, 2018.