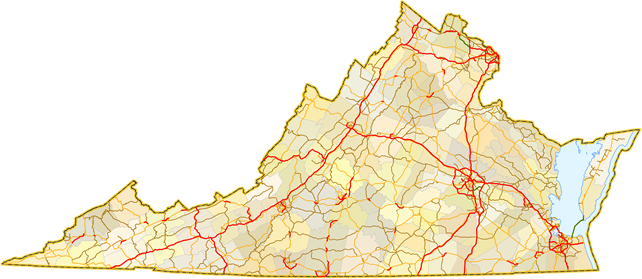 Sitemap to all pages covering the state of Virginia. Contributions and photography for the Virginia guides from Alex Nitzman, Andy Field, Brent Ivy, Carter Buchanan, Connor Lauzon, Justin Cozart, Mark Moore, Will Weaver and others.
State Population
8,517,685
Metropolitan Populations
Washington Arliogton Alexandria
6,249,950
Hampton Roads
1,728,733
Richmond-Petersburg
1,306,172
Roanoke
314,172
Lynchburg
263,353
Charlottesville
235,232
Top County Populations
Fairfax
1,150,795
Virginia Beach city
450,189
Prince William
468,011
Loudoun
406,850
Chesterfield
348,556
Henrico
329,261
Norfolk city
244,076
Chesapeake city
242,634
Arlington
237,521
Top City Populations
Virginia Beach
450,189
Norfolk
244,076
Chesapeake
242,634
Richmond
228,783
Newport News
178,626
Alexandria
160,530
Hampton
134,313
Roanoke
99,920
Portsmouth
94,632
Source: U.S. Census Population estimates, July 1, 2018, (V2018)
About Virginia
Capital: Richmond
Nickname: Old Dominion State
Total Interstate Mileage: 1,117.23
Highest Point: Mt. Rogers 5,729 feet
Major League Sports Franchises
None
Major Motorsport Speedways
Martinsville Speedway
Richmond International Raceway
Sources
State route mileages obtained from the Virginia Department of Transportation (VDOT) Approved Functional Classification Web Map. Historical references to some Virginia State Routes were researched using the Virginia Highways Page (Adam Froehlig, Mike Roberson) and the Roads to the Future (Scott Kozel) web site.
Page updated August 12, 2021.