In addition to the recent 1942 Washington, D.C. map we acquired, we got our hands on some other goodies, including a city map of Baltimore, Maryland and a map of the Hawaiian Islands including a Honolulu street map. We'll touch on some of the highlights for the Baltimore map before moving onward to the Aloha state.
The Baltimore city map is a Rand McNally base with a date code of 1946, making it the oldest map of the Charm City in our collection. The front side displays a general highway map of Baltimore and its vicinities while the reverse side shows a detailed Downtown inset with various points of interests. Unfortunately no proposed routing of the Baltimore-Washington Parkway (Maryland 295) is present on this map, even though initial construction would commence in 1947.
One of the more interesting gems of this downtown map was the particular routing of U.S. 301. Today U.S. 301 sees an end with U.S. 40 in Glasgow, Delaware, but prior to its 1960 rerouting, U.S. 301 entered Baltimore with a north terminus west of Downtown. The U.S. highway entered the Baltimore area along Annapolis Road, merging with Russell Street near its intersection with Bush Street. From that point U.S. 301 followed Russell Street northward to Freemont Street, turning along Freemont for four city blocks to Washington Boulevard. U.S. 301 then traveled with Washington Boulevard a short distance to Paca Street, turning north once more. Paca Street carried the U.S. highway to its then terminus at Fayette Street (then U.S. 29 & 40). This routing of U.S. 301 into downtown agrees with the one mentioned on Dale Sanderson's usends.com website.
Other key notes with this Downtown Baltimore inset include the showing of both southern termini of decommissioned U.S. 111 (Greenmount Avenue) and U.S. 140 (Pennsylvania Avenue) at U.S. 1 (North Avenue), and showing U.S. 29 following U.S. 40 (Fayette Street) to its then end in Downtown. U.S. 40 Bypass can also been seen crossing the downtown area by way of Franklin and Orleans Streets.
In addition to the Baltimore map, we took possession of a Gousha based 1956 map of Hawaii. Since Hawaii maps are more of a rarity in the Lower 48, this jewel is a pretty significant find. Not only does it predate statehood, it more or less predates the Interstate system! The front side covers the entire island chain, complete with topography, with the back side dedicated to a street map of Honolulu on the island of Ohau.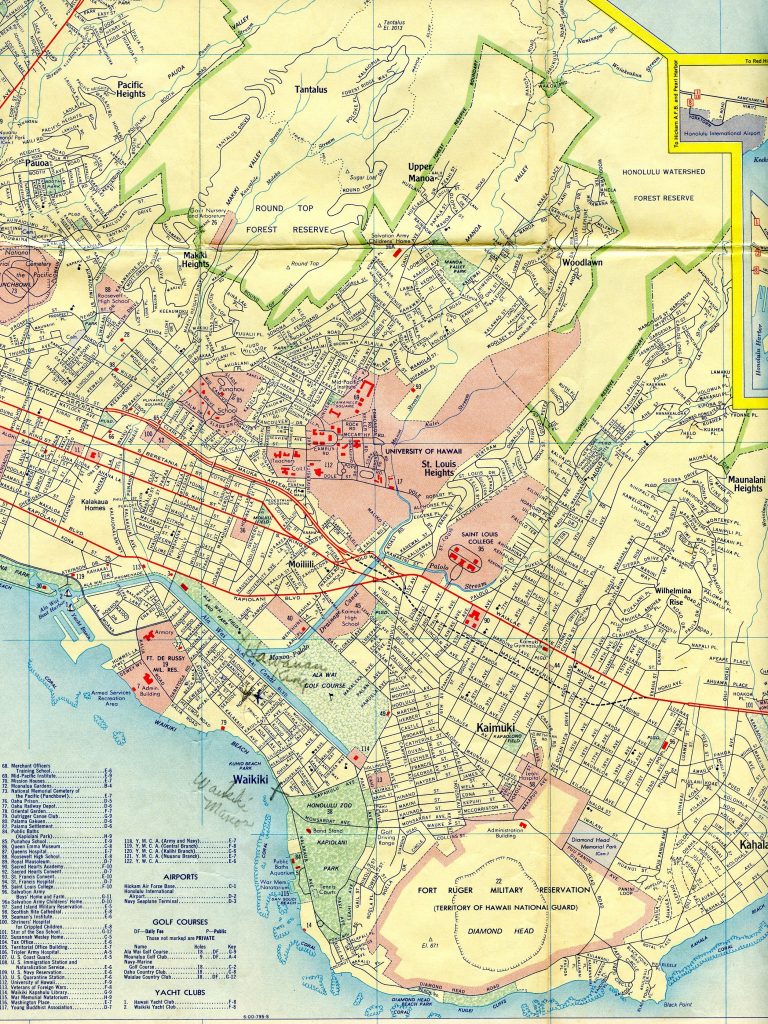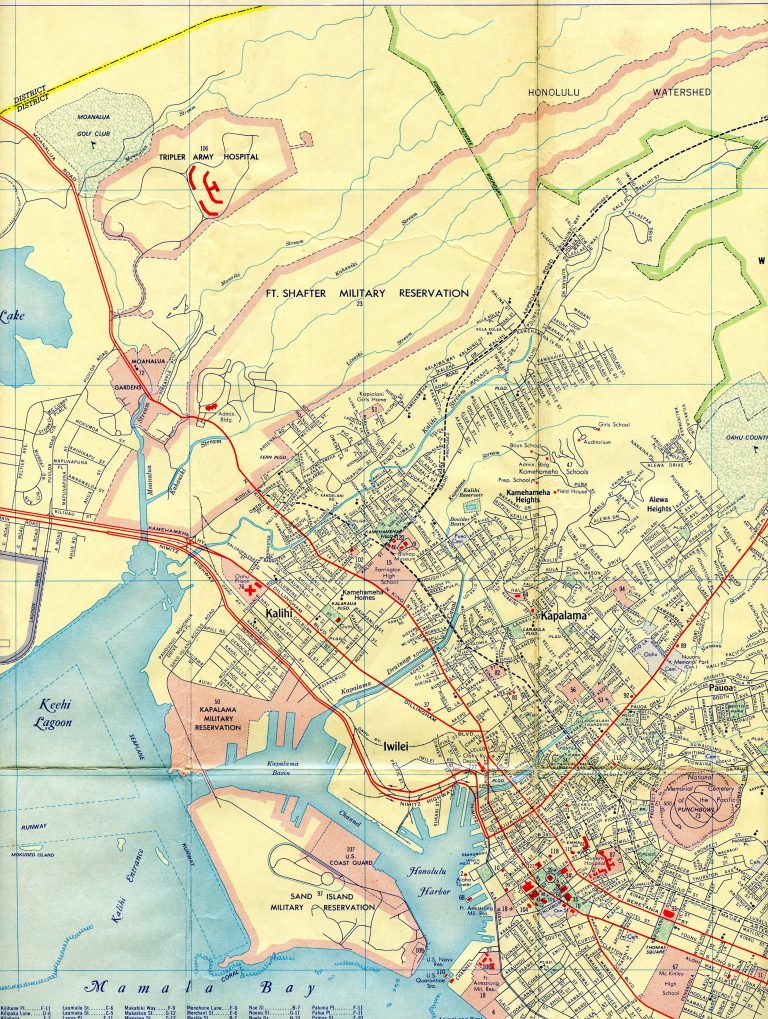 Though highway designations had been established throughout Hawaii in 1955, they are not present on this particular map. The Mauka Arterial (Interstate H1) is shown as being complete between Keeaumoku Street (Exit 23) to the west of Downtown Honolulu and Waialae Avenue (Exit 25A) just to the east of the central business district. A dashed line from the existing freeway extends eastward to Kalanianaole Highway (Hawaii 72) between 17th and 19th Avenues while another dashed line continues west from Keeaumoku Street along Lunalilo, Magellan, and School Streets. The proposed westward extension of the Mauka Arterial ends at the entrance to the Fort Shafter Military Reservation near Middle Street (current wye interchange between I-H1 and I-H201). An additional dashed line, which would become a realigned Vineyard Boulevard, can be seen spurring from the Mauka Arterial in the vicinity of Queens Hospital (Queen's Medical Center). Two other proposals of note line this particular map, one being for what would become Hawaii 63 (Likelike Highway) and another (not shown) for Hawaii 61 (Pali Highway).