Traveling 17 miles across the middle of Kent County, Delaware 8 joins the city of Dover with Marydel on the state line to the west and the small town of Little Creek at Delaware 9 to the east. Connections with Maryland 454 or Delaware 44 lead motorists west to the Eastern Shore of Maryland and the U.S. 301 corridor. Delaware 8 otherwise constitutes a growing commuter route between Pearsons Corner and central Dover.
Delaware 8 Highway Guides
Delaware 8 was established by 1935 and remains along the same alignment today. The route originates at the unincorporated community of Marydel, a short distance east of the Maryland 454 (Crown Stone Road) junction with Maryland 311 (Halltown Road). Delaware 8 extends Halltown Road east northeast 6.33 miles through agricultural and Amish countryside to the settlements of Bethesda, Green Briar and Pearsons Corner. Delaware 44 (Hartly Road) angles southeast from Davis Corner to end at Delaware 8 as the state route transitions onto Forrest Avenue.
Traffic increases east from Paden Corner as SR 8 (Forrest Avenue) approaches the Dover city limits. Forrest Avenue expands into an arterial from the 2014-completed Dover High School and adjacent subdivisions to a commercialized stretch between Kenton Road and SR 15 (Saulsbury Road). East of SR 15, SR 8 splits with Forest Street to follow Division Street and Kings Highway to the north of Downtown Dover.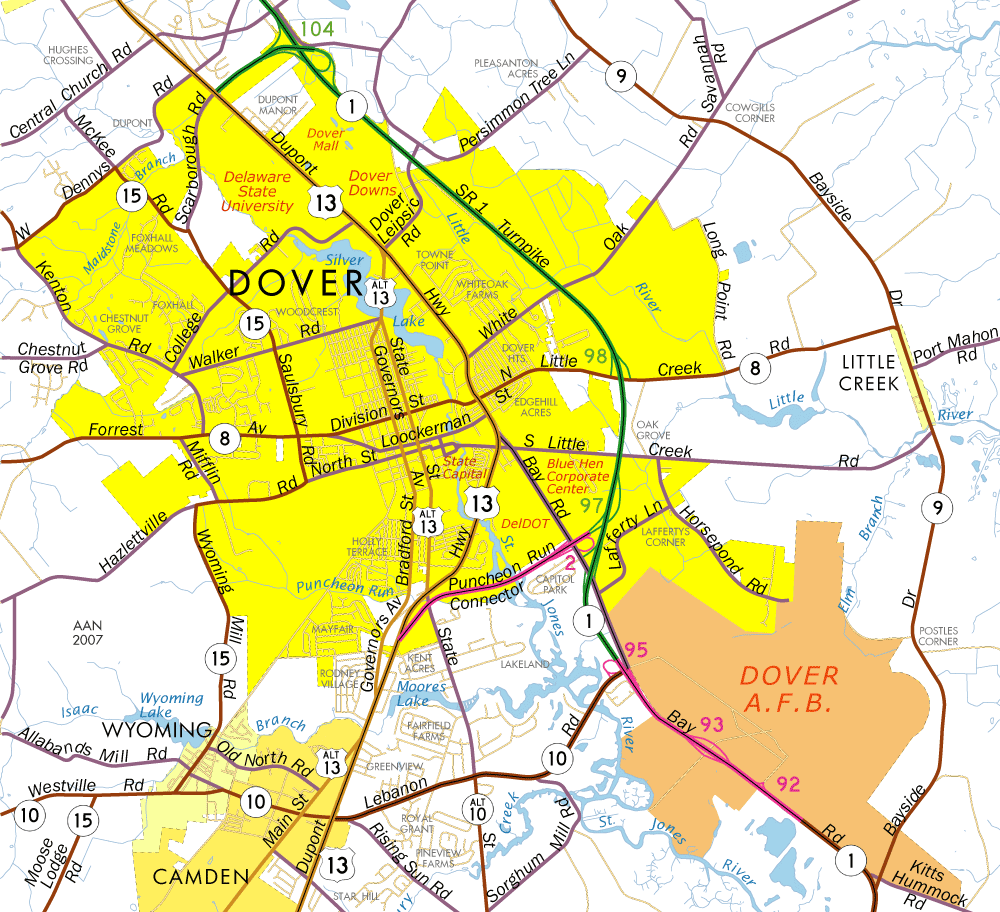 Delaware 8 crosses the St. Jones River ahead of U.S. 13 (Dupont Highway), a heavily traveled arterial leading north to Dover Downs and south to Camden. Beyond Dupont Highway, Delaware 8 continues through residential areas to follow Little Creek Road east to a half diamond interchange with Delaware 1 (Korean War Veterans Memorial Highway). The exchange was built in 1993, but restricted to emergency or maintenance vehicles. A $636,457 project underway from June to September 2002 converted the ramps for public use. The new connection improved access between the SR 1 Turnpike and Downtown Dover.1,2
East from Dover, Delaware 8 (North Little Creek Road) traverses agricultural areas by the Pioneer Materials sand pit to conclude at Delaware 9 (Bayside Drive). The state route ties into Bayside Drive at a wye intersection, 2.3 miles east of Delaware 1 on the north side of Little Creek.
Original guide signs for Exit 104 on the SR 1 Turnpike referenced the Scarborough Road connector as SR 8 Alternate. Scarborough Road was constructed southwest from U.S. 13 (Dupont Highway) and the SR 1 access road to SR 15 (McKee Road) as a new link between SR 8 and West Dover. Scarborough Road however was never given a numbered designation.
Delaware 8 - 2015 Annual Average Daily Traffic (AADT)
5,744 - Maryland line to Slaughter Station Road
11,434 - SR 44 to west Dover limits
21,549 - Independence Boulevard to SR 15
19,777 - SR 15 to Division Street
9,511 - Forest Street to U.S. 13 Alt
12,444 - State Street to Kings Highway
7,976 - Kings Highway to U.S. 13
2,236 - Fox Road to SR 9
---
Sources:
"Low Bidder Announced For Route 1 & Route 8 Partial Interchange." Delaware Department of Transportation (DelDOT), press release. April 15, 2002.
"Route 1 & Route 8 Partial Interchange Opens Today." Delaware Department of Transportation (DelDOT), press release. April 15, 2002.
Connect with:
U.S. 13
U.S. 13 Alternate - Dover
Delaware 1
Delaware 9
Delaware 15
Delaware 44
Page Updated 02-10-2017.