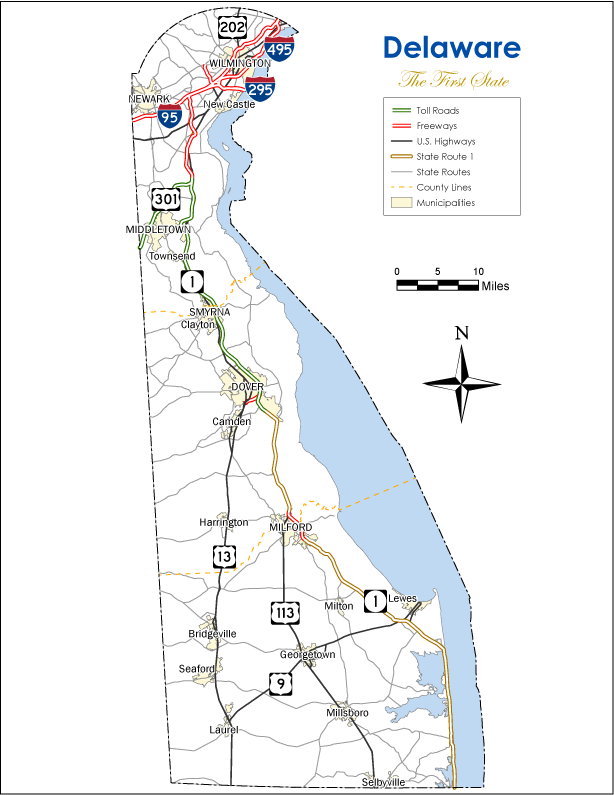 The Delaware Highways page gives an overview of the numbered route system serving the First State. Guides include photos, maps, traffic counts, information on current and future projects and history.
Photo Guides
A doubling of the state population since 1970 brought the total to 786,189 as of the 2000 census. During that time period, Interstate 95 expanded from six to eight lanes, tolls at the Delaware Turnpike interchanges were removed, and the SR 1 toll road was constructed between Dover and the Wilmington metropolitan area. Explosive growth continued through the new millennium with 935,614 Delawareans estimated per the Census in 2014 and 989,948 in the 2020 Census.
The 14 mile long U.S. 301 toll road opened to traffic on January 10, 2019. Other projects expand existing roadways, modify interchanges, and replace intersections along both U.S. 113 and State Route 1 with grade separations.
State Population
989,948
Metropolitan Populations
Delaware Valley (Wilmington)
6,245,051
Dover
181,851
County Populations
New Castle
570,719
Sussex
237,378
Kent
181,851
Top City / Town Populations
Wilmington
70,376
Dover
38,199
Newark
33,849
Middletown
23,765
Milford
12,278
Smyrna
12,163
Seaford
8,246
Georgetown
7,797
Elsmere
5,761
Sources: 2020 U.S. Census Data (metro populations and counties), 2020 U.S. Census Estimate (cities)
About Delaware
Capital: Dover
Nickname: First State or Diamond State
State Flower: Peach Blossom
State Bird: Delaware Blue Hen
State Tree: American Holly
Total Interstate Mileage: 40.61
Land Area: 1,948.54 square miles
Highest Point: Ebright Azimuth 447.85 Feet
Statehood: 1st State, admitted December 7, 1787.
A number of photos from the early Delaware Highways Pages appear in the I'm from Delaware music video:
The original pages were compiled from 1998 to 2004, mostly from personal observation and recollections of news paper articles and library research from the webmaster.
Special thanks goes to Steve Alpert, Steve Anderson, Chase Beck, Nicole Beck, Russell Blau, Justin Blau, Carter Buchanan, Jana Clark, Lou Corsaro, Adam Froehlig, Averill Hecht, Brent Ivy, Chris Jordan, Kelly Nitzman, Jeanne Krause, Jonathan Lebowitz, Ian Ligget, JP Nasiatka, Fred Nitzman, Tim Reichard, Jim Teresco, Cary B. Todd, Rahul, Jeff Royston, Michael Summa, Kevin J. Sylvester, Mike Tantillo, and Ed Wilson for their support and contributions to the Delaware Highways Page.
The Delaware Highways pages at AARoads are not associated with the Delaware Department of Transportation or its employees.
Updated October 31, 2022.