SR 10 joins Caroline County, Maryland with Camden and the Dover area in Kent County along a 16-mile course. The state route is rural west of the Camden and Wyoming suburban outskirts. East from Downtown Camden, SR 10 expands into a four-lane arterial from U.S. 13 (Dupont Highway) to Bay Road (old U.S. 113) and Dover Air Force Base.
Delaware State Route 10 Guides
MD 287 (Sandtown Road) leads east from Goldsboro to become SR 10 near Sandtown and the Sandtown Landfill in Kent County. Willow Grove Road winds eastward through Amish areas to the settlement of Petersburg and split with SR 10 Alternate (Henry Cowgill Road). SR 10 Alt constitutes a bypass of Camden east to Rising Sun for motorists headed to SR 1 (Korean War Veterans Memorial Highway) while the SR 10 mainline shifts northward to Willow Grove.
Willow Grove takes SR 10 northeast to a roundabout with SR 15 (Dundee / Moose Lodge Roads) and into the town of Camden. SR 10 turns east along Camden Wyoming Avenue from the Wyoming town line to intersect U.S. 13 Alternate (Main Street) in the Camden town center. 0.25 miles to the east, SR 10 crosses paths with U.S. 13 (Dupont Highway) and widens onto Lebanon Road.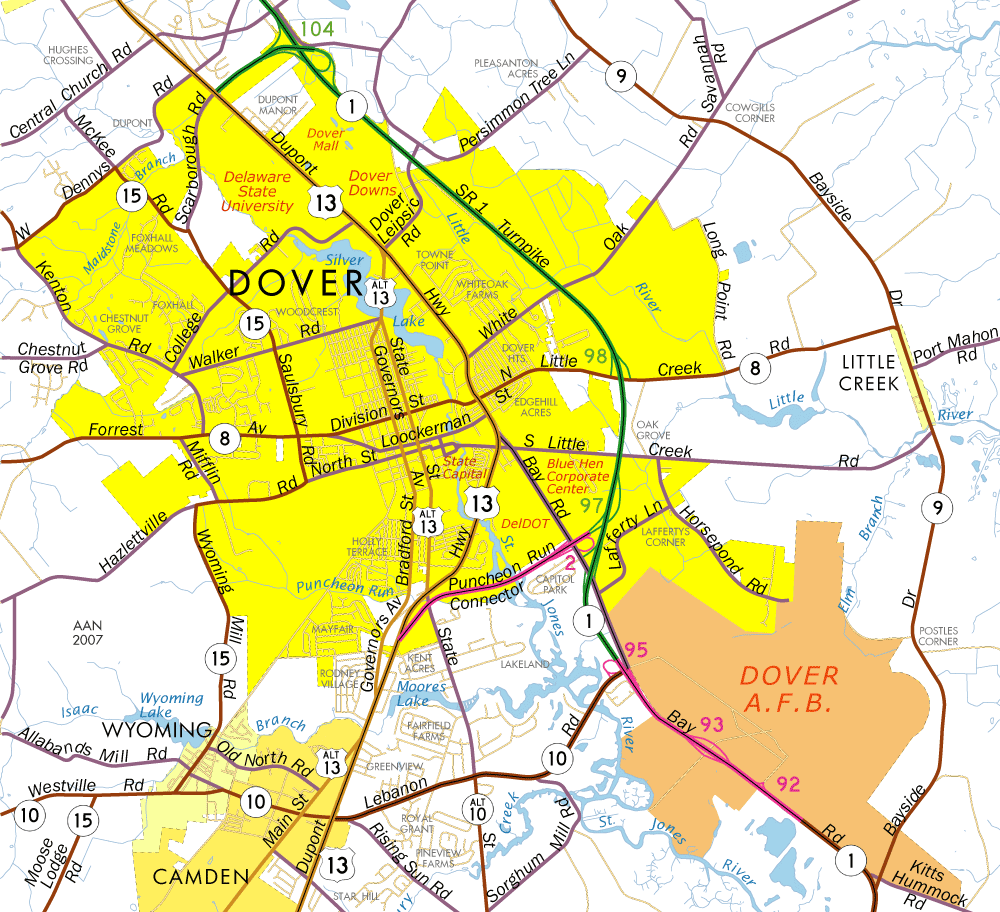 Lebanon Road curves eastward between an array of subdivisions north of Rising Sun as SR 10 Alt returns from South State Street. SR 10 advances east to cross the St. Jones River ahead of ramps for SR 1 south. The state route ends at Bay Road across from the North Gate to Dover A.F.B.
The initial route of SR 10 in 1937 ran northeast from the Maryland state line to Main Street (then U.S. 13) in Camden and southeast along Rising Sun Road to U.S. 113 Alternate. Lebanon Road east from U.S. 13 (Dupont Highway) to U.S. 113 (Bay Road) was constructed by 1966. The 1969 Official Delaware Highway Map shows SR 10 along the alignment.
Delaware State Route 10 - 2015 Annual Average Daily Traffic (AADT)
2,845 - Maryland state line to Sandtown Road
3,547 - Sandtown Road to Willow Tree Road
5,060 - Willow Tree Road to SR 15
8,264 - south Wyoming limits to Camden Wyoming Avenue
16,471 - U.S. 13 to Camden limits
16,242 - SR 10 Alt to Sorghum Mill Road
23,386 - Sorghum Mill Road to Bay Road
Connect with:
U.S. 13
U.S. 13 Alternate - Woodside to Camden
State Route 1
State Route 10 Alternate
State Route 15
Route 287
Page Updated 02-10-2017.