What could be considered the Main Street of Georgia, Interstate 75 travels the length of the state from Chattanooga, Tennessee by Dalton and Marietta to the Capital City and south to Macon, Tifton and an exit from Georgia south of Valdosta. Interstate 75 (along with Interstate 475 around Macon) plays an important role in long distance travel between the Great Lakes region and Florida and because of this, most of the freeway in Georgia carries six lanes. Through Atlanta, Interstate 75 joins Interstate 85 along the Downtown Connector, an eight-mile long 16 lane freeway through the heart of the city.
Interstate 75 Georgia Guides
Original plans for the Interstate System in Georgia routed Interstate 75 directly from Perry to Forsyth. Local officials in 1963 persisted in securing right of way through Macon, bringing I-75 to the city. Construction through Macon took eight years, coupled with both work on Interstate 16 leading southeast and Interstate 475 bypassing to the west.8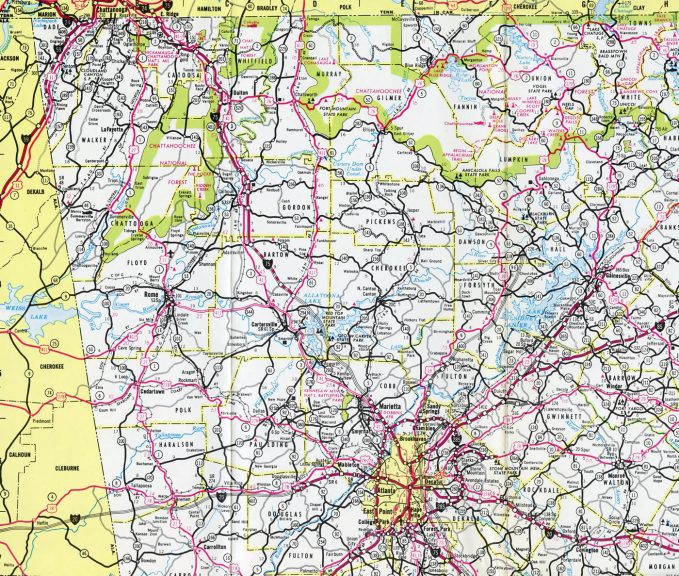 Work along Interstate 75 during the "Freeing the Freeways" program outside the Downtown Connector started in 1982 and ran through August of 1987. Costing $128 million and spanning 11 separate contracts, Interstate 75 was rebuilt from Interstate 85 northwest to the Perimeter Highway. Work included the redesign of the Brookwood Interchange (where I-75 & 85 come together), the replacement of the left-hand ramp to Howell Mill Road from southbound and an doubling of the capacity from four to eight overall through lanes.1
Reconstruction of the Brookwood Interchange cost $64 million. The project expanded capacity at the trumpet interchange by increasing the number of lanes for both I-75 and I-85 from four to eight lanes. Work was slated for completion in November 1985, but was delayed due to problems with rebuilding several bridges and the relocation of utility lines, until November of 1986.2,3 Further south along the Downtown Connector and commencing in 1985 was a rebuild of the Capitol Hill Interchange, where Interstates 75 & 85 cross paths with Interstate 20. The $107.4 million6 redesign started in 1985 and ran through November 1988. Work eliminated several left-hand exits and expanded the Downtown Connector to ten overall lanes below I-20.2 A 1,000 foot long tunnel supporting a parking deck at Memorial Drive and Capital Avenue was also constructed along the Connector during this time.6
Additional work along the Downtown Connector replaced the left-hand ramp from Interstates 75 & 85 north to International Boulevard with a new ramp departing from the right. The original off-ramp closed September 19, 1986, with its replacement open in 1988.4 The Peachtree Street overpasses were demolished and replaced between September 27, 1986 and a 12-month period as well.5
Interstate 75 was restriped with existing lanes reduced from 12 to 11 feet to accommodate new left-hand HOV lanes between May 1995 and May 31, 1996. The $40-million project involved the resurfacing of all travel lanes along 60 miles of Interstates 75 and 85 in time for the 1996 Summer Olympic Games held in Atlanta. As a result of this project, all preexisting left-hand ramps became restricted to HOV-2 based traffic. This included Interstate 75 at Northside Drive and Aviation Boulevard and Downtown Connector ramps for Williams / Spring Streets, Piedmont Avenue, Pryor Street and Memorial Drive.6
| | |
| --- | --- |
| | scenes |
| | |
| --- | --- |
| | Georgia 138 nips the southeastern corner of Clayton County ahead of its diamond interchange with Interstate 75 in western Henry County. Pictured here is the southbound ramp to Forsyth and Macon. Photo taken 05/29/07. |
Sources:
"Major portion of I-75 work is complete." The Atlanta Journal and The Atlanta Constitution, January 9, 1987.
"Rebuilding of Brookwood interchange expected to be finished in October." The Atlanta Journal and The Atlanta Constitution, August 22, 1986.
"Reconstruction of interchange near completion." The Atlanta Journal and The Atlanta Constitution, August 22, 1986.
"The International Boulevard exit from I-75/85 north will be closing." The Atlanta Journal and The Atlanta Constitution, November 15, 1986.
"DOT shaking up Peachtree - Part of street temporarily closed for 'Freeing the Freeways' project." The Atlanta Journal and The Atlanta Constitution, September 18, 1986.
"Freeway Freedom May Be 10 Months Away - Plan to Liberate Jammed Drivers Enters Last Stage." The Atlanta Journal and The Atlanta Constitution, July 10, 1988.
"HOV work inside I-285 to clog traffic - Yearlong project: Creation of additional lanes - is supposed to be finished by the start of the '96 Olympics." The Atlanta Journal and The Atlanta Constitution, May 20, 1995.
"10 events that shaped our region." Macon Telegraph, September 30, 2012.


Photo Credits:

05/29/07 by AARoads

Connect with:
Interstate 16
Interstate 20
Interstate 85

Page Updated 11-15-2019.