Continuing with our I-49 corridor theme, it's time to look at Shreveport's non interstate-interstates. The Clyde Fant memorial parkway runs southeast from downtown along the Red River. It goes through miles of parkland and passes by the city's major hospital and it's major tourist attractions (the casinos). The view below looks north at downtown Shreveport from the Parkway. Click any images for a larger view.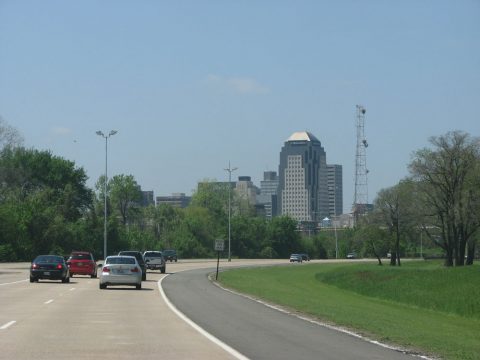 LA 3132 is the city's inner loop, on the south and southwest sides. Recently the interchange on the western end with I-220 was upgraded with more lanes and better concrete. 3132 was built throughout the 1970s and is by no means interstate standard. The road is pretty busy at most times of the day, and it is rumored that I-49 will eventually be routed over it. This would create even more traffic and trucks along the road. However, most futures of I-49 through Shreveport have an in-city routing. Source: http://www.shreveporttimes.com/apps/pbcs.dll/article?AID=/20080330/NEWS01/803300309/0/LEGISLATURE
Eventually, LA 3132 is expected to continue southward to meet I-69 just west of the Red River. Originally planned to be a full beltway, the routing of the extension was changed southward to avoid Barksdale AFB across the river. The future routing of I-69 and information on the I-49 in-city routing can be obtained at the Northwest Louisiana COG website here http://www.nwlainfo.com/.
Clyde Fant is slated to continue southward to the LA 3132 extension, and thus onward to I-69.
Shreveport will possibly have an exciting future as hub of a large network of interstate freeways and connector roads. Looking at the metro area's long range plans, there are a few roads planned or being looked at. That, along with the area's port and air connection facilities make it a neat place to follow in terms of infrastructure. They just have to build them all first…
The map below looks at some of Shreveport's future road plans, according to various documents and descriptions from the I-69 LA site, the LADOTD, and the local council of governments.