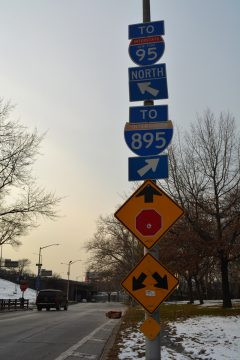 Interstate 895, the Sheridan Expressway in the Bronx, New York, is the latest urban freeway set for removal. Plans to convert the freeway to an at-grade boulevard date back at least to 2011, with formal approval by various agencies in 2017. The $97 million Arthur Sheridan Enhancement Project will reconstruct the central portion of Interstate 895 into an urban arterial, with three signalized intersections built along the current uninterrupted stretch between Westchester Avenue and the East 174th Street Bridge. The changes will improve neighborhood access to Starlight Park and the Bronx Riverfront.
Slated to start this fall, the Arthur Sheridan Enhancement Project will take a year to complete. The work precedes the Hunts Point Interstate Access Improvement Project, which will address truck traffic heading to the food distribution center in Hunts Point. Anticipated for completion by 2025, the $1.7 billion construction project will rebuild the Bruckner Expressway and adds ramps for Leggett Avenue (Exit 48).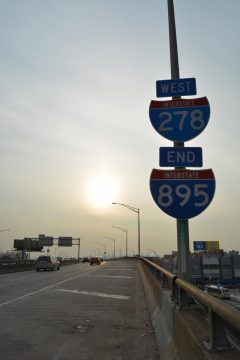 Sheridan Boulevard will include a dedicated bike path along the east side, traffic lights at East 172nd Street, East 173rd Street and Jennings Street, and a 30 mile per hour speed limit. Ramps at Westchester Avenue and the Cross-Bronx Expressway will be retained,
Sign plans posted online show adjustments to existing panels along both Interstate 95 and I-278, and whole sale changes elsewhere. Interstate 895 will be renumbered as New York 895, and the Sheridan from Expressway to Boulevard. Ramps at Westchester Avenue for Hunts Point Market will be retained, as will the exchange at the north end with Interstate 95 (Cross Bronx Expressway). The split from I-278 (Bruckner Expressway) eastbound at the south end of I-895 will be reconfigured to a single lane off-ramp.
The I-375 spur into Downtown Detroit is the next candidate for removal in the Interstate Highway System.