We recently picked up a Washington, DC area map with a General Drafting base dated from 1942. This map may be the oldest we have of the capital city in our collection, and it definitely shows signs of aging having been torn into three separate sections. The fragile nature of the map made scanning it difficult, so we broke down the imagery into a few excepts. Let's take a further look.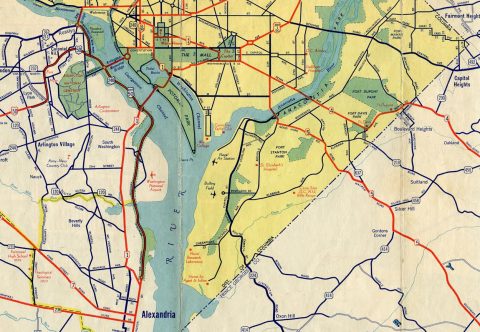 The front side of the map showed the overall District of Columbia and its vicinity. What jumped out first was the routing of both DC 4 and DC 5. We previously knew about the existence of DC 4 via this entry on the Shield Gallery. DC 5 however was something new. The two routes both were extensions of Maryland state highways, with DC 4 following a combination of Bowen Road and Alabama Avenue to Pennsylvania Avenue SE. This tied into Marlboro Pike in Maryland, which is no longer a part of the state route today.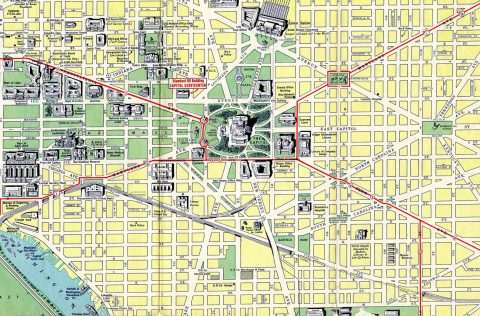 DC 5 extended Maryland 5 north along Walker Road to Naylor Road and Good Hope Road SE to the 11th Street Bridge and a merge with DC 4 along Pennsylvania Avenue. Together DC 4 & 5 headed west to the U.S. Capitol, combining with U.S. 1 Bypass & 50 Bypass along Independence Avenue through to 1st Street. The district routes split with their U.S. highway counterparts to run north in front of the Capitol to Pennsylvania Avenue and E Street west between the White House and The Ellipse. DC 4 and 5 concluded as a one-way couplet using South Executive Place and State Place for westbound and E Street from U.S. 1 (17th Street) for eastbound.
Both of these routes are discontinuous today, with a portion of 1st Street restricted in front of the Capitol and the alignment from 15th to 17th Streets closed to all traffic between the White House and The Ellipse. Furthermore with construction of Suitland Parkway, the through route DC 5 took was replaced in function, and Walker Road south into Maryland was replaced by Branch Avenue. The routes were dropped by 1946, as neither appear on that year's map in our collection.
Looking at the central Washington detail map, two U.S. highway historic end points become more clear. U.S. 240, which ended at least three separate locations in the District of Columbia, appears to have crossed the Arlington Memorial Bridge along side U.S. 50 from the Lincoln Memorial onto Columbia Island. South from there, U.S. 240 overlapped with U.S. 50 Bypass to end at U.S. 1 in Virginia.
U.S. 211, which was previously thought to have extended no further than the east end of the Francis Scott Key Bridge (U.S. 29), appears along side U.S. 29 on M Street. The pair split at Pennsylvania Avenue NW, with U.S. 29 remaining east on M Street to New Hampshire Avenue and U.S. 211 branching south to Washington Circle to join K Street east. The route of U.S. 211 is shown running in tandem with U.S. 50 from 20th Street NW to an end at U.S. 1 (17th Street NW).