Occasionally we make trips out to area flea markets, swap meets and antique stores in the search for more maps to add to our growing collection. The majority of these are open on weekends, with others, like New Castle Farmers Market's outdoor flea market in Delaware (a long time favorite of mine), open on Friday as well. Some of the largest flea markets in the county operate on weekdays and of those are First Monday Trade Days at Canton, Texas and Webster Westside Flea Market in Florida. Both are only open on Monday, with the Canton only on the first Monday of the month while the Webster location opens every Monday. President's Day affords both shoppers and vendors alike an opportunity to both buy and sell at those flea markets as part of a holiday weekend. This increases chances to find just about anything you want collectible wise (or junk as some may call it) including road items of interest. Yesterday's haul included several new additions to the map collection. I thought I would share some of the finds below that piqued my interest.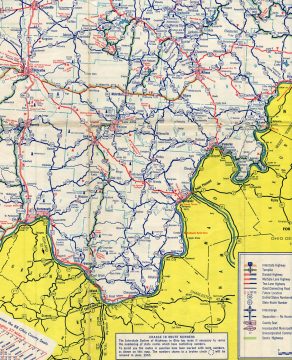 The 1962 Ohio Official Highway map included a note of interest on the map front side. The establishment of the Interstate system resulted in a number of duplicate numbering issues across the Buckeye State, where a new Interstate route replicated a preexisting state route. To offset motorist confusion, the state renumbered those conflicting state routes. The 1962 map shows both the old and new numbers, and on this scan Ohio 75 was renumbered to Ohio 93.
The renumbering involved any route, regardless of location, that shared the same number as a new or proposed Interstate. Ironically, Ohio 290 across Champaign County, far to the southwest of Cleveland, was renumbered to Ohio 296. Of course Interstate 290 never came to pass and a portion of it later was built as I-490.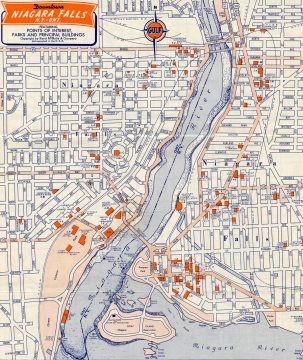 The Gulf map of Buffalo and Niagara Falls from 1958 included Downtown insets for both cities. What caught my attention in Niagara Falls was the presence of U.S. 104 Alternate looping west from U.S. 104 along Whirlpool Street. Whirlpool Street was vastly supplanted by the construction of Robert Moses Parkway in 1964 and the U.S. 104 Alternate alignment appears to have served as a connection to the Whirlpool Rapids Bridge to Ontario Route 8 in Canada.
Intrastate U.S. 104 is long gone (downgraded to NY 104 in 1971), but so is New York 18D (decommissioned in 1962), shown here as Niagara and Cleveland Avenues. The alignment of U.S. 62 shown along Pine Street also changed to the couplet of Ferry and Walnut Avenues to the south. The former route later became NY 62A and is now U.S. 62 Business.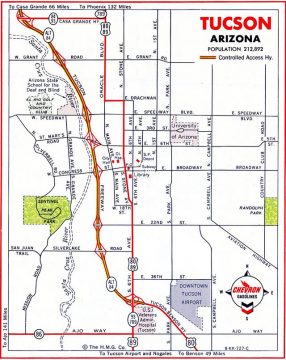 Arizona 84 today represents a short highway looping north from Interstate 8 through Casa Grande. The route formerly traveled a longer route, between U.S. 80 at Gila Bend and U.S. 80 & 89 in Tuscon. The onset of the Interstate system included what was shown on this 1963 Gousha map of Arizona as the Tuscon Freeway. The designation given was Arizona 84A and not yet Interstate 10. Arizona 84 was replaced by I-10 with its completion between Eloy and Tuscon in 1966.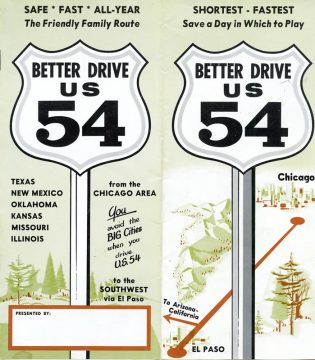 Several brochures were produced for auto trails and U.S. routes prior to the creation of the Interstate system. These were mostly crafted in an effort to drive business to the towns along the route, with the pamphlets including maps, photos and descriptions of tourist attractions and other points of interest along the way. The usual suspects I find are ones for the Dixie Highway (U.S. 25) and the Ocean Highway (U.S. 17/13). I have also seen one for U.S. 80, but one for U.S. 54? This was definitely a first.
This brochure includes a rudimentary map showing the course of U.S. 54 between El Paso and Chicago with an assortment of photos. U.S. 54 still ends in El Paso, albeit as an urban freeway. The east end however was turned back from Chicago to rural Pittsfield, Illinois in 1974. How many other national routes outside of U.S. 66 and select others were promoted with these?