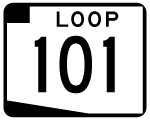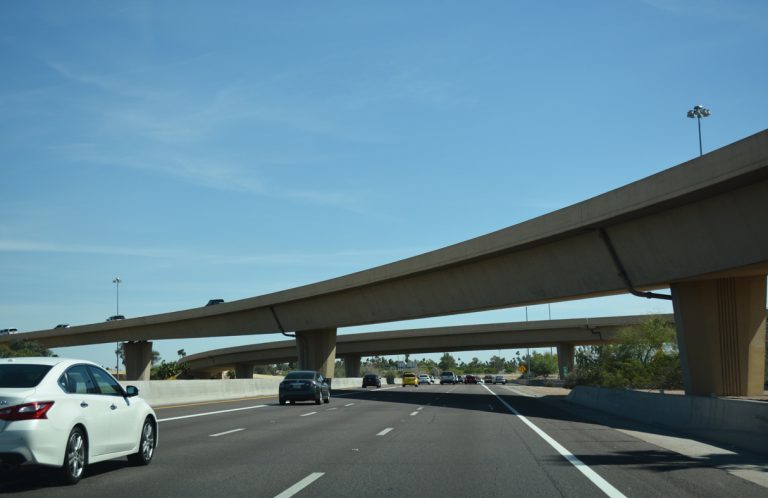 Forming a hook shaped route around the Valley of the Sun, Loop 101 constitutes a 60.98 mile1 freeway that joins Phoenix with Glendale, Peoria, Scottsdale, Tempe, and Chandler. Loop 101 follows the Agua Fria, Pima, and Price Freeways around the Phoenix metro area, beginning at Interstate 10 in Tolleson then proceeding north, east, and south to an end at Loop 202 west of downtown Chandler. The entire Loop 101 freeway system was built in stages over the course of 13 years, between 1988 and 2001.
Loop 101 Guides
Agua Fria Freeway
Flanked by 99th Avenue and McDowell Road, Loop 101 begins at a three level systems interchange with I-10 in the city of Tolleson. Loop 101 advances north initially through western reaches of Phoenix before entering Glendale at the Camelback Road interchange (Exit 5). The Agua Fria Freeway lines State Farm Stadium on the ensuing stretch to Northern Avenue, where it crosses into Peoria. Loop 101 continues to angle northerly through the city of Peoria, following the New River, then turns east along Beardsley Road meeting I-17 (Black Canyon Freeway) at the North Stack interchange opposite the Pima Freeway.
Pima Freeway
Leaving I-17 at Deer Valley, the Pima Freeway continues Loop 101 east across northern Phoenix, meeting the Piestewa Freeway (SR 51) ahead of its southeast turn to Scottsdale. Once in Scottsdale, Loop 101 curves south and overtakes five miles of Pima Road. The Pima Freeway leaves the former alignment at Exit 42 when Loop 101 jogs east into the Salt River Pima-Maricopa Indian Community. Loop 101 continues south to cross the Salt River ahead of a systems interchange with Loop 202 (Red Mountain Freeway) and the Price Freeway.
Price Freeway
South of Loop 202, Loop 101 overlays the Price Freeway as it beelines through Tempe to a multilevel interchange with U.S. 60 (Superstition Freeway) at Exit 55AB. Beyond the Superstition Freeway, Loop 101 straddles the limits of Tempe and Mesa prior to entering Chandler. Loop 101 and the Price Freeway conclude at an interchange with Loop 202 (Santan Freeway) west of downtown Chandler.
The section of Loop 101 that travels through the Salt River Pima-Maricopa Indian Community came about through controversy between the Tribe president and City / State officials. When the freeway was initially planned through Scottsdale it was to overlay a seven mile stretch of Pima Road, at which time lined both the municipality and Indian Community. Initial negotiations started in 1982 between Scottsdale, Arizona Department of Transportation (ADOT) and the Tribe, but quickly stalled resulting in an eight year stalemate. Constant disputes between all parties lasted until 1990, when a deal was finally reached. The portion of Loop 101 between Pima Road near Via Linda and the Salt River would be constructed within Indian Community lands, along with any interchanges planned along the freeway. In addition, the State awarded the Tribe $247 million.2
| | |
| --- | --- |
| | Scenes |
| | |
| --- | --- |
| | Southbound Tatum Boulevard as it approaches Loop 101 (Pima Freeway) in North Phoenix. Though the use of colored shields along the Phoenix freeway system was phased out beginning in 2003, this overhead remains in place as of February 2020. 03/01/03 |
2 photos

2 photos

This vintage shield once stood at the departure ramp to Loop 101 (Pima Freeway) west along Tatum Boulevard south. The assembly was removed sometime after 2003 and has not been replaced since. 03/01/03
| | |
| --- | --- |
| | 56th Street travels south from Deer Valley Drive to meet Loop 101 (Pima Freeway) in one half mile. This shield assembly was replaced by April 2015. 03/04/03 |
| | |
| --- | --- |
| | These reversed colored shields posted ahead of the diamond interchange were still standing as of April 2019. 03/04/03 |
| | |
| --- | --- |
| | Loop 101 travels west along the Pima Freeway across northern reaches of Phoenix to Interstate 17 opposite the Agua Fria Freeway. 03/04/03 |
| | |
| --- | --- |
| | A vintage blue colored shield previously posted along 56th Street south at the entrance ramp to Loop 101 (Pima Freeway) east. 56th Street continues to cross Mayo Boulevard next. 03/04/03 |
| | |
| --- | --- |
| | Price Road connects to the northbound beginning of the Price Freeway as the arterial weaves through the exchange between Loop 101 and 202 (Santan Freeway). 03/28/04 |
Sources:
2013 State Highway System Log - As of December 31, 2013, Arizona Department of Transportation (ADOT).
Loop 101 101: How One Man Stalled The Freeway for 8 Years and Changed a Tribe Forever, article from The Arizona Report (arizonareport.com).
Photo Credits:
03/01/03, 03/04/03, 03/28/04 by AARoads
Connect with:
Interstate 10
Interstate 17
U.S. 60
State Route 51
Loop 202
Page Updated 07-03-2020.