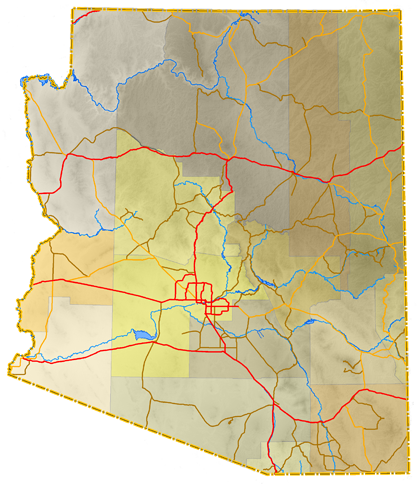 Sitemap to all pages covering the state of Arizona. Photographic contributions by Alex Nitzman, Andy Field, Brent Ivy and Kevin Trinkle. Many thanks to Joe Lockhart, Casey Cooper, Tyson Hugie, Thomas Gunther, David Wilson, Kenyon Schuett, Mike Ballard and Steve Hanudel for assisting with the phototaking and driving throughout the Grand Canyon State!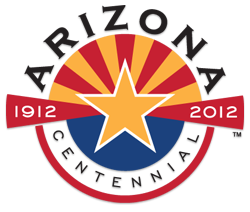 Highway Guides
State Population
7,151,502
Metropolitan Populations
Phoenix – Mesa – Chandler
4,845,832
Tucson
1,043,433
Prescott Valley – Prescott
236,209
Lake Havasu City – Kingman
213,267
Yuma
203,881
Flagstaff
145,101
Top County Populations
Maricopa
4,420,568
Pima
1,043,433
Pinal
425,264
Yavapai
236,209
Mohave
213,267
Yuma
203,881
Top City Populations
Phoenix
1,708,127
Tucson
553,571
Mesa
528,159
Chandler
265,398
Scottsdale
262,647
Gilbert (town)
257,658
Glendale
255,307
Tempe
200,402
Peoria
179,872
Source: 2020 U.S. Census Data (metro populations and counties), 2020 U.S. Census Estimate (cities)
About Arizona
Capital: Phoenix
Nickname: Grand Canyon State
Arizona is historically known for the five "C's":

Cattle – ranching is a significant part of Arizona&apos:s agricultural industry
Citrus – oranges, limes, lemons, and grapefruits are commonly grown in the warmer southern and central parts of the state
Climate – abundant sunshine makes for moderate winters and hot summers
Copper – significant mining commodity, especially in southeastern Arizona
Cotton – this is another major crop of the Grand Canyon State

Area: 113,998.30 square miles or 295,260 square kilometers, 6th largest
Statehood: 48th state; admitted February 14, 1912
Total Interstate Mileage: 1,168.64 miles
Highest Point: Humphreys Peak (north of Flagstaff), 12,633 Feet above Sea Level
Major League Sports Franchises
Arizona Cardinals (NFL)
Arizona Diamondbacks (MLB)
Arizona Coyotes (NHL)
Phoenix Suns (NBA)
Major Motorsport Speedways
Phoenix International Raceway
Updated April 28, 2022.