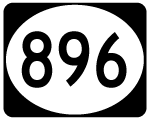 SR 896 represents one of the main routes in Newark as it both joins the city with Chester County, Pennsylvania, and the University of Delaware with Interstate 95 and suburban areas south toward Glasgow. The state route is generally known by its local names through the city, taking New London Road north from West Main Street and Downtown to the northeastern tip of Maryland and Strickersville, Pennsylvania. South College Avenue carries the state route south from SR 4 (Christina Parkway) through a commercial strip to I-95.
South of I-95 by Iron Hill, SR 896 expands into a controlled access arterial to a bypass of Glasgow. The route was expanded from a rural two lane roadway between 1992-97, to both serve increasing commuter traffic south to the U.S. 40 corridor, and truck traffic south to the Summit Bridge across the Chesapeake and Delaware Canal. Continued suburban growth both north and south of the canal justified expansion of the state route to Mount Pleasant.
SR 896 turns east along Boyds Corner Road between SR 71 (Summit Bridge Road) at Mount Pleasant and U.S. 13 (Dupont Parkway) at Boyds Corner. The formerly rural east-west segment bisects the Bayberry Village community and other newer developments.
Delaware Route 896 Guides
SR 896 was initially designated as SR 796, reflecting the previous number of PA 896 north to New London and U.S. 1 in Chester County. SR 896 appeared first on the 1938 Official Delaware Highway Map, coinciding with its Pennsylvania counterpart. The state route ran south through Newark along New London Road and College Avenue, briefly overlapping with SR 273 at the west end of Downtown. South from Newark, SR 896 extended to Glasgow and SR 71 just north of the 1920s-built Summit Bridge.
The 1957-58 Official Delaware Highway Map shows SR 896 lengthened south alongside SR 71 from the Summit Bridge to Middletown. The state route traveled through Downtown along Broad Street to Summit Bridge Road south to end at U.S. 13 (Dupont Parkway) near Blackbird. Beyond a shift westward onto the new Summit Bridge in 1960, SR 896 remained unchanged until 1983.
The southern leg of SR 896 was realigned to head east from Mount Pleasant to U.S. 13 at Boyds Corner by 1983. This left the former route south of Middletown as an unnumbered road until 1990, when SR 71 took it over.
Within the city of Newark, SR 896 was relocated from South College Avenue between SR 4 (Christina Parkway) and SR 2/273 (Delaware Avenue) east. The change was made by 1988, coinciding with the realignment of SR 2 away from Downtown. SR 2/896 formed a bypass alongside SR 4 west to Elkton Road, where SR 896 turned northeast alongside SR 2 Business to its split alignment alongside SR 273 (Delaware Avenue / West Main Street).
The Glasgow bypass opened to traffic in 1993 as the new alignment of both SR 896 and U.S. 301 south from U.S. 40 (Pulaski Highway). The expressway, and the associated expansion of SR 896 north and south, were constructed in place of a long planned freeway for U.S. 301 between Middletown and Interstate 95. Interchanges were planned along the SR 896 corridor at U.S. 40, Old Baltimore Pike, and Porter Road, but dropped due to community opposition. However, an interchange will be built at SR 896 and U.S. 40 after all due to substantial traffic congestion and safety needs.
A number of changes were approved for the city of Newark in Fall of 2013. Of those, the overlaps of SR 2 with SR 4/896 along Christina Parkway and SR 2 Business alongside SR 896 on Elkton Road / S Main Street were eliminated. SR 896 travels Elkton Road, and the portion renamed to South Main Street, solo from SR 4 to the north/south separation with SR 273.
Delaware State Route 896 - 2015 Annual Average Daily Traffic (AADT)
15,947 - U.S. 13 to Jamison Corner Road
29,175 - Churchtown Road to SR 71 (Red Lion Road
33,562 - SR 71 to U.S. 40
48,237 - Old Baltimore Pike to I-95
42,819 - south Newark limits to Chestnut Hill Road
38,462 - South College Avenue to Science Boulevard
16,456 - SR 4 to Apple Road
11,619 - Apple Road to SR 273 (Delaware Avenue) east
23,549 - South Main Street to South College Avenue
3,763 - northbound: SR 273 (West Main Street) to Cleveland Avenue
13,810 - southbound: New London Road to SR 273 (West Main Street)
15,678 - Cleveland Avenue to Country Club Drive
7,407 - Wedgewood Road to Maryland line
| | |
| --- | --- |
| | scenes |
| | |
| --- | --- |
| | Cleveland Avenue (Road 309) west ties into New London Road at the intersect where SR 896 separates into a couplet northwest of Downtown Newark. 12/22/22 |
| | |
| --- | --- |
| | Country Club Drive east at SR 896 (New London Road) at Fairfield in north Newark. 05/15/05 |
Photo Credits:
05/15/05 by AARoads and Lou Corsaro. 12/22/22 by AARoads.
Connect with:
Interstate 95
U.S. 13
U.S. 40
U.S. 301
State Route 4
State Route 15
State Route 71
State Route 273
Route 896
Page Updated 01-05-2023.