Interstate 77 travels through southwestern Virginia from Carroll County south of the Blue Ridge Mountains to Bland County and the East River Mountain Tunnel. Measuring 68.00 miles within the Old Dominion, I-77 joins Charlotte, North Carolina with Charleston, West Virginia, with a 7.46 mile long overlap with I-81 between Wytheville and Fort Chiswell.
Interstate 77 Virginia Guides
North
South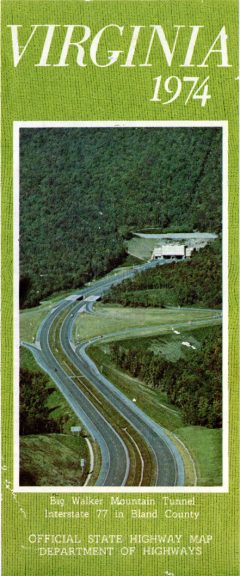 Rising to an elevation of over 2,800 feet above sea level, Interstate 77 traverses the Blue Ridge Mountains northeast from near Lamsburg to a point west of Fancy Gap. The rural route shifts northwest from there to U.S. 58/221 near Hillsville and across Poplar Camp Mountain at the Wythe County line. Continuing north over the New River, I-77 rises across Hematite Mountain and advances past Chestnut Ridge to combine with I-81 south.
I-77/81 overlap west from Fort Chiswell to the north of Lick Mountain. U.S. 11/52 combine with the two Interstates leading into Wytheville. I-81 bypasses the northwest side of the city while I-77 separates northward between Queens Kob and Cove Mountain.
Navigating through an S-curve, I-77 straddles the Wythe / Bland County line northwest from Little Walker Mountain to Big Walker Mountain Tunnel. Passing west of Bland, I-77 advances onto Brushy Mountain. The freeway lines Rocky Gap between Rich and Wolf Creek Mountains to Buckhorn Mountain, just south of East River Mountain and the state line.
| | |
| --- | --- |
| | scenes |
3 photos

3 photos

3 photos

Peppers Ferry Road connects with I-77 at a folded diamond interchange just beyond the south split with Interstate 81 at Wytheville. 10/05/01



Photo Credits:

10/05/01 by AARoads

Connect with:
Interstate 81
U.S. 58
U.S. 221
U.S. 11
U.S. 52

Page Updated 05-04-2021.