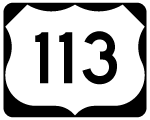 U.S. 113 forms one of four routes serving the Delmarva peninsula from Pocomoke City, Maryland north to Milford, Delaware. Consisting entirely of a four-lane divided highway, U.S. 113 joins the towns of Selbyville, Frankford, Dagsboro, Millsboro and Georgetown with the city of Milford almost wholly within Sussex County. While much of the route travels through rural environs, increasing population growth in Sussex County and beach traffic plague the route with congestion during the summer months.
U.S. 113 begins at the split of SR 1 and SR 1 Business in north Milford. The US highway shares a brief overlap with SR 1 Business from SR 1 southward to Walnut Street while SR 1 takes the Milford Bypass east of the city. U.S. 113 (Dupont Boulevard) runs along the west side of Milford along a congested stretch of commercial arterial as Walnut Street heads south to Downtown. Further south, the US highway traverses tracts of farm land and Redden State Forest en route to the Sussex County seat of Georgetown.
Bypassing Georgetown to the west, Dupont Boulevard expands through the town limits to include a wide grassy median while numerous businesses line the route to the junction with U.S. 9. U.S. 9 Truck begins there and overlaps with U.S. 113 south to Bedford Street as part of its circuitous route along the south side of town.
Transitioning to a rural highway again, U.S. 113 angles southeast from Georgetown toward the town of Millsboro. There Dupont Boulevard expands once more as a commercial arterial to the southwest of the town center. Turning more south from there, U.S. 113 advances to Frankford and Selbyville to exit the state ahead of Bishop, Maryland.
U.S. 113 Delaware Guides
History
U.S. 113 was commissioned in 1926 when the U.S. Highway system was established. The route previously ran north through Dover to end at the U.S. 13 (Dupont Highway) intersection with State Street near Dover International Speedway. This included a short overlap with U.S. 13 north from Bay Road, as U.S. 113 Alternate followed State Street north through Downtown Dover to Dupont Highway. This changed officially in 1974, when AASHTO approved the truncation of U.S. 113 south to Bay Road near South Little Creek Road on June 25th. The same meeting included the relocation of U.S. 113 Alternate to overlap with U.S. 13 northeast from State Street to the U.S. 113 end at Bay Road.
A major widening project during the mid 1990s expanded U.S. 113 to four lanes through Redden State Forest and other sections of central Sussex County. The 15-mile project between Milford and Georgetown utilized an experimental mixture of concrete. Unfortunately the experimental concrete cracked prematurely, leading to necessary reconstruction of the roadway. This costly mistake was similar to issues associated with the original concrete used to build both Interstate 495 and SR 141. Those two freeways were reconstructed in the 1990s as well.
SR 1 was extended north along side U.S. 113 from Milford to Dover in 1988. The route was eventually lengthened further in an overlap with U.S. 13 to Tybouts Corner to reach the new freeway segment opened there in 1991. These moves ultimately led to the truncation of U.S. 113 north of Milford in February of 2004.
Truncation of U.S. 113
The state of Delaware proposal to truncate U.S. 113 from Dover southward to the merge with SR 1 at Milford was initially denied by the American Association of State Highway and Transportation Officials (AASHTO) on May 30, 2003. A resubmitting of the request was approved during the October 7, 2003 meeting of the AASHTO Standing Committee on Highways (SCOH).
Several benefits were touted by removing U.S. 113 from the overlap with SR 1 from Milford north to Dover. DelDOT officials preferred just one designation for that stretch and the truncation eliminated one of several braided routes that the DelDOT Secretary wanted removed. It was also indicated that dropping U.S. 113 from SR 1 would save funds in the long run by eliminating potential motorist confusion, reducing maintenance costs associated with the fabrication and installation of multiple signs and cutting costs associated with resources in personnel and time.
The short segment of U.S. 113 that ran independent of SR 1 between Dover Air Force Base and U.S. 13 (Dupont Highway) was left unnumbered and is solely referenced by the proper name, Bay Road. Additionally U.S. 113 Alternate, between Dover and Magnolia, was eliminated as it no longer connected with the parent route.1
Studies continue involving upgrading U.S. 113 in Sussex County with either capacity improvements, access control, or expressway bypasses. Initial proposals advocated reconstructing the 32-mile drive between Milford and Selbyville during a 10 to 20 year period to keep pace with growth and traffic in Sussex County. 19,000 to 23,000 motorists traveled the route per day in 2004, an increase of 23 percent from values recorded in 1995. A feasibility study conducted by DelDOT in 2001 revealed that further expanding the existing highway would cost at least $400 million. Upgrading the corridor by adding new alignments and bypasses would swell the costs to $750 million.2
Considerations underway in 2004 for alternatives through the Millsboro vicinity involved either upgrading U.S. 113 town or building new bypass. A preliminary concept by DelDOT was unveiled for the project in June 2004.2 However in June 2007, area residents successfully lobbied lawmakers against the DelDOT proposal to construct a new freeway linking U.S. 113 south of Millsboro with the Milford Bypass along SR 1. DelDOT recommended the route and was ready to begin design when the Joint Bond Bill Committee adopted language that blocked the project from moving forward.3
Seven months later, the eastern bypass of Millsboro, Dagsboro and Frankford for U.S. 113 was again rejected by area residents, ultimately shelving the proposal in February 2008.4 Subsequent hearings held by DelDOT in September 2013 revealed waning support for a new limited access route for U.S. 113 in the Millsboro-South Area. Furthermore, landowner opposition led to the withdraw of the Blue Alternate. Instead community input favored a scaled back alternative included a two-lane connector to SR 24 around Millsboro and expansion to six lanes along U.S. 113 through Millsboro. These were incorporated in the Public Workshop held on October 15, 2015.
U.S. 113 - Delaware Mileage: 36.96
U.S. 113 - Annual Average Daily Traffic (AADT)
13,687 - Maryland state line to Lighthouse Road
18,068 - Lighthouse Road - SR 54 / Shelbyville limits
28,442 - SR 24 / Main Street to north Millsboro limits
22,151 - U.S. 9 to SR 18 (Georgetown)
18,529 - SR 16 to Road 207
35,517 - SR 14 / Front Street to The Plaza at Milford shopping center
Source: Delaware Vehicle Volume Summary 2014 (Traffic Summary)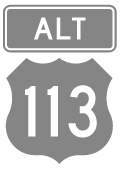 U.S. 113 Alternate followed the pre-1936 route of U.S. 113 northwest from Little Heaven to Downtown Dover. The US highway lined Clapham Road north from U.S. 113 to the town of Magnolia. As the route continued north, it followed Main Street through Magnolia and State Street from the community north into the city of Dover. Once at U.S. 13 (Dupont Highway), U.S. 113 Alternate split with State Street for Dupont Highway north as U.S. 13 Alternate overtook State Street into Downtown. U.S. 113 Alternate overlapped with U.S. 13 for 1.5 miles between State Street and the northern terminus of U.S. 113 (Bay Road).
Prior to 1974, U.S. 113 Alternate remained wholly along State Street through Dover, ending at the current north end of U.S. 13 Alternate near Silver Lake. During that time, U.S. 113 Alternate was redirected onto Dupont Highway to reconnect with U.S. 113 at Bay Road.
Historic U.S. 113 Alternate Mileage: 9.10
Sources:
Shadman, Mike. "FW: RE: US 113/ US 113A." Personal email, April 6, 2004.
"U.S. 113 proposal worries Millsboro residents." The News Journal (DE), July 2, 2004.
"Panel rejects bypass plan for U.S. 113," The News Journal (DE), June 28, 2007.
"Plan for U.S. 113 bypass near Milford dropped," The News Journal (DE), February 5, 2008.
Connect with:
U.S. 9
State Route 1
State Route 20
State Route 24
Multi State Route 54
Page Updated 11-30-2018.