A quick progress report on two local projects, the Florida 85/Florida 123 interchange improvements and the Mid-Bay Bridge connector, part of the Toll Florida 293 bypass around Niceville. The Florida 85/Florida 123 project is slated to be done by summer of 2012 while the Mid-Bay Bridge connector will be completed in stages over the next three years, with a portion of the first phase opening this Thursday, as posted in today's edition of the Northwest Florida Daily News http://www.nwfdailynews.com/news/bridge-39942-section-connector.html…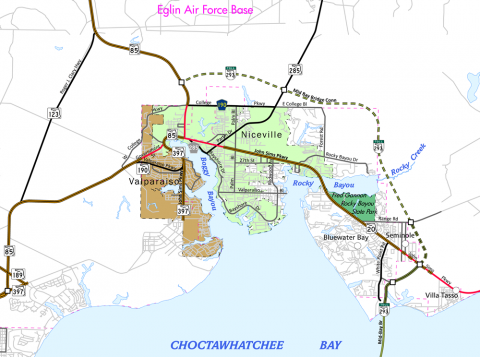 Map of Niceville showing the under construction and proposed alignment of the extension of Toll Florida 293 around the eastern and northern portions of the city. The toll route will eventually end at a trumpet interchange with Florida 85 about a mile north of College Drive.
Future Florida 85/Florida 123 Interchange improvements:
Since a lot of traffic (regular and military) uses Florida 123 as a short-cut to get to Florida 85 northwest of Niceville, a well extended three-quarters of a mile left-turn lane exists to allow motorists the necessary room to queue for the turn. During peak hours in the afternoon this extended turn lane often fills quickly, and at times past capacity.
The wait here can often get long during the afternoon peak as commuters leave from the Fort Walton Beach and Eglin areas heading toward Crestview and beyond. The abutments and pier of future Florida 123 north are in place awaiting the installation of the beams.
An interchange at the eastern end of the airport is planned as part of this project, allowing motorists from Florida 123 south to access the airport without having to cross Florida 85 traffic. A new entrance ramp to the airport will also be constructed along Florida 85 north.
Once complete, Florida 85 will fly over an airport access road. Southbound traffic is also shifted onto a portion of the future access road that will one day serve traffic movements between Florida 123 and the airport.
Initial pavement has been laid on the north abutment and is awaiting the final construction of the flyover across Florida 85 and completion of the south abutment before traffic can be moved onto its new alignment.
Future Toll Florida 293 construction at various locations:
This phase of the project will consist of construction of Florida 293 as a super-2 with a grade separated interchange at Florida 285, along with one at-grade intersection with an extended Forest Road. An open-road toll plaza will be erected between Range Road and Forest Road, allowing motorists the opportunity to continue on without having to stop and pay a toll. For those without SunPass (Florida's toll collecting program) license plates will be scanned instead, as a part of the Toll-By-Plate program being initiated by Florida's Turnpike Enterprise.
The first phase of the project will realign Florida 293 along a new right-of-way around Niceville, eventually ending with Florida 85 at a trumpet interchange north of town. As a part of the extension project, a portion of Florida 20 southeastward of the current terminus of Florida 293 to just past the interchange is being widened to a four-lane arterial. Florida 293 will open up to this interchange on Thursday, May 12, 2011 with a ribbon cutting ceremony scheduled for 9 AM.
This is also the terminus of Phase 2 of the proposed route around Niceville. It is not currently slated to become an interchange, but perhaps as traffic demands increase an interchange will be proposed at this location.
A diamond interchange is planned at this location and is part of Phase 3 of the limited-access highway around Niceville.
This portion of Phase 3 will see the extension further west to a trumpet interchange with Florida 85, with no other access points between the two state routes.
The extension of the toll road will end here once complete, with the provision of extending it southwestward toward Fort Walton Beach and west toward Navarre as part of a proposed (and long debated) toll facility to alleviate traffic along the often clogged U.S. 98. Whether this proposed extension westward happens in the next 10 to 20 years remains to be seen. With factors such as current economic conditions looming, disagreements on a final alignment of the route, and final funding issues continue, the prospects of the toll facility reaching further west become more and more doubtful.
All above photos were taken on 04/08/2011.