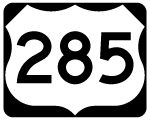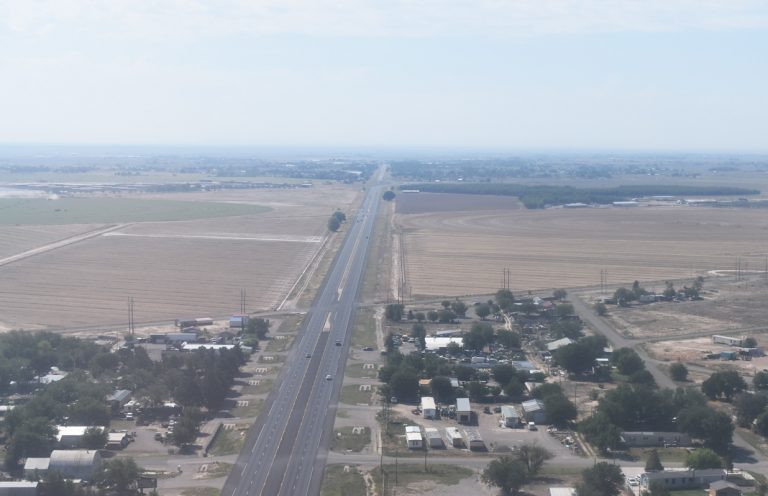 U.S. 285 travels the height of New Mexico along a 412.50 mile course from West Texas, south of Carlsbad, to southern Colorado, north through Rio Grande del Norte National Monument. Generally a four lane highway throughout the Land of Enchantment, U.S. 285 joins Carlsbad with Roswell and Vaughn across arid plains. Crossing I-40 at Clines Corners, U.S. 285 provides a cut off north to Santa Fe via I-25 and U.S. 84.
Through Santa Fe, U.S. 84/285 follow St. Francis Drive, a heavily traveled commercial arterial to the west of historic Downtown. The two routes emerge from the city along a freeway leading north through Tesuque Pueblo. The freeway concludes at Pueblo of Pojoaque, where NM 502 ties in from Los Alamos to the west at a single point urban interchange (SPUI). North into Espanola, U.S. 84/285 vary along an expressway or arterial route. The two part ways at Hernandez.
U.S. 285 New Mexico Guides
Roswell Relief Route
U.S. 285 through New Mexico is part of a long distance route for the transportation of radioactive waste from the Los Alamos National Laboratory to the Waste Isolation Pilot Plant (WIPP). Located in a remote area 26 miles southeast of Carlsbad, the WIPP receives shipments of nuclear waste from sites nationally. Congress approved $20 million in compensation to the state of New Mexico in 1995 for increased shipments of plutonium-contaminated waste at the WIPP. Of that, $14.2 million was allocated to Roswell to fund construction of a bypass taking trucks headed to the WIPP away from the city. The check was presented at a ribbon cutting ceremony for the Roswell Relief Route held in early August 1995, within weeks of the opening of a section of the controlled access bypass.1
Additional bypasses along the U.S. 285 corridor were planned to shift radioactive waste shipments from the defense industry to the WIPP away from Santa Fe, Carlsbad and Artesia in 1998. $97 million in funds from the Department of Energy (DOE) were allocated to the state2 and the New Mexico Department of Transportation preliminarily approved the issuance of $100 million in bonds for completing four lane expansion of the highway from Clines Corners to Carlsbad on November 12, 1996.3
Santa Fe/Pojoaque Corridor
U.S. 84/285 between Santa Fe and Pojoaque was upgraded to limited access standards to address a high accident rate. Annual traffic accidents along the 15 mile stretch increased from 103 in 1990 to 136 in 1993. A $78 million plan to upgrade the highway was unveiled by Governor Gary Johnson on February 7, 1997. It outlined constructing interchanges at Guadalupe Street, Tano Road, Camino Encantado, the Tesuque Pueblo entrance and the Cuyamungue / south Pojoaque entrance. Frontage roads were also incorporated into the design between the various grade separations.4
The State Legislature eventually approved bills paying for the $100 million project to upgrade the U.S. 84/285 corridor north of Santa Fe in February 1998.5 Work on the Santa Fe/Pojoaque Corridor Project advanced, with the South Project -- a 1.6 mile expansion of U.S. 84/285, commencing on August 16, 1999. The overall project was anticipated to wrap up by December 2003, but funding issues pushed back completion.6 A ribbon cutting ceremony held on the Tano Road Bridge on July 20, 2005 marked completion of the 14-mile, $85 million project. Subsequent work through 2007 expanded U.S. 84/285 north from Pojoaque to Espanola.7
Sources:
"In Brief." Santa Fe New Mexican, The (NM), August 6, 1995.
"WIPP Set for '98 Opening, but State Isn't." Santa Fe New Mexican, The (NM), August 6, 1995.
"Planned road improvements wouldn't include Santa Fe bypass." Santa Fe New Mexican, The (NM), November 13, 1996.
"Plan would improve unsafe road." Santa Fe New Mexican, The (NM), February 8, 1997.
"Money for U.S. 84/285 to improve commute." Santa Fe New Mexican, The (NM), February 8, 1997.
"Pojoaque Corridor Project begins next phase." Santa Fe New Mexican, The (NM), August 6, 1999.
"U.S. 84/285 Project Completion Marked." Albuquerque Journal (NM), August 6, 1999.
Connect with:
Interstate 25
Interstate 40
U.S. 54
U.S. 60
U.S. 70
U.S. 380
State Road 599 - Veterans Memorial Highway
Page Updated 06-28-2019.