Broadway (Robert C. Levy) Tunnel
---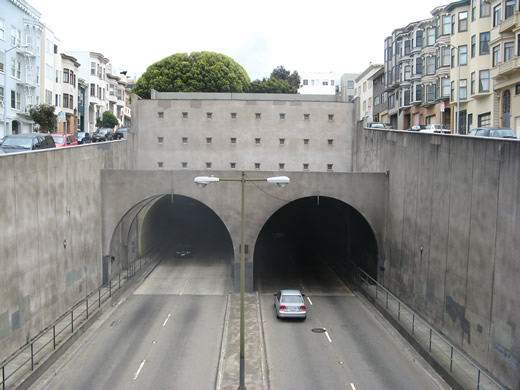 The Broadway Tunnel is located on Broadway Street between Larkin Street and Powell Street. An overpass carries Hyde Street over Broadway, and the underground tunnel portion runs beneath Leavenworth Street, Jones Street, Taylor Street, and Mason Street. Each tube of the Broadway Tunnel carries two lanes, allowing for a four-lane configuration. The tunnel started construction on May 1, 1950, and opened on December 21, 1952, and a large date stamp of "1952" can be seen at the western portal into the tunnel confirming the date of opening.1,2 The 1616-foot-long tunnel was built by the city of San Francisco (by the Morrison-Knudsen Construction Co. at a cost of approximately $6 million). Therefore, as near as we can tell, the Broadway Tunnel was never part of the state highway system.
Some have claimed that one of the alternatives for Interstate 480, the Embarcadero Freeway, would have used the Broadway Tunnel. However, we have not found any planning maps that confirm this. Planning maps from the mid-1960s for this unconstructed freeway show the proposed Interstate 480 using a corridor along the Embarcadero from the end of the demolished Embarcadero Freeway structure at Broadway, then turning west along either the Lombard Street corridor, Bay Street/Marina Boulevard corridor, or some combination thereof (including a potential underwater tube north of the Marina District).
Highway Guide
View from Hyde Street Overpass (Looking East)
Looking east toward the entrance to the Broadway Tunnel as seen from the Hyde Street overpass in San Francisco, two lanes pass through each tube. Photos taken 07/06/07.
The Broadway Tunnel was named in honor of Robert C. Levy (1921-1985) in January 1986. Mr. Levy was the City Engineer and Superintendent of Building Inspection for the City and County of San Francisco. The plaque reads, "He devoted his life to high standards of professionalism in engineering and to the City which he loved." Photo taken 07/06/07.
View from Hyde Street Overpass (Looking West)
Now looking west from Hyde Street, Broadway Street passes under Hyde Street and approaches the signalized intersection with north-south Larkin Street. From there west, Broadway Street continues west toward Van Ness Avenue (U.S. 101, two blocks west of Larkin Street) and thence onward through Pacific Heights, ending at the Presidio border. Photos taken 07/06/07.
View from Broadway Offramp to Hyde Street (Looking East)
These pictures show the Broadway Tunnel as seen from the off-ramp connecting eastbound Broadway Street to Hyde Street. The Hyde Street overpass is a typical 1950s-era overpass structure, and Broadway feels briefly like an urban freeway before entering the tunnel. Note the vertical clearance for the tunnel is 13 feet, 6 inches. Photos taken 07/06/07.
Sources:
Brainy History - "On This Date in History" feature cites opening of Broadway Tunnel on December 21, 1952. Site accessed on September 2, 2007.
The city's Tunnels: When S.F. Can't Go Over, It Goes Under Its Hills, San Francisco Chronicle by Kevin Wallace, March 27, 1949, pages 1 and 10. Site accessed on September 2, 2007.
---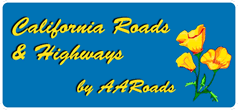 Page Updated September 2, 2007.