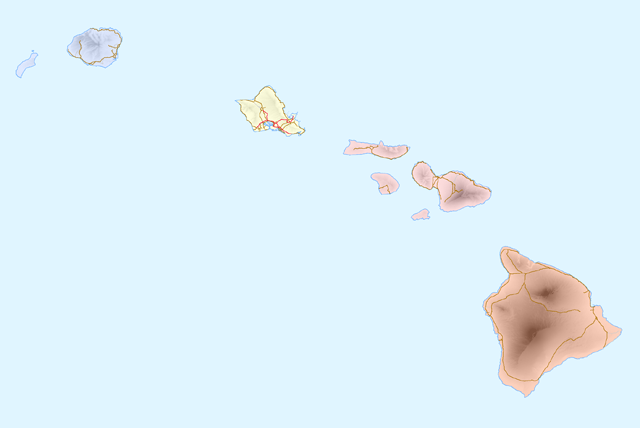 Sitemap to all pages covering the state of Hawaii. Photography by Kevin Trinkle, Larry Epstein and Alex Nitzman.
Hawaii State Highway Numbering
The numbering of Hawaii State Highways utilizes a cluster system based upon island which they are found. Highways in the 100s and 200s or those between 11 and 19 are found on the Big Island of Hawaii. Maui is home to routes numbered in the 30s or 300s. Molokai and Lanai use routes numbered in the 400s. Kauai follows with routes in the 50s and 500s. Oahu rounds out the numbering with highways between 60-99 and the 600s and up.
Hawaii County Highway Numbering
Hawaii County Highways utilize the same route clustering of their state route counterparts. Most spoke from the parent state route and utilize a 4-digit numbering where the first two numbers are those of the parent. When signed, the county highways utilize the same shield style as regular state highways. However, most county highways are not posted and exist as local access roads or residential thoroughfares.
State Population
1,455,271
County Populations
Honolulu
1,016,508
Hawaii
200,629
Maui
164,754
Kauai
73,298
Kalawao
82
Source: 2020 U.S. Census Data
About Hawaii
Capital: Honolulu (Island of Oahu)
Nickname: Aloha State
State Flower: Yello Hibiscus
State Bird: Hawaiian Goose
State Tree: Candlenut
Land Area: 6,421 square miles, 47th largest
Highest Point: Mauna Kea (Island of Hawaii) 13,803 feet above sea level
Agriculture: cattle, sugarcane, coffee, macadamia nuts
Statehood: 50th state; admitted August 21, 1959
Total Interstate Mileage: 54.91 miles
Updated December 31, 2021.