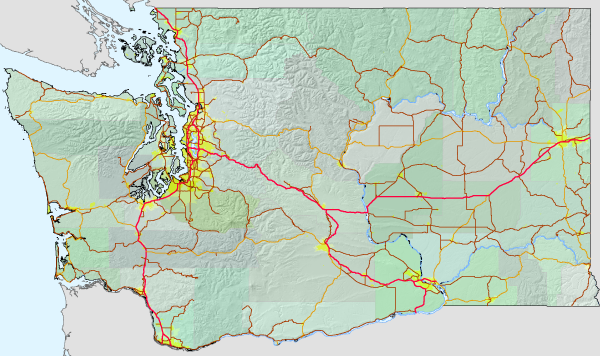 Sitemap to all pages covering the state of Washington. Photographic contributions by Alex Nitzman, Andy Field, Chris Kalina and Matt Strieby.
Highway Guides
City / Area Guides
Interstates
State Routes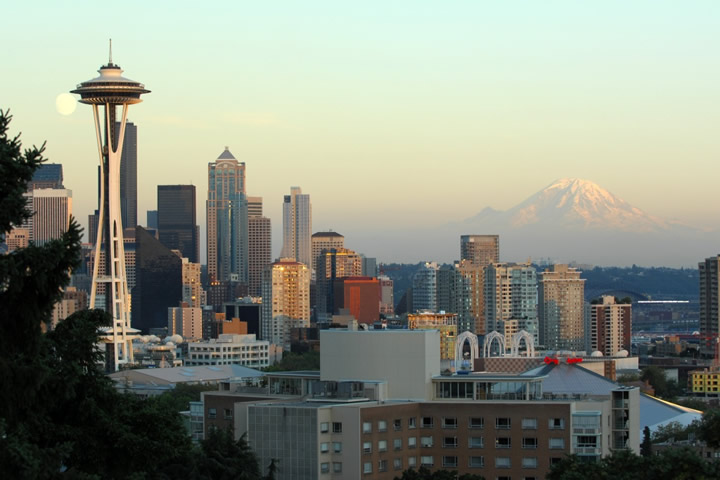 About the Washington State Highway System
Primary state routes are designated by single or double-digit numbers, with north-south routes being odd and east-west routes being even. For its secondary highways, Washington departs from more traditional numbering schemes. Numbering for these uses an associated primary highway number as a prefix followed by a one or two-digit suffix. For example, State Route 500 originates at Interstate 5 (5 + 00). Heading north on I-5, the numbers increase, from SR 501 in Vancouver to SR 548 near Blaine. If the associated primary route is a two-digit number, the secondary suffix will have one digit, as in State Route 123 connecting U.S. 12 with Mt. Rainier National Park.
State Population
5,894,121
Top Metro Populations
Seattle-Tacoma-Bremerton
3,554,760
Spokane
417, 939
Yakima
222,581
Richland-Kennewick-Pasco
191,822
Bellingham
166,814
—
—
Top County Populations
King
1,737,034
Pierce
720,820
Snohomish
606,624
Spokane
417,939
Clark
345,238
Kitsap
231,969
Top City Populations
Seattle
563,374
Spokane
195, 629
Tacoma
193,556
Vancouver
143,560
Bellevue
109,569
Everett
91,488
Federal Way
83,229
Kent
79,524
Yakima
71,845
Source: U.S. Census data, 2000
About Washington
Capital: Olympia
Nickname: Evergreen State
Area: 71,303 square miles (including water) or 184,824 square kilometers, 18th largest
Statehood: November 11th, 1889- 42nd state
Total Interstate Mileage: 763.67 miles
Highest Point: Mt. Rainier, 14,410 feet (4,395 meters) above sea level
Scenic and natural areas: Mt. Rainier National Park, Olympic National Park, North Cascades National Park, Mt. Saint Helens National Volcanic Monument, Columbia River Gorge National Scenic Area, San Juan Islands, Puget Sound region
Geography and climate: The climate of western Washington is heavily dominated by maritime air from the Pacific Ocean which brings abundant moisture in the winter and moderates temperatures during the summer. The Puget Sound acts as a conduit for this marine air, and consequently cities bordering or near the sound have a distinctly maritime feel. As in Oregon, the north-south running Cascade Range forms an east-west divide. East of the Cascades, rain-shadow effects contribute to a dry to very dry climate in the Columbia River Basin in the southeastern quadrant of the state. Cold winters and hot summers typify the region. Alternating mountainous zones and small valleys comprise much of the northern third of the state from Okanogan and Chelan counties eastward to the Idaho state line.
In addition to the Cascade Range, the Olympic Mountains on the Olympic Peninsula create their own rain-shadow effects, although on a smaller geographical scale. Differences in rainfall amounts on the windward side and the leeward side of the range are extreme: over 200 inches may fall annually on the western slopes, watering the lush temperate "rain forests" that make the area famous. Locations immediately in the lee of the Olympics may receive fewer than 20 inches annually, or less than 10% of the wet side.
Other interesting tidbits: The largest building in the world by volume, sprawling over 98 acres, is the Boeing assembly plant in Everett. Washington state is also home to the world's richest man: Bill Gates. His company, Microsoft, which also happens to be the world's largest software company, is headquartered in Redmond. Coffee giant Starbuck's calls Seattle home, while Boeing maintains a manufacturing presence in the region despite moving company headquarters to Chicago in 2001. Kurt Cobain, whose band Nirvana turned the music industry on its head during the early 1990s, hailed from Aberdeen, a small coastal town at Gray's Harbor.