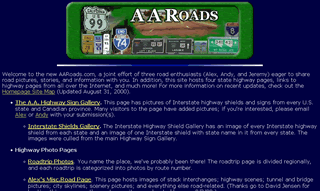 AARoads was founded on July 10, 2000. Andy Field started the Highway Kick-off Page and Wyoming Highways in 1997. Alex Nitzman began writing web pages during the Fall of 1998 and soon debuted the "Route Sign Gallery" early in 1999. After several email exchanges between the two, Field and Nitzman agreed to co-host the Interstate Shield Gallery on Andy's page formerly at xoom.com. From there the gallery became the A.A. Highway Sign Gallery with a focus on a wide assortment of highway signage across the U.S. and World.
With the demise of xoom.com/nbci.com, Field, Nitzman, and fellow road enthusiast Jeremy Lance joined the domain name world with the creation of AARoads.com. From there Field's Nevada, Wyoming, San Diego, and Kick-off Page, among others, merged with Nitzman's Delaware Highways and Roads of Mobile and Pensacola and Jeremy's Arkansas Highways and No Frills Picture Page. The A.A. Highway Sign Gallery blossomed into a huge catalog of sign photos with the vast contributions of fellow highway enthusiasts world wide. However as the site grew and the associated bandwidth followed, costs proved to be prohibitive for continued growth of the Gallery. It was decided in 2002 to discontinue the Gallery in favor of other areas of the web site.
In 2002, Nitzman and Field created AARoadtrips.com, an extension of the AARoads focus on highways. The page hosted various photo collections from road trips taken by AARoads in a highway guide format. Expansion however eventually necessitate the addition of additional host accounts and domain names. The Interstate-Guide was born around the same time to cover the Interstate Highway System of the United States. Originally created by Nitzman, Field, and Douglas Kerr of Gribblenation.com, the Interstate Guide also outgrew AARoads and eventually moved to its own domain. The Guide continues today and covers every signed and unsigned Interstate, and many of the decommissioned and future designations. Focus includes the history of each Interstate, their routing, endpoints, associated traffic counts, and maps.

WestCoastRoads.com joined the AARoads family in 2003 to accommodate Andy Field's vast collection of highway photos and information for the Southwestern United States. Matt Strieby expanded WestCoastRoads to include Oregon and Washington between 2004 and 2006. In 2004 RockyMountainRoads.com and SouthEastRoads.com followed suit to accommodate the increasing coverage of those regions with new highway guides. In 2005 AARoads expanded to cover Texas with LoneStarRoads.com as Kevin Trinkle joined the team and added NorthEastRoads.com to augment AARoadtrips.com. J.T. Legg brought his Peach State Roads page onto the SouthEastRoads.com domain on December 1, 2005 to compliment existing Georgia coverage. The On the Road Blog was created in 2006 as a place for the webmasters, and occasional guest posters, to write about recent travels, projects of interest, or articles of historical nature.
AARoadtrips.com, LoneStarRoads.com, and NorthEastRoads.com were merged back into the parent AARoads.com, which moved to a dedicated server in 2007, by 2009. These moves condensed our coverage into an expanded AARoads with new material in the Midwestern and Great Lakes area states. 2008-09 page updates included contributions from John Boren for Connecticut and Oregon. Brent Ivy also joined the site in November 2008 to enhance our coverage of Florida and elsewhere across the country.
Peach State Roads closed in 2008, followed by the closure of the Highway Kick-off page in 2009. Offsetting those ends was the 2009 addition to AARoads of Jake Bear, who spearheaded the first database-driven section of the web site, the AARoads Shield Gallery, that replaced the former Interstate Shield Gallery.
The AARoads Forum was added in winter 2009 to provide a place for road enthusiasts, travelers, and others to discuss highways. Adding to the discussion on November 24, 2009 was AARoads on Facebook, where the webmasters update site users and road enthusiasts on recent travels, page updates, and road news of interest.
Older static guides were converted to dynamic pages (The AARoads State Series) with the establishment of a photo database beginning in 2009 and continuing to today. A slideshow feature was added in 2010 to complement the new format. Also new since 2010 are maps created with ArcGIS and hosted with Zoomify to compliment focus pages and various highway guides across the site.
Thomas Decker became a major contributor to content additions in November 2011. His work has greatly expanded the Indiana section of AARoads. AARoads joined Twitter in October 2013 to provide more updates from the road and to share news on national highway projects of interest.
The web site underwent another overhaul in 2015 using responsive design and new cover photos for all states. Photography and research from Peter Johnson starting in January 2016 adds to our growing coverage of Wisconsin.
Primary Webmaster
Cowebmasters
Site Contributors
Carter Buchanan (Southeast, Northeast)
Thomas Decker (Indiana)
Peter Johnson (social media, Wisconsin)
James Mast (forum administrator)
Previous Site Contributors
Jake Bear – AARoads Shields Gallery
John Boren (Connecticut, Oregon)
Justin Cozart (sitewide)
Matt Guerrino (website development)
Matt Strieby (Oregon, Washington)
Kevin Trinkle (Arizona)