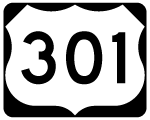 U.S. 301 represents a heavily traveled alternate route east of Washington between the Governor Nice Bridge over the Potomac River and the city of Bowie. The four to six lane surface arterial serves the growing communities of LaPlata, Waldorf, and St. Charles among others between the Virginia state line and Interstate 595 & U.S. 50.
The U.S. highway merges with the U.S. 50 freeway from Bowie east across the Chesapeake Bay Bridge to Queenstown on the Eastern Shore. The freeway includes Interstate 595 between Bowie and Exit 24 at Annapolis. The Bay Bridge carries five lanes of travel between Annapolis and Kent Island upon two suspension bridges. U.S. 301 and U.S. 50 split at the freeway end in Queenstown.
North of Queenstown, U.S. 301 follows a four-lane expressway through the Eastern Shore counties of Queen Annes, Kent, and Cecil. The expressway features controlled access with a mixture of at-grade intersections and interchanges. At present there are no traffic signals along the route to stop motorists.
U.S. 301 replaced the MD 71 corridor between Queenstown and the Delaware state line in 1960.1 It originally continued north from Bowie into Baltimore city via the MD 3 corridor. The designation switch replaced the need for U.S. 213 on the Eastern Shore and remains as a useful bypass route of the Baltimore metropolitan area for through travelers. Despite the through route status, efforts to upgrade U.S. 301 into a full freeway have met stiff opposition from Eastern Shore residents over the years. However small changes such as interchange upgrades and controlled access keep the highway from succumbing to ramped development.
Governor Harry S. Nice Bridge
Opened to traffic in 1940, the continuous truss bridge carrying U.S. 301 across the Potomac River will be replaced with a new crossing located to the north. The four-lane span will accommodate bicycles and pedestrians with a separated path and remove a bottleneck along the U.S. 301 corridor. Preliminary design and engineering was completed under a $15 million contract awarded in 2015. Funding for the $765 million project was finally dedicated in an announcement made by Governor Larry Hogan on November 21, 2016. Construction will commence in 2020 and run through 2023.2
U.S. 301 Maryland Guides
U.S. 301 Cecil & Kent County Average Annual Traffic (AADT)
11,575 - 0.10 miles south of the Delaware state line
9,975 - MD 290 to MD 313
10,775 - MD 313 to Millington Road
10,875 - Millington Road to MD 291
Source: 2003 Highway Location Reference file for Cecil County (MDSHA)
Sources:
"Hogan Announces $765M Replacement For Harry S. Nice Bridge." WBAL NewsRadio 1090, November 21, 2016.
Connect with:
Interstate 97
U.S. 50
Route 2
Route 213
Route 299
Page Updated 11-22-2016.