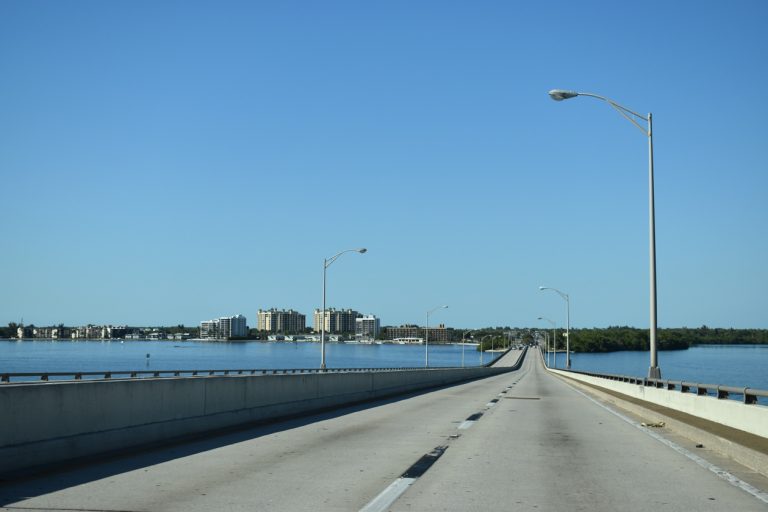 Finished adding all of our backlogged photos for Charlotte and Lee Counties in Southwest Florida by the start of Thanksgiving weekend. Drove around the area over the holiday, documenting some new stretches of road and redriving previous ones. A few projects are ongoing, and others just starting.
Along State Road 82, the continuous flow intersection (CFI) with Daniels Parkway/Gunnery Road, both of which are a apart of CR 876 but not signed at the CFI, is complete. The CFI is only partial, as left turns from CR 876 to SR 82 are still orientated traditionally from turn lanes along the respective mainlines.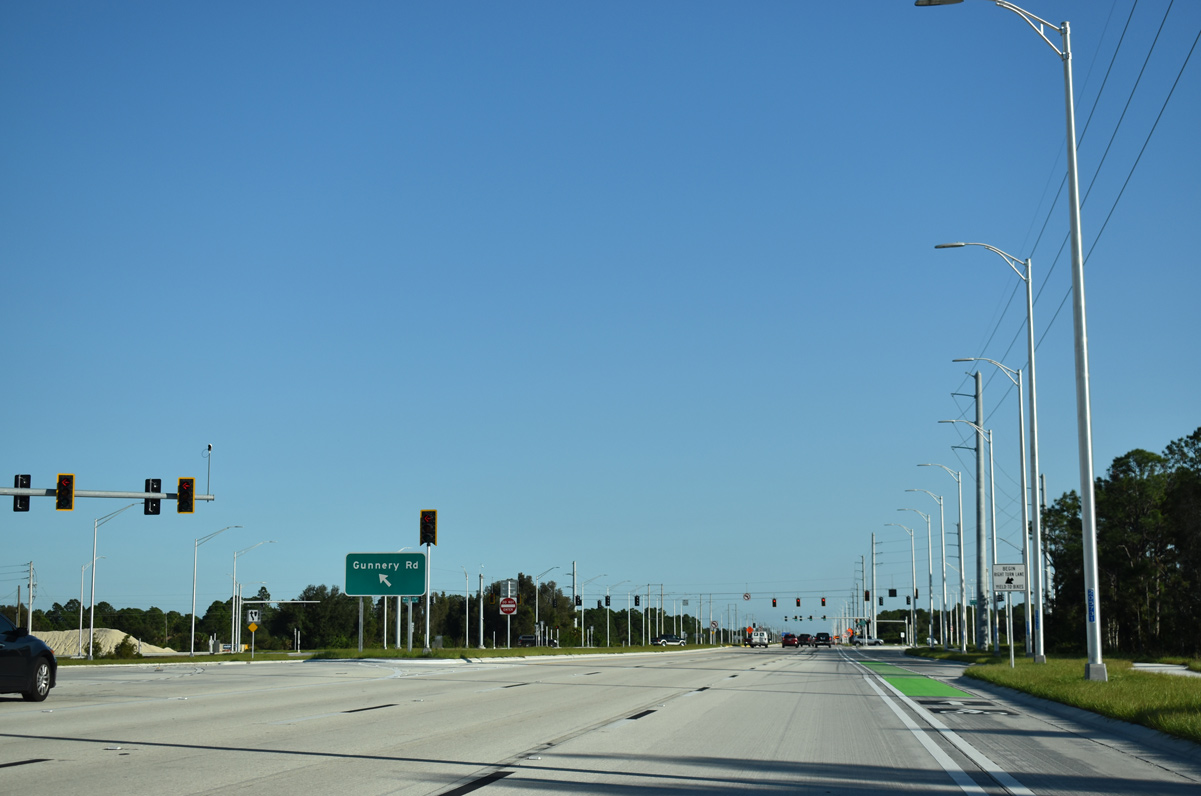 Associated widening of SR 82 east to six lanes, which was scheduled for completion by Summer 2019, remains underway through this upcoming Winter. Construction rebuilds what was a two lane rural highway into a six lane arterial with bike lanes and sidewalks.
The SR 82 construction extends east through a separate phase (through Summer 2020) to the Hendry County line. Expansion within Hendry was completed in 2016. Continuing into Collier County, SR 82 narrows to two lanes again. Widening of SR 82 further east, from Gator Slough Lane (beyond CR 850 / Corkscrew Road) to SR 29, started in October. The $29 mllion, 3.2 mile long project includes expanding a portion of SR 29 leading to and away from SR 82, and rebuilding their intersection into a roundabout with pedestrian elements.
Expanded the Florida State Road 82 guides with complete coverage of eastbound and some new photos westbound taken on the day after Thanksgiving.
Within the city of Cape Coral, the long term widening of County Road 765 / Burnt Store Road continues as well. The North Segment, from Diplomat Parkway north to Van Buren Parkway, is vastly complete while initial grading appears to be underway along the South Segment, from SR 78 (Pine Island Road) to Tropicana Parkway. The project web site, which has not been updated in awhile, still lists the South Segment as running until Spring 2023.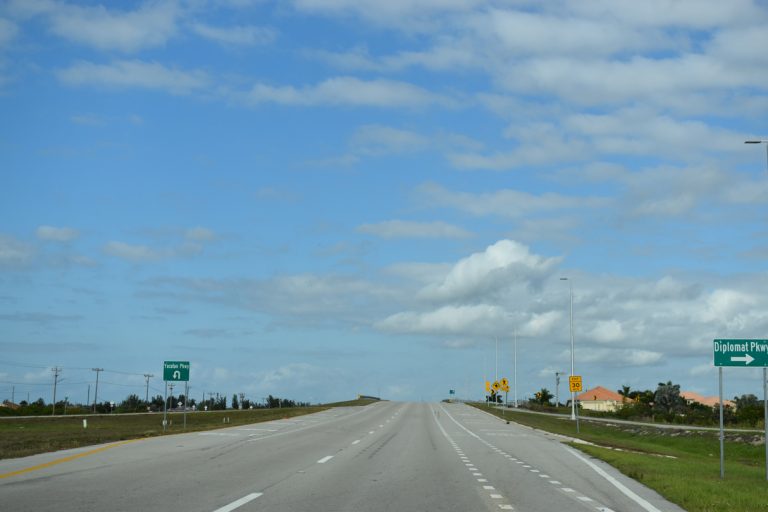 Northward into Charlotte County, it appears utility work is underway for expanding the remaining two lane section of Burnt Store Road, from Zemel Road to Notre Dame Boulevard. A $26 million project along this stretch started on November 4, 2019. It runs through 2022.
Added photos from Thanksgiving along CR 765 / Burnt Store Road southbound and northbound from December 1st showing the completed expansion through Cape Coral.
Along Interstate 75, construction continues through Manatee County on both rebuilding the parclo interchange (Exit 217) with SR 70, and adding auxiliary lanes north to SR 64. The $80.7 million project started in October 2018 and extends through Fall 2021. Already removed permanently was the loop ramp joining I-75 north with SR 70 west; instead motorists must now navigate through a signalized left turn.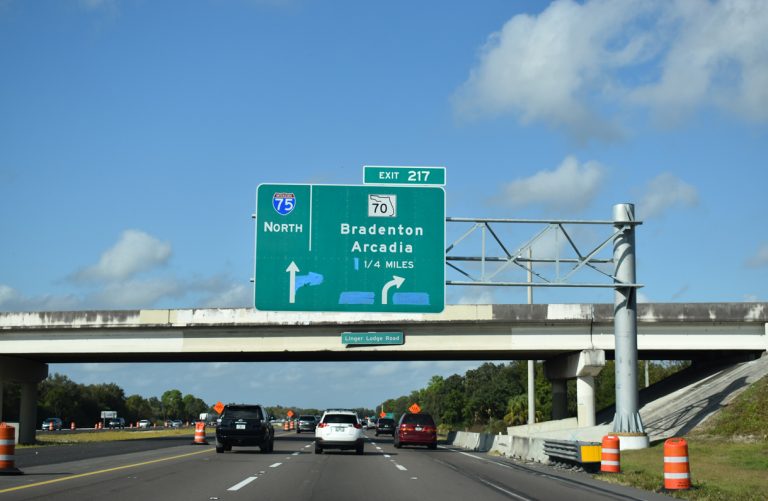 Presently traffic along northbound shifts westward while a new elevated roadway is built leading into the exchange with SR 70. Several hybrid arrow per lane (APL) signs were installed recently for Exit 217. Traffic relief in this area is needed, as the six lane freeway carries 130,500 vehicles per day per FDOT traffic counts, with 10,000 plus vpd added over the last five years.
Another long duration project is underway in Fort Myers. Split into three segments, the $19 million project rebuilds U.S. 41 along Cleveland Avenue northward from Winkler Avenue to SR 82 (Dr. Martin Luther King, Jr. Boulevard) in Downtown. Construction includes the installation of a new waterline, a raised median with six mid-block pedestrian crossings controlled by HAWK signals, and new signalized intersections at Linhart Avenue and Stella Street. Work started in December 2018 with an estimated completion date in Spring 2022. U.S. 41 will retain six overal lanes once construction is finished.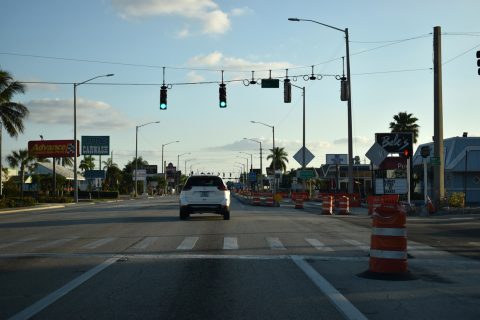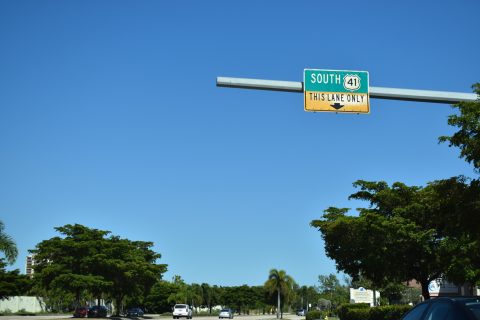 Additional site updates include:
Also split the SR 867 / CR 867 page for McGregor Boulevard and added photos northbound from SR 865 (San Carlos Boulevard) to Downtown Fort Myers.
12/03/19 update:
Created pages for Collier County Road 890 and 894, Hendry County Roads 830/830A and updated State Road 29 north and south between Immokalee and Felda with photos shot on November 29, 2019.
12/04/19 update:
Finally moved coverage of U.S. 41 in Collier County from southeastroads to AARoads while greatly expanding coverage both north and southbound.