California 33
---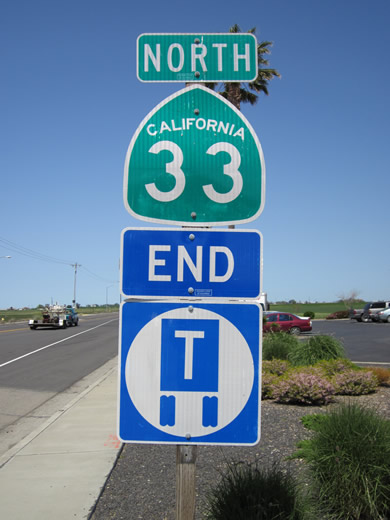 Reassurance marker for SR 33 posted along Santa Nella Boulevard northbound, just after Interstate 5 (Exit 407) in the unincorporated community of Santa Nella. Photo taken 04/06/12.
California 33 connects U.S. 101 at Ventura with Interstate 5 near Vernalis and Tracy. The highway begins in Ventura as a freeway, but quickly changes to a rural route it rises into the San Rafael Mountains near Ojai. California 33 descends into the great Central Valley to parallel Interstate 5 through the communities of Maricopa, Taft, Avenal, Coalinga, Mendota, Los Banos and Patterson. California 33 ends its lengthy journey with Interstate 5 just south and east of Tracy.
California 33 Highway Guides
California 33 is very historic state route, following most of what was U.S. 399 prior to 1964 between Ventura and Taft. U.S. 399 peeled off California 33 and shifted onto California 119 en route to Bakersfield, while California 33 proceeded north on its original alignment toward Tracy. When U.S. 399 was decommissioned, the portion of its route from Taft southward was added as an extension to California 33.
California 33 scenes

This California 33 freeway entrance shield assembly is posted near Casitas Springs (Exit 4). Photo taken 06/02/02.

This California 33 shield is posted at Fourth Street and Main in Taft. Photo taken by Joel Windmiller (07/08/01).
---
Page Updated September 16, 2012.