California 79
---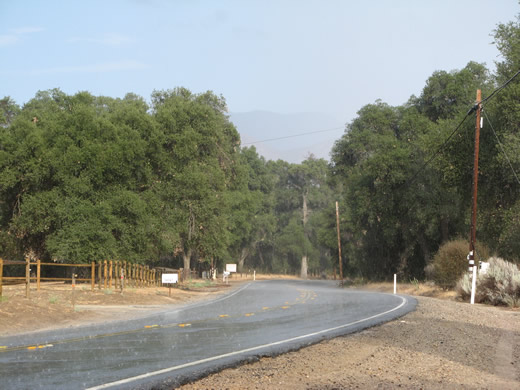 Rare summer rainfall briefly quenched the thirst of the dry desert foothills and mountains in northern San Diego County on the section of California 79 between Sunshine Summit and Warner Springs. Monsoon thunderstorms form when warm, moist air from the southeast mixes with cooler, drier air from the north. The result are thunderstorms, which not very common in San Diego County but can be found on certain summer days in the Warner Springs-Sunshine Summit area along California 79. This view looks southeast on California 79 toward Warner Springs and Hot Springs Mountain. Photo taken 08/25/07.
California 79 originates near Descanso from Interstate 8 in rural San Diego County. At first it follows Old U.S. 80 northeast, then heads into Cleveland National Forest and Rancho Cuyamaca State Park, passing by Lake Cuyamaca. The first town of significance along northbound is Julian, locally famous for apple pies. California 79 merges with California 78 between Julian and Santa Ysabel, then continues north to some of the least developed portions of San Diego County. The two-lane highway meets California 76 near the foot of Palomar Mountain near Lake Henshaw, then enters Warner Springs on its way into Riverside County.
Once in Riverside County, California 79 travels northwest toward Temecula and its locally famous wine country. Once in Temecula, California 79 is maintained by the city (on Temecula Parkway and Winchester Road) rather than the state except on its shared alignment with Interstate 15. Meeting with Interstate 15 near Old Town Temecula, California 79 shares pavement with the freeway and then exits a few miles north. The state route travels northeast toward Hemet and San Jacinto (with a brief overlap with California 74). After passing through several small communities of the Inland Empire, California 79 eventually ends at Interstate 10 in Beaumont near the eastern terminus of California 60.
California 79 Highway Guides
The SR-79 Realignment Project in the San Jacinto Valley, will realign the state route onto a controlled access expressway. The new alignment branches northeast from SR 79 near Diamond Valley Lake to the West Hemet Hills. Crossing over SR 74 (Florida Avenue), the four-lane highway will extend north to the Ramona Expressway.
During 2013, the environmental analysis process was underway to determine a preferred alignment and whether the new alignment will be freeway or expressway. The Environmental Document was approved in December 2016. Final design, right of way acquisition and construction are scheduled for 2017 and beyond.
California 79 scenes
This series of pictures follows Gilman Springs Road as it travels east toward its junction with California 79 (Sanderson Avenue) northwest of San Jacinto and Hemet. Future plans for California 79 to take a new alignment south of this diamond interchange. Photos taken 06/27/09.
In San Diego County, California 79 passes through Cuyamaca Rancho State Park between Descanso and Julian. The Green Valley area of Cuyamaca Rancho State Park is notable for its shallow pools and meandering waterway along the Sweetwater River. A campground is located nearby. This facility is located along California 79 about 5.5 miles north of Descanso near the southern entrance into the park. Photos taken 06/26/05.
Fire ravaged the Green Valley area in October 2003. After a significantly wet rainy season (winter 2004-2005), areas scarred by the fire rebounded with new grasses and purple lupine flowers. While the burnt trunks of trees stood as a reminder of the Cedar Fire, the flowers and new growth brought an emphasis on renewal. Photos taken 06/26/05.
Nearby, other areas of the park near Green Valley were not hit as hard by the Cedar Fire of October 2003. However, Cuyamaca Rancho State Park as a whole fared poorly in this wildfire, as a significant portion of the park had burned. Photos taken 06/26/05.
This series of photos follows some paths around the Green Valley area of Cuyamaca Rancho State Park that show the views looking toward the ocean as well as more fire damage. Photos taken 06/26/05.
Cedar Fire Damage along California 79 north
The October 2003 Cedar Fire, which burned one out of every seven acres in San Diego County, ravaged the suburban areas of San Diego but also burned through much of the forest through the Laguna Mountains. In fact, almost all of Cuyamaca Rancho State Park, which is bisected by California 79, was burned to a degree where many trees and plants were burned without hope of recovery. With the above-average precipitation of the rainy season of 2004-5, plants and flowers returned in the strongest sense of renewal and rebirth, but the long-term impacts of this fire will be felt for generations to come. Even in 2012, evidence of the fire including dead trees remains. New trees that begin to grow today will take years to reach their former heights. Burnt trees left behind after the Cedar Fire were intially a danger to hikers and motorists alike, but the most dangerous ones have been felled and removed. Erosion control was impacted by the fire, and much of the ash and soot have been washed down the hillsides by moderate to heavy rains. This series of pictures shows the damage wrought by the fires along northbound California 79 through the state park. Photos taken 01/19/04.
These views of the Laguna Mountains can be found along California 79 looking toward Lake Cuyamaca near the community of Cuyamaca. Like most "lakes" in San Diego County, Lake Cuyamaca is a reservoir, with an earthen dam holding the water back along California 79 just north of the small business district of Cuyamaca. The highway does not pass directly over the dam; instead, the highway passes alongside it. At the time these pictures were taken, the lake was at a very low level due to drought conditions around the county in 2000, 2001, and 2002. On a typical day, the reservoir swarms with fishing boats, but swimming is not allowed (as is typical for most reservoirs in San Diego County). A late-winter storm had left a bit of snow in the vicinity, and some of it was on the road, since the elevation varies between 3,500 and 4,500 feet through the state park. These pictures were taken a year and a half before the devastating Cedar Fire of October 2003, which unfortunately wiped out all but a handful of buildings in the community of Cuyamaca. The area has since rebuilt and rejuvenated. Photos taken 03/15/02.
North of Santa Ysabel, California 79 passes along the western edge of Santa Ysabel Asistencia, which was a sub-mission of Mission San Diego de Alcalá. Built in 1818, the original mission asistencia is no longer standing, but a chapel built in 1924 is sited near the original mission asistencia. Photos taken 04/20/13.
| | |
| --- | --- |
| | This California 79 route marker is posted at the north end of San Diego County S-2 between Warner Springs and Lake Henshaw. CR S-2 is a major northwest-southeast highway that follows the western edge of Anza-Borrego Desert State Park. Photo taken 03/31/06. |
---
Page Updated June 22, 2013.