California 89
---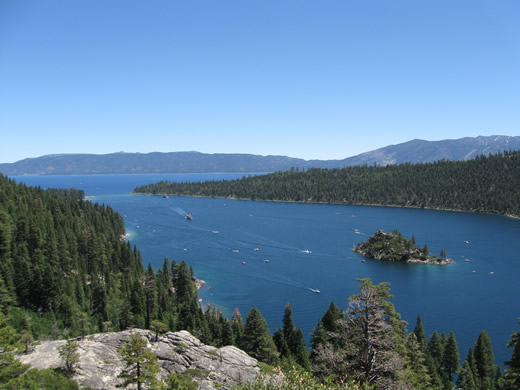 This view of Emerald Bay looks from the Vikingsholm parking lot in Emerald Bay State Park. The parking lot is located just off California 89 in southwestern Lake Tahoe. Earlier in the morning, the bay was quiet, but by midday boat traffic had increased dramatically. Photo taken 07/21/09.
California 89 is a major north-south route serving the northern Sierra Nevada mountain communities. Starting near Topaz Lake near the California-Nevada state line at U.S. 395, California 89 begins its northerly journey by paralleling the state line to the west, passing over Monitor Pass (el. 8,314 feet) en route to Markleeville, the Alpine County seat. Merging briefly with California 88 near Woodfords and with U.S. 50 near South Lake Tahoe, California 89 becomes a portion of the Lake Tahoe ring road, closely following the west shore of the lake between South Lake Tahoe and Tahoe City. California 89 then splits away from the lake to meet Interstate 80 in Truckee, which is occasionally cited as one of the coldest spots in the nation in the daily weather report. North of Truckee, California 89 passes through the Tahoe and Plumas National Forests, passing through the Plumas County seat of Quincy before entering Lassen National Volcanic Park. The route does not pass through any major towns or cities until it reaches Mount Shasta. The junction with Interstate 5 at Mount Shasta marks the northern terminus of California 89.
California 89 Highway Guides
North:

Truckee to Mount Shasta City (future)

South:

Mount Shasta City to Truckee (future)
Tahoe City to Emerald Bay
California 89 scenes

In Camp Richardson, a full service restaurant, bar, and marina are located along the beach in southwestern Lake Tahoe. This view looks east across the parking toward the Beacon Bar and Grill. Photo taken 07/20/09.
This series of photos shows the Lake Tahoe beach seen at Camp Richardson near the Beacon Bar and Grill. The long dock provides marina access to the various boats that stop here. Photos taken 07/20/09.
| | |
| --- | --- |
| | The Camp Richardson marina has a fairly long dock and offers most water-based recreational activities, including boats and jet skis. Photo taken 07/20/09. |
| | Next to Camp Richardson is the Tallac Historic Site, which includes preserved mansions and cabins once used by the wealthy and now open for tours and visitation as part of Tahoe National Forest. Photo taken 07/20/09. |
| | Valhalla is one of the large estates within the Tallac Historic Site. Photo taken 07/20/09. |
| | Stones line the trails that pass through the historical area. Photo taken 07/20/09. |
| | The arboretum features a pond and gazebo. Photo taken 07/20/09. |
The beach at Tallac Historic Site is fairly wide and sandy with a view toward Mt. Tallac (el. 9,735 feet). Clear waters provide a blue foreground for the distant mountains northeast of here. Photos taken 07/20/09.

West of Tallac Historic Site and Camp Richardson, Taylor Creek flows north from Fallen Leaf Lake into Lake Tahoe, with Mount Tallac dominating the view to the west. Photos taken 07/20/09.

At the Taylor Creek Visitors Center is the Rainbow Trail, which brings hikers to the Taylor Creek Stream Profile Chamber. This is a must stop along California 89 (Emerald Bay Road). Photos taken 07/20/09.
| | |
| --- | --- |
| | A standard highway bridge (built in 1995) carries California 89 over Taylor Creek near the visitors center. The adjacent bike path bridge was built in 1978. Photo taken 07/20/09. |
| | A stone arch bridge carries California 89 over Eagle Creek. This bridge is located near the Eagle Falls trailhead and Desolation Wilderness parking area near Emerald Bay. Photo taken 07/21/09. |
| | Crystal-clear water flows through Eagle Creek before descending Eagle Falls into Emerald Bay. During extremely cold winters, the creek and nearby Emerald Bay can freeze over. Photo taken 07/21/09. |
| | A grand view of Emerald Bay and Lake Tahoe appears from this vantage point at the top of Eagle Falls. The waterfall descends some 140 feet down through Lower Eagle Falls to near Vikingsholm and into Emerald Bay. Photo taken 07/21/09. |
| | Eagle Falls begins its descent over this cascade. Photo taken 07/21/09. |
| | The path from the Vikingsholm parking lot to the Vikingsholm itself is a one-mile hike downhill, then a mile return trip (all uphill). Photo taken 07/21/09. |
This series of photos shows the grounds surrounding Vikingsholm. The property surrounding Vikingsholm was purchased by Ms. Lora Josephine Knight in 1928, and she developed a home reknowned for its Scandanavian architecture. The grounds feature a variety of trees and sheer cliffs on all sides except the beach at Emerald Bay. The home and grounds are now part of Emerald Bay State Park. California 89 rides above Vikingsholm, well out of sight from the estate grounds. Fanette Island looks much bigger from ground level (as opposed to looking down on it). Photos taken 07/21/09.
| | |
| --- | --- |
| | Near Vikingsholm along the Rubicon Trail is Eagle Falls, which carries Eagle Creek toward Emerald Bay. Eagle Falls consists of a lower and upper waterfall, and the water cascades over the granite cliffs to a point near Vikingsholm, then finds its way into Emerald Bay. Photo taken 07/21/09. |
A bit further north of Emerald Bay and Vikingsholm is Ed Z'berg Sugar Pine Point State Park, home of the Pine Lodge/Hellman-Ehrman Mansion, which was built in 1903. A fine sandy beach, beautiful estate grounds, and hiking trails make for a nice afternoon visit. General Creek flows into Lake Tahoe within the state park. Photos taken 07/21/09.
| | |
| --- | --- |
| | Lake Tahoe's clarity is legendary as seen in this picture, looking off a dock in Sugar Pine Point State Park. According to the U.S. Geological Survey, Lake Tahoe has a water clarity of about 70 feet, which is less clarity than measured in the 1960s (when it was approximately 100 feet). The lake sits at an average surface elevation of 6,225 feet and has an average water temperature between 65-70 degrees in the late summer. Covering an area of 191 square miles, the lake has been measured at approximately 1,637 feet deep at its deepest point. This lowest point is located in the northern third of the lake toward the middle (almost due east of Tahoe City; the Benchmark Atlas of California clearly shows the approximate location of the deepest point in the lake). The lowest point of the lake is lower than the nearby Carson Valley in Nevada. Photo taken 07/21/09. |
The Truckee River Outlet Gates structure regulates the flow of water from Lake Tahoe downstream into the Truckee River; they were first installed in 1870 and have remained in place since then (the current gates were built in 1913). A parallel bike path bridge was dedicated on July 25, 2005, in honor of state Senator Tim Leslie. The last photo shows Photos taken 07/21/09.

The Fanny Bridge carries California 89 over the Truckee River just downstream from the Truckee River Outlet Gates. Built in 1928, this historic bridge was named by the bridge's construction foreman as the Fanny McGillicuddy Wilkerson Bridge in honor of his maiden aunt. Local legend suggests that the name Fanny Bridge came from all the "fannies" seen when people looked over the edge of the bridge to watch the fish swim in the river below the bridge. Plans call for California 89 to be moved off this bridge onto a new (as yet unconstructed) bridge located west of this location. This project would be built in conjunction with a new traffic circle intersection between California 89 and California 28 on the north side of the river. Photos taken 07/21/09.
| | | |
| --- | --- | --- |
| | | Lake Tahoe's famously clear water continues in the Truckee River as waters flow north and then east toward Pyramid Lake in Nevada. Fish are commonly seen swimming in the currents of the river. This view looks between the Fanny Bridge and Truckee River Outlet Gates. Photos taken 07/21/09. |
| | |
| --- | --- |
| | This signage for northbound California 89 and southbound California 267 in Truckee was photographed while brand new in conjunction with the Interstate 80 reconstruction and Truckee Bypass projects. Photo taken by Mike Ballard and Joel Windmiller, 06/99. |
| | California 89 signage at the exit from Burney Falls, which is fairly close to the California 89 and California 299 intersection. Photo taken by Dominic Ielati (10/01). |
---
Page Updated October 8, 2009.